General Hospital Stars Maurice Benard, Marcus Coloma, And Kin Shriner Tease A New Soapy Project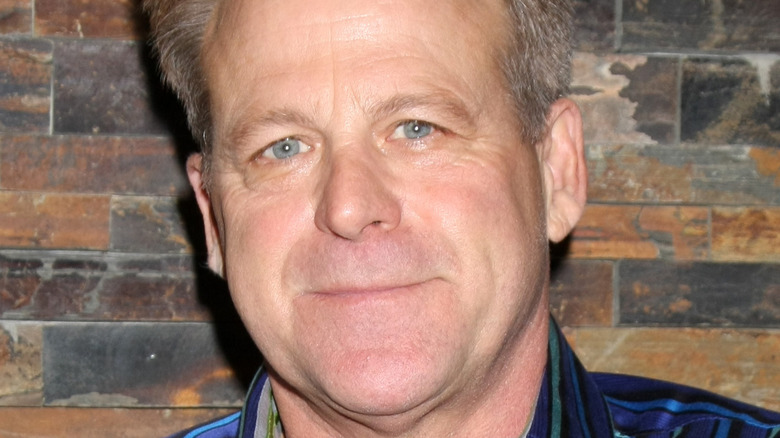 Kathy Hutchins/Shutterstock
For over 40 years, Kin Shriner has played Scotty Baldwin on "General Hospital," (per People). Scotty started as a love interest for Laura Spencer (Genie Francis) and Luke Spencer's (Anthony Geary) rival for her affection. Over the years, he's got into various comical antics too, and fans always look forward to his latest hijinks — particularly now that Scotty's new paramour is former mad scientist Liesel Obrecht (Kathleen Gati). 
In August 2022, Shriner told Soap Opera Digest: "I think my strong suit has always been screwball comedy and keeping it light and keeping the pace up and having fun. The stuff that I got to play with Lynn, with Maura West [Ava], even, you know, with Obrecht — it's all still fun and games!" Similarly, Maurice Benard has played mafia don Sonny Corinthos for over 30 years and he hasn't been afraid to act outside the box either. 
For instance, when Luke and his son Lucky Spencer (Jonathan Jackson) asked him to go camping (via YouTube). Likewise, when Sonny was stranded in the town of Nixon Falls with amnesia, he traded in his expensive suits for a cowboy hat and checkered flannel shirts, per Soap Central. Marcus Coloma hasn't had much time to play with his character, Nikolas Cassadine, on "GH" considering Nikolas got his son's girlfriend, Esme Prince (Avery Pohl), pregnant and is up to his neck in trouble (per Soaps.com). However, the trio of fan-favorite actors has teamed up and they have a surprise in store for us. 
A new project with General Hospital favorites has fans thrilled
In 2021, "General Hospital" star Maurice Benard assembled an impressive cast of soap opera veterans for a short film called "The Birthday Bash." Writing on its YouTube page, the lovable star described the film as "my special project," noting, "It was fun to see a lot of my friends acting outside of the box and I want to thank each of them for being so willing to join me in this adventure no questions asked."
Now, co-star Marcus Coloma has posted a video of himself and Kin Shriner on Instagram, captioning it: "Got the band together. This project is going to be out of this world." The clip is scored by AC/DC's hit song "Hells Bells," and includes no dialogue. It depicts Coloma picking up Shriner, they stop for coffee and gas, and at the end, the duo arrives at Benard's house as he stands out front with open arms. 
Fans were thrilled about the potential team-up project, with one speaking for all of us by stating: "Nothing but trouble can happen with this group! And I'm excited to see it!" Benard and Coloma have been making hilarious shorts for quite some time, and enjoy poking fun at each other on Instagram (see: Benard's attempt at Method acting). Shriner also posted a video depicting the simple hilarity of dinner with Coloma on Twitter. With their combined creative talents, we can't wait to see what these three have come up with.