Kate Middleton's Remembrance Day Jewelry May Have Been A Subtle Yet 'Painful' Message To Meghan Markle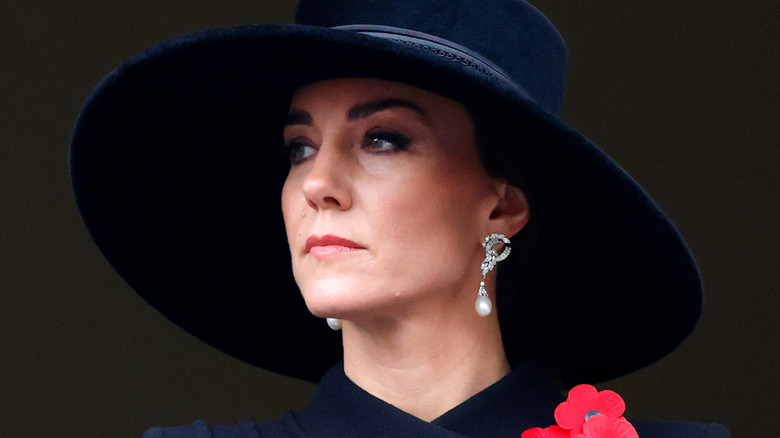 Max Mumby/indigo/Getty Images
On November 13, 2022, King Charles III led the first royal Remembrance Sunday service since the death of Queen Elizabeth II (via CNN). Like his mother before him, Charles laid a wreath of poppies at the Cenotaph in London, the U.K.'s main war memorial, as reported by English Heritage. The flower is a symbol of remembrance in the U.K. as it was the first flower to grow on the battlefields when World War I ended, per the BBC. Charles has carried out this honor of laying a wreath before, particularly in the later years of his mother's life. But this was the first time he'd done so as monarch, a very poignant moment in British history.
The reigning monarch wasn't the only member of the royal family in attendance during the Remembrance service. He was accompanied on the ground by his eldest son, William, Prince of Wales, and his sister Anne, Princess Royal. Queen consort Camilla and Catherine, Princess of Wales, watched the service from a balcony above the Cenotaph per tradition, noted Royal UK. Many eyes were on the two royal women, notably Kate, who wore the same jewelry as she did to the queen's funeral in September (via People).
Kate's jewelry holds a lot of significance within the royal family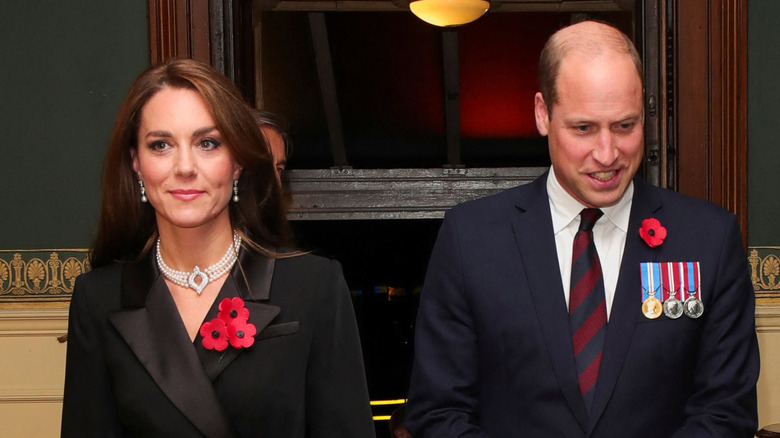 Wpa Pool/Getty Images
Queen consort Camilla and Catherine, Princess of Wales, wore traditional royal mourning wear, consisting of all black and a veil (per People). In keeping with the royal mourning dress, Kate paired her outfit with the same earrings she wore to the funeral of Queen Elizabeth II — items that once belonged to the monarch herself. This included her Bahrain pearl drop earrings, which were gifted to her during her wedding to Prince Philip, Duke of Edinburgh. Kate wore them for the first time at a Remembrance service in 2016, as Regal File reported. She paired the earrings with a necklace later in the evening for an event at the Royal Albert Hall, Glamour noted. This necklace is known as the Four-Row Pearl Choker, in which four strands of pearls are joined together with a diamond clasp (via The Court Jeweller). This combination of jewelry was also worn by Princess Diana in 1982 during a state visit.
It was a loving tribute from Kate to her late grandmother-in-law and a poignant statement for the service. But one royal expert has suggested that the jewelry has an underlying meaning.
Kate's choice of jewelry is a painful truth for Meghan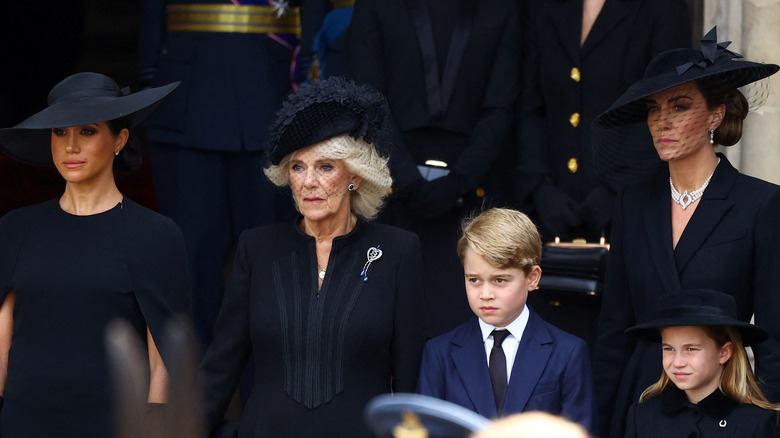 Wpa Pool/Getty Images
Writing for Australian news site news.au, royal commentator Daniela Elser noted that during Queen Elizabeth II's funeral, both Kate and Meghan, Duchess of Sussex, wore jewelry given to them by the late monarch. "While Kate's pair [of earrings] are honking great pieces that on anyone else you would assume are plastic fakes they are so large, Meghan's pair, while elegant and a very thoughtful gift from the late nonagenarian, are comparatively tidy," she wrote. "In this case, size does matter," Elser added, as does "history and significance."
Kate's jewelry holds a sizable history within the royal family, having been given to the queen in 1947. Meghan's pearl earrings were a gift from the monarch in 2018 before going on a joint engagement together (via Twitter). While Elser acknowledged that it was a "sweet and thoughtful gesture" for Meghan to wear them at the funeral, she noted that the Duchess of Sussex doesn't have nearly the same amount of access to the royal family's jewelry collection as her sister-in-law does. The royal commentator said that if Meghan and Prince Harry were to have "stayed put in the U.K., this jewelry situation may have changed," describing this realization as a "painful truth" for Meghan (per news.au).