Awkward Red Carpet Moments That Were Caught On Camera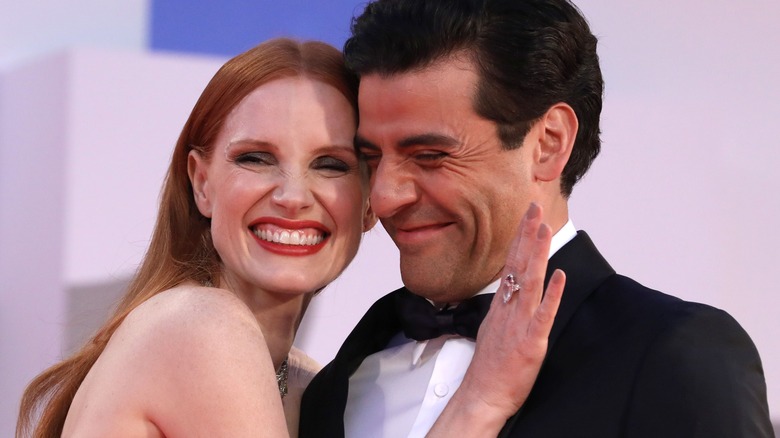 Elisabetta A. Villa/Getty Images
There's no place like the red carpet to revel in the spectacle of celebrity glam, talent ... and awkwardness. It's one of the few places our beloved stars are at their most real, stripped of their PR machines and stage-managed images. As they trip and slip, the veneer of perfection comes off only for the world to realize — they're just as weird as the rest of us! From high couture made of birds and animals to cringeworthy greetings, Hollywood red carpets have been witness to a whole range of funks since the 1920s (via the BBC). If there was a place you could make a lasting statement, no matter how divergent (i.e., Lady Gaga's iconic meat dress and Kristen Stewart's shoeless feet), it was the red carpet.
Awkward moments on the red carpet have only been immortalized since the advent of social media, where their videos are preserved for posterity. Jennifer Lawrence's clumsy falls — yes, there have been more than one, per Teen Vogue – have offered the internet great meme potential, while Oscar Isaac and John Travolta's bursts of affection for their female co-actors remain as incomprehensible as ever. Nevertheless, these viral videos never age, and their very existence demands revival from time to time.
Jack Harlow and Emma Chamberlain's weird love yous
Everybody cringed when Emma Chamberlain was hit by a wholly unprecedented "love you" from Jack Harlow at the 2022 Met Gala. Chamberlain, for her part, was visibly stumped. She managed to return the rapper's endearment, following it up with a face that seemed to question the meaning of her existence altogether — and then she broke out into a laugh. It was a priceless moment the world deserved to see — and it did! A clip of the red carpet conversation was captured by Vogue and went majestically viral, with internet users left scrutinizing what exactly went down. Harlow himself called the reaction a "piece of art," clueless as to what went on in Chamberlain's head. 
"I have a lot of warmth to share," he said, explaining his choice of words on Jimmy Fallon's talk show. In an appearance on the same platform later, Chamberlain told her side of the story: "When I'm doing these interviews, it's blank up here. ... I'm not thinking about anything," the YouTuber said. Though Harlow's probably still scratching his head over what transpired that night, Chamberlain seems grateful that the incident made her an overnight meme sensation. "Thank you, Jack Harlow!" she said (via First We Feast).
Will Smith's multiple public slaps
The sound of the slap Will Smith landed on Chris Rock's face at the 2022 Oscars resounded across the world — and everyone collectively gasped. But pop culture aficionados know that the scandalous episode was a repeat of a smaller, similar one that occurred many moons ago. Remember that time the actor slapped an overly affectionate journalist in 2012?
Smith probably didn't pull up to the premiere of his film "Men in Black III" expecting non-consensual smooches, but he got one regardless. Ukrainian reporter and notorious prankster Vitalii Sediuk planted a kiss on Smith when he leaned in for a hug, prompting the visibly annoyed Hollywood star to push him. Smith walked away, but not before dealing Sediuk a backhanded smack. "He's lucky I didn't sucker-punch him," Smith reportedly later said (via Entertainment Weekly).
Sediuk's celebrity ambush shenanigans are infamous. From grabbing Gigi Hadid by surprise, only to be elbowed by her, to landing up in police custody for allegedly attacking Brad Pitt, he has earned a rep for antics that have consistently drawn ire, if not laughs (via The Hollywood Reporter). When his encounter with Smith's slapping hand resurfaced in the wake of the Oscars controversy, Sediuk didn't forgo the opportunity to weigh in on the matter, quipping that Smith "practiced on [him] first, only to perform his slap at the Oscars" (per LADbible). 
That kiss John Travolta planted on Scarlett Johansson
Stars often do stuff that evades common understanding — and John Travolta is the poster boy for this odd genre of celebrity culture. An exhibition of the "Grease" actor's eccentricity came about in 2015, when he randomly stopped to kiss Scarlett Johansson on the Oscars red carpet. Johansson, clad in a showstopper of a Versace gown, was posing for the paparazzi when Travolta, who was passing by, sneaked up and planted a kiss on her cheek from behind. Johansson was clearly caught unawares but managed to stay composed, resulting in perhaps the most awkward red carpet picture ever (via ABC News).
The moment inspired a volley of memes and criticism for Travolta online, but Johansson stepped up in defense of her co-star from "A Love Song for Bobby Long," declaring that there was "nothing strange, creepy, or inappropriate" about him and that his greeting to her was acceptable (via The Guardian). Others haven't been as tolerant of Travolta's antics in recent years. Case in point: The weird face-grabbing stunt he pulled on actor Idina Menzel before the Oscars audience in 2014, which his rep later claimed was planned. All of this could just be plain goofiness, but it was apparently enough to prompt The Washington Post to mull: "How did John Travolta get so creepy?"
When Kristen Stewart walked the red carpet barefoot
You know that oh-so-liberating moment of slipping your poor feet out of those murderous heels? It's one of the best feelings in the world — and Kristen Stewart lived it, in all its glory, right on the Cannes red carpet in 2018. The perennially poker-faced star did the customary drill of posing for the paps, and then Stewart took off her high-heeled Louboutins to walk barefoot the rest of the way up the stairs (via the BBC). When a video of the rare episode went viral, the internet's general consensus was that the move was perfectly logical. Ever the nonconformist, Stewart has consistently prioritized comfort over glamour, even ditching her heels for loafers at the Oscars in 2022 (via People).
Though it could be considered sacrilege by some, red carpets have seen more than their fair share of barefoot celebs over the years. Julia Roberts made a striking statement at Cannes 2016 by going shoeless under her Armani Privé dress. The "Twilight" actor has, in the past, made known her discontent with footwear code at black tie events. "If you're not asking guys to wear heels and a dress, you cannot ask me either," Stewart told The Hollywood Reporter. In Stewart's defense, she admittedly loves heels, but feels strongly that with respect to gender-specific red carpet rules, "Things have to change immediately" (via Vanity Fair).
When Jerry Seinfeld famously blocked a hug from Kesha
Could anything be worse than the embarrassing moment when you lean in to hug someone only to have them inadvertently pass you by? Kesha would probably say no. The "TiK ToK" hitmaker once found herself in the middle of an awkward sitch when she asked comic legend Jerry Seinfeld for a hug thrice — and was rebuffed all three times. They both were attending a benefit event in Washington, D.C. in 2017 and ran into each other (so to speak) on the red carpet, per Variety. In an exchange that was to go down in internet history as one of the cringiest ever, Kesha approached Seinfeld and introduced herself, before adding, "I love you so much. Can I give you a hug?" Seinfeld replied: "No, thanks!" 
A hopeful Kesha persisted, only for Seinfeld to spurn her again. The conversation, caught on camera for posterity, went magnificently viral as a telling template of what not to do at red carpets. Explaining himself soon after, Seinfeld said that hugs weren't his preferred form of greeting strangers. "In my reality, I don't hug a total stranger," he told Extra. "I have to meet someone, say hello ... I gotta start somewhere." The two apparently shared a laugh over their meeting later, though Kesha still didn't get her hug. However, she was a good enough sport to relive the moment for a TikTok video in 2021 (via ET Canada).
Jennifer Lawrence's TMI expose of Josh Hutcherson's rash
Jennifer Lawrence is a renowned goof. So when she crashed her friend Josh Hutcherson's red carpet interview at an event for their film "The Hunger Games," it made for a perfectly timed gag. "Is your rash doing okay?" Lawrence asked Hutcherson in passing. Hutcherson, somewhat disconcerted, instinctively replied, "Yeah, it's good," before turning to the camera sheepishly and saying: "She's crazy!" That wasn't the first time he was the target of J-Law's leg-pulling, per PopCrush. Though her antics prompted Hutcherson to say Lawrence needed to be medicated, fans seemed to love all that "Joshifer" banter.  
In 2013, karma came looking for Lawrence in the guise of Jack Nicholson, who left the "Silver Linings Playbook" star red-faced by kicking off the cutest yet strangest correspondence. The screen legend interrupted Lawrence's Oscars interview, muttered praises for her, and added: "You look like an old girlfriend of mine." Lawrence didn't miss a beat before flirting back, "Do I look like a new girlfriend?" only to mouth a dramatic "Oh my God" as Nicholson walked away. The exchange resulted in a massively viral video and the seeming start of an adorable friendship. Lawrence told ABC News that Nicholson later sent her flowers, champagne, and a note that read: "Missing you already." Aww or nah? 
When Bjork turned up at the Oscars with a bird around her
In the history of iconic Oscars fashion, Bjork's bizarre but oddly beautiful swan dress takes the cake. The Icelandic icon's outfit that night in 2001 left people befuddled. The tutu-style dress in question was white, stuffed, and dramatically detailed; it came with a long, swan-shaped neck resting on Bjork's own neck, and six giant ostrich eggs — literal eggs! – that Bjork "laid" on the red carpet (per CNN). No stranger to rocking larger-than-life wardrobes, Bjork apparently picked the Marjan Pejoski design as a tribute to swimmer Esther Williams and musical choreographer Busby Berkeley: "I thought it'd be very appropriate to wear a swan," she said (per the BBC). 
It's safe to say that her fashion decision ruffled a few feathers. Bjork's dress invited unprecedented nastiness, with fashion guru Steven Cojocaru infamously calling it "one of the dumbest things" he'd seen. Ironically enough, in the two decades since it debuted, Bjork's swan ensemble has taken on a legacy of its own. "Naturally, [the dress] was made fun of. But doesn't the fact that people remember it more than pretty much any other Oscar dress ever mean that it was a standout?" Bjork's manager remarked (per Page Six). From spoofs to museums to couture collections, Bjork's swan dress has been honored several times over and lives on in collective fashion memory.
When Ryan Seacrest had ashes poured on him
Sacha Baron Cohen's charade as Admiral General Aladeen is a long-loved gag. But even a host as seasoned as Ryan Seacrest was thrown off guard when the funnyman seemingly took the joke a bit too far. Cohen turned up at the 2012 Oscars as his outlandish character from "The Dictator," costume and comportment in tow. Mid-chat with E! News' Seacrest, Cohen saw his chance and emptied an urn of ashes on the unsuspecting interviewer. A formerly spruced-up Seacrest was bathed in what Cohen as Aladeen teased were the ashes of "his dear friend and double standards partner Kim Jong-il," North Korea's former supreme. Yikes!
Seacrest was visibly taken by surprise, playing down his apparent befuddlement with awkward laughter and a concentrated cleaning of his tuxedo, as Cohen was mock-dragged away. Though he later admitted he had an inkling that interviewing Cohen could entail an inevitable practical joke, Seacrest exclaimed on his radio show (per The Hollywood Reporter): "I definitely did not know that he was going to do that!" He further joked on his chat show "Live with Kelly and Ryan" that he would pack two jackets for future Oscars. It was all ash under the carpet, though, since Cohen (and his wife Isla Fisher) later apologized to Seacrest, saying, "It wasn't personal" (via Today).
Oscar Isaac and Jessica Chastain's hot (but weird) red carpet PDA
Red carpets have seen few moments as steamy as the one between Oscar Isaac and Jessica Chastain. Yup, we're talking about that inexplicably hot video that broke the internet (and our brains) in 2021. The "Scenes from a Marriage" co-stars amped up the temperature at the Venice Film Festival by playing out an intimate act that involved plenty of stroking, nuzzling, and gazing (via The Cut). To make matters sexier, social media was overrun with a slo-mo version of the original clip, which left people equal parts titillated and confused. Just to be clear, both stars are married ... to other people. What's more, Isaac's wife and filmmaker Elvira Lind stood nearby watching her husband getting touchy-feely with Chastain (per InStyle).
What exactly went down? It's hard to say, because the only thing stranger than Chastain and Isaac's PDA-filled red carpet appearance was their acknowledgment of it. Chastain explained on NBC's "Today" show that the two had been friends for much of their lives and that on the night in Venice, they'd been doing what they do best: acting. She had a valid point, though, when she said that "everybody is super sexy in slow motion." Isaac's take, meanwhile, was as bizarre as it could get: According to him, he and Chastain are like flatworms in how "they're communicating through some sort of like electro kind of magnetic situation" (via SiriusXM).
Lady Gaga's meaty ensemble
Extravagance is synonymous with Lady Gaga. But back in 2010, the music icon took the zaniness up a notch by showing up at the MTV Video Music Awards in a dress made of meat. In what was her third outfit for the night, Gaga walked the carpet laden with 40 pounds of matambre steak (via Meatpaper). "We wanted it to look like a dress, not a freak show," said designer Franc Fernandez. It's hard to say how much of that ambition actually came to pass, but the vision of Gaga wearing a raw meat headdress and bearing a raw meat clutch was definitely something! If you're wondering if it stank: "Gaga said it smelled good. It had a sweet smell," Fernandez revealed (per MTV). 
The meat dress, legendary almost immediately upon its showcase, invited great awe and greater censure. Animal rights groups weren't thrilled, with PETA suggesting the stunt might prompt the "Bad Romance" hitmaker to fall out of favor. A survey even crowned it the most controversial red carpet look ever (via NDTV). Meanwhile, Gaga, who took home a booty of eight wins on that scandalous VMAs night, explained that the meat dress was a political statement in the context of the United States' military policy that banned non-heterosexuals from serving. Eleven years after the spectacle, she explained the thought behind it (via Insider): "If you are willing to die for your country, what does it matter how you identify?" 
When Yulia Rybakova lost her skirt while walking the red carpet
A wardrobe malfunction is one thing, but to lose half your dress on the red carpet has to be a whole other level of embarrassment. In 2018, Yulia Rybakova lived this nightmare — and at Cannes, a global fashion showcase, no less! The Russian plus-size model graced the film festival in a blazing red ensemble that was comprised of a peplum top and a trailing skirt. As she walked the red carpet, surrounded by guests and shutterbugs, the bottom half of Rybakova's dress gave way after a man standing nearby appeared to step on its train. A video of the incident, which went sensationally viral soon after, showed a dramatic gasp take over Rybakova's face as the man who was responsible rushed to help put her skirt back on. 
Many on the internet seemed to think the entire spectacle was staged. The Daily Mail noted that Rybakova had a certain propensity for controversy, as past events had shown. Rybakova joined the bandwagon analyzing her supposed mishap online, writing on Instagram (per Frivolette): "I'm basically in my usual form. This could only happen to me! Could anything have been worse?" The model claimed to have lost her luggage while making her Cannes appearance and was compelled to order a dress by mail for the event last minute. "This is what can happen when you sew a dress without a fitting!" she explained. 
When Selena Gomez took an unfortunate tumble
Tripping is among the most common inevitabilities of being human, and yet, each time it happens, it leaves the best of us shamefaced — especially when there's an audience! A figure of poise on most days, Selena Gomez found herself momentarily discomposed when she lost her balance on the red carpet at the Screen Actors Guild Awards in 2022. The singer-actor fell to her knees as a stiletto broke and came off her foot, according to Hello! Magazine. Ushers standing nearby helped Gomez up and escorted her off the scene. The mortification of the moment was luckily mitigated by how resplendent Gomez looked in her all-black Oscar de la Renta gown and statement jewelry. 
Who would've thought taking a fall could look so graceful? As Teen Vogue noted, it was nothing less than a Cinderella moment of sorts. And as one would expect of a modern-day fairytale princess, Gomez made a bold statement by going barefoot for the rest of the evening. The "Only Murders in the Building" star even presented on stage without footwear — a surefire way to prevent any further slips. Gomez's tumble and consequent barefootedness found high relatability on the internet, and the star herself even took part in the fun: "I couldn't keep my heels on, but I did manage to take a couple selfies," she wrote on Instagram. Way to turn an awkward moment on its head! 
When Angelina Jolie and Billy Bob Thornton couldn't keep their hands off each other
It's easy to forget there was a time when Angelina Jolie and Billy Bob Thornton were a thing. But, try as you may, the internet makes sure you don't. Just as you think you've wiped their wild red carpet PDA out of your memory, a resurfaced video will have you reliving it in all its vintage glory. 
The year was 2000, when "Gone in 60 Seconds" premiered. The former celebrity pair appeared together, all over each other, and delivered one of the raunchiest interviews ever recorded. As Jolie smothered his face with kisses, Thornton told MTV about their hot and heavy moments: "My favorite one in a car was today, just before we got here," he said, dishing about their sex life (via Grazia).
"It's amazing that we actually leave the room — ever," Jolie told Us Weekly after marrying Thornton in 2000. Three years in, the couple divorced. But their passion became a near blueprint for future celebrity romances, mirrored most prominently in the eccentric dynamic between Megan Fox and Machine Gun Kelly. Much like their predecessors, who famously sported blood-smeared lockets during their relationship, MGK too wears similar jewelry (per Page Six). "Copycats," Thornton's son called the new pair. Well, as they say, imitation is the sincerest form of flattery!