Did You Know Maya Rudolph Has A Lifetime Movie Cameo?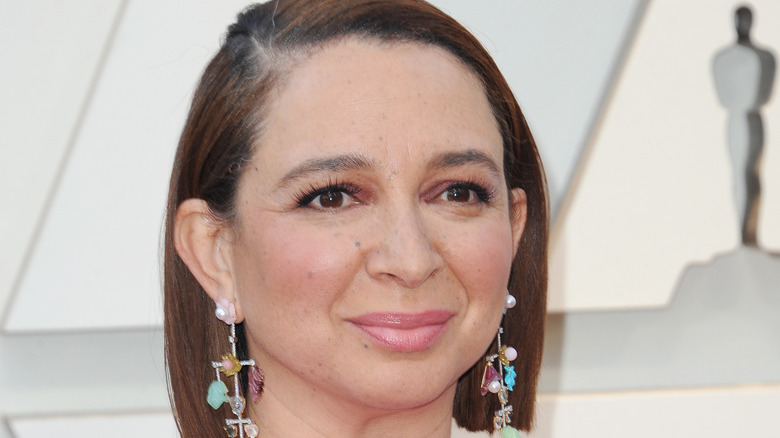 Tinseltown/Shutterstock
It's hard to not fall in love with Maya Rudolph's spunky, witty, and original presence on screen. The Gainesville, Florida-born actress with a passion for music, per IMDb, is so memorable that it's likely you've found yourself googling "Maya Rudolph movies" after you've seen one of your first movies with her in a lead role. Known for her characters in "Bridesmaids" (2011), "Away We Go" (2009), and the more recent and hilarious "Wine Country" (2019), Rudolph, who turned 50 this year, is actually the daughter of the famous African-American soul vocalist — Minnie Riperton — and record producer dad — Richard Rudolph; her claim to comedy fame came on the stage of Saturday Night Live (SNL) in 2000, via IMDb.
There might be a lot of untold facts about Maya Rudolph, but what we do know is that she loves to make people laugh. She told Interview Magazine that humor has always been in her. She recalled an instance from her childhood when she was able to make her friend happy by "talking in a funny voice." "There's the power that comedy gives you, and enjoyment," she shared with the outlet.
Jokes aside, did you know that Rudolph, who has four children with filmmaker Paul Thomas Anderson, has dabbled in more than just comedies (a season she loves by the way), per Interview Magazine? "Hubie Halloween" (2020) is not the only spooky movie under her belt; she's even played a cameo in a Lifetime movie.
Catch Maya Rudolph in the 1997 Lifetime movie, The Devil's Child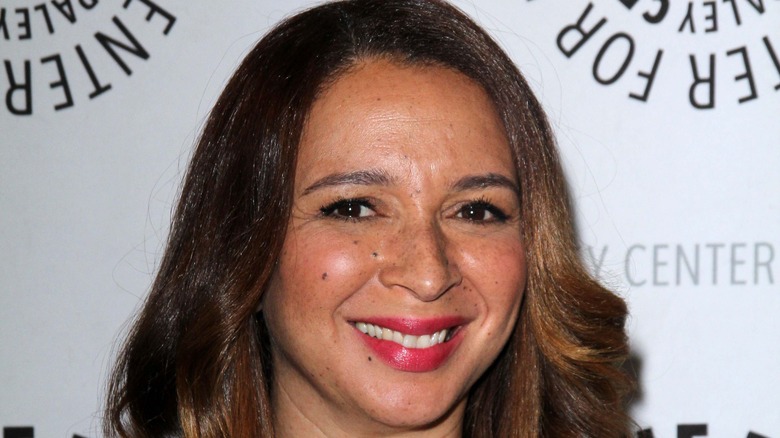 S_Bukley/Shutterstock
Although Maya Rudolph has admitted to not being a fan of all things sinister, according to Interview Magazine, this hasn't stopped her from making a small appearance in the role of Holly for the Bobby Roth-directed horror flick "The Devil's Child," via IMDb. October 1997 was when the film debuted on Lifetime television, per Quotes.
What do you get when the devil's offspring is being carried around in a woman's belly, all because her own mother made a bad deal with the devil a long time ago in the hopes of saving her daughter's life? The movie "The Devil's Child," via All Movie. Rudolph's role might not be noteworthy, but you do see her in the movie, playing a girl who's had an affair with her teacher, via POPSUGAR.
Even though they may have a bad reputation for being trashy TV, there are still some Lifetime Original Movies that everyone should see at least once in their lifetime. Maybe this movie will make it to that list one day? Watch "The Devil's Child" on Lifetime to catch a glimpse of Maya Rudolph in her cameo role.
Maya Rudolph has more cameos to her name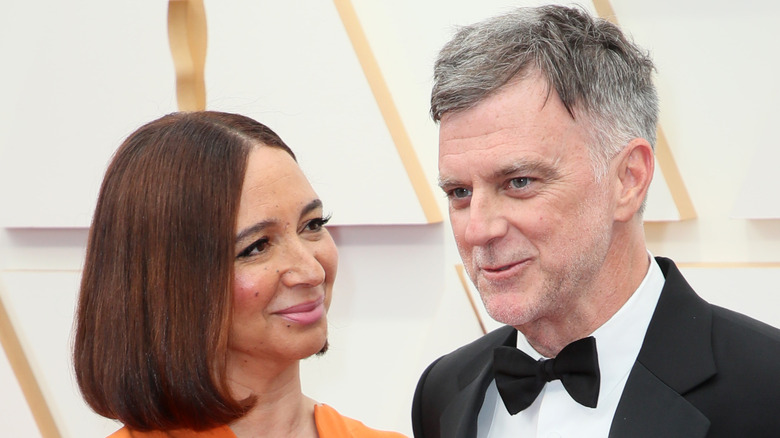 David Livingston/Getty Images
"The Devil's Child" is not the only movie Maya Rudolph has played a cameo role in; she's also played a small but unforgettable character in "Inherent Vice" 2014, per Entertainment Weekly, and given her iconic voice to the teen comedy "Booksmart" among others (2019), via Bustle. 
Directed by Rudolph's husband Paul Thomas Anderson, "Inherent Vice" is a mystery-comedy that follows the actions of private investigator Larry "Doc" Sportello played by Joaquin Phoenix. His ex-girlfriend — Shasta — comes to him for help with a case involving her current man — Mickey Wolfmann, but Doc is set on a course to solve an ever bigger problem when both of them go missing, reports Rotten Tomatoes. 
Even though her role as the receptionist (Petunia Leeway) at the place where Doc works, is small, Rudolph does a good job of doing justice to the original role in the book written by Thomas Pynchon, on which the movie was based, reports Entertainment Weekly.