Martha Stewart's Best Tips And Tricks To Get Your Oven Sparkling Clean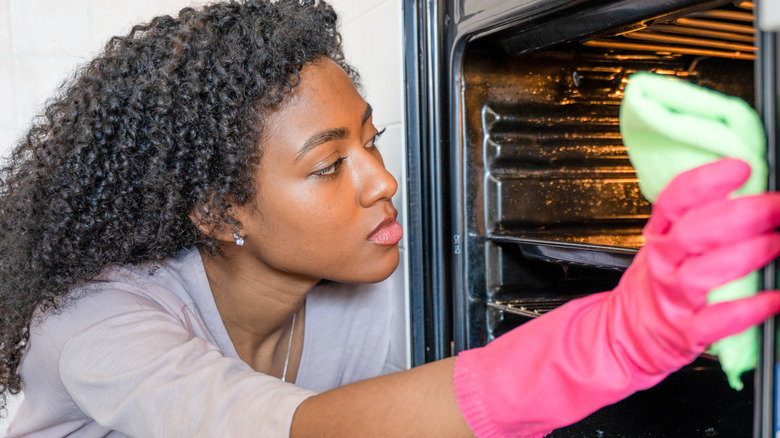 Tommaso79/Getty Images
Like closets, it can be easy to close the door and forget the mess inside your oven. That is until you're cooking or baking and you smell the ghostly, slightly-burned aromas of mealtimes past. Besides those unappealing smells and smoke, dirty ovens can impact your current meal in other ways. "Having excess residue built up in your oven will not only make your food taste unpleasant but will also make your oven work harder to cook or bake your food to the ideal temperature," Ron Shimek, president of Mr. Applicance, told Marthastewart.com.
According to Landmark Home Warranty, dirty ovens can result in needed appliance repairs or cause you to have to buy a replacement sooner. If your appliance is more difficult to heat up, it can ultimately wreck the oven's heating elements. Another way high temps can damage your oven is by using the self-cleaning feature. While this sounds like an easy option, repair technicians don't recommend it. Since self-cleaning temps go as high as 1,000°F, you risk damaging thermostats, control boards, and other essential parts, per Best Service Company Appliance Repair.
The self-cleaning feature can also present health and safety risks. Besides being a potential fire hazard, Family Handyman cautions that a super-hot oven releases carbon monoxide and could be a burn hazard for young children and pets. Fortunately, there are other safer and greener options out there. Just follow a few expert tips from Martha Stewart's website.
Common household staples make a DIY oven cleaner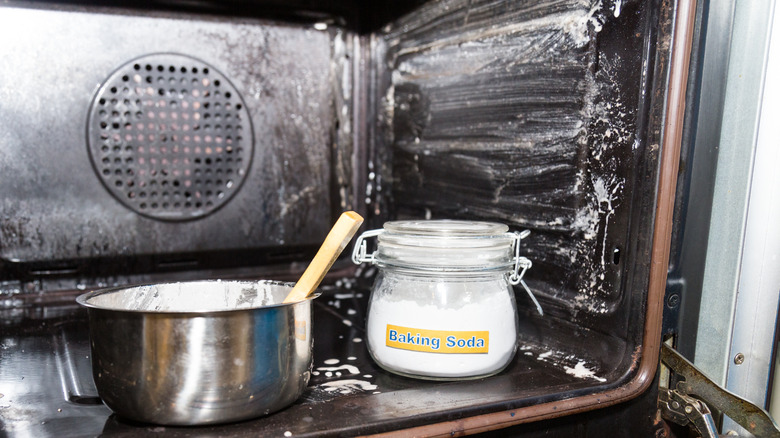 ThamKC/Shutterstock
MarthaStewart.com takes an eco-friendly approach to oven cleaning. To begin, simply combine baking soda and water. Wipe this paste inside the oven, except for areas like the heating element. The next day, scrape up the paste with a plastic spatula and wash away the excess with water. Stewart also suggests using a paintbrush or toothbrush to apply the baking soda more easily. As an added step, she recommends cleaning the door with a blend of half water and half white vinegar. For oven racks, Stewart's website advises washing them with dish soap.
Bob Vila is also a proponent of baking soda and vinegar as natural, chemical-free cleaners and uses a similar technique to Stewart. Villa applies baking soda to the racks, then sprays them with vinegar to create an effervescent cleaner.
"The inside of the oven should be cleaned every three months, or when you notice burnt on food or smoke when you are baking," "Clean My Space" Youtuber Melissa Maker told NBC News. As an alternative to using baking soda, Maker recommends coating the oven with a mix of water and dish soap, then rubbing it down with a wet pumice stone (via MarthaStewart.com)
Besides cleaning inside the oven, Apartment Therapy recommends cleaning the area under the oven. Pulling out the oven's warming drawer provides access to the floor beneath. Once accessible, this area can be vacuumed or wiped to eliminate long-forgotten crumbs and sticky messes.
Other oven cleaning methods and preventative tips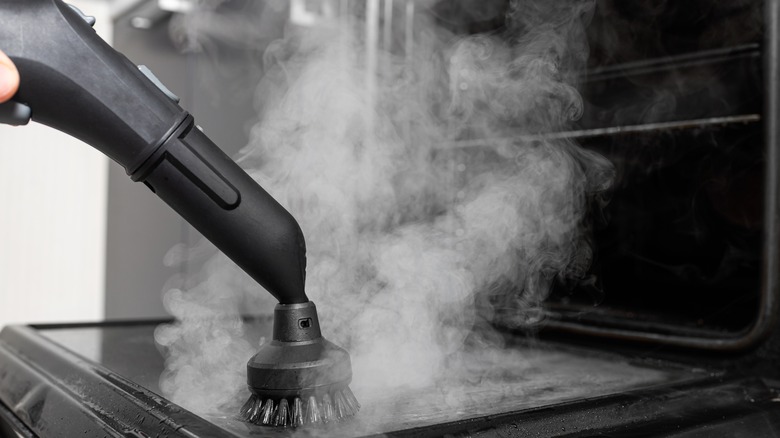 Stenko Vlad/Shutterstock
As another eco-friendly option for cleaning inside your oven, This Old House suggests steam-cleaning. For this method, fill a pan with water and a cup of white vinegar. Heat the oven to 450 degrees. After 20 to 60 minutes, turn the oven off. After everything is cool, wipe down the oven's interior. Some ovens even have a built-in steam cleaning option that can be used instead, or you can utilize a handheld steam cleaner.
As an additional option, Apartment Therapy recommends using a dishwasher tablet for oven cleaning. Since some of these tablets contain bleach, the outlet recommends wearing gloves while cleaning. After activating the tablet in warm water, rub it along the oven's glass and interior. Afterward, wipe away the dirt and cleaner, then rinse with water to finish the job.
MarthaStewart.com also advocates using dishwasher tablets and hot water to clean oven racks in the sink or even the bathtub. "The tablets are powerful degreasers, and they'll cut through cooked-on crud, so you don't have to use elbow grease," GoClean Co's Sarah McAllister said. In addition, Stewart's site is a proponent of taking steps to prevent spills so you won't have to spend your valuable time cleaning them up later. For example, when cooking food that's likely to bubble over, place a baking sheet on a rack below to catch the mess.