A Christmas Spark: Finally, A Holiday Rom-Com About Finding Love Later In Life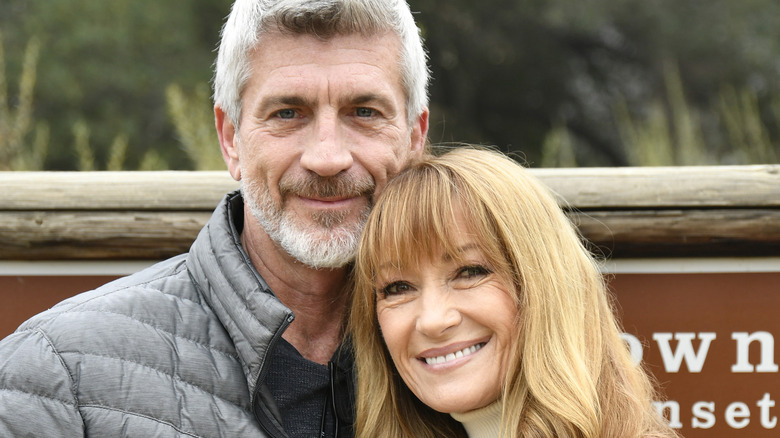 Michael Tullberg/Getty Images
Lifetime's holiday movie "A Christmas Spark" is the latest addition to this year's lineup of original festive romantic comedies on the beloved channel (via Lifetime). Over the past few years, audiences' love of the classic holiday rom-com has soared, resulting in tons of content dropping as soon as the festive season rolls around, and for some, long before — we're lookin' at you, Hallmark — per Brides. It's evident based on the watching trends of viewers and the producing trends of networks alike that folks are not getting bored of the annual influx of new holiday rom-coms any time soon. 
What viewers are getting tired of, however, is holiday rom-coms' tendency toward a lack of diversity. Thankfully, networks known for mistletoe meet-cutes and frosty first kisses like Lifetime and the Hallmark Channel have taken note and made impressive pushes towards diversifying their casts and stories. From hit movies with romances between two men at the forefront to casting more POC as leads, they've made big changes across the board, and audiences are loving it. 
Lifetime's "A Christmas Spark" is an interesting addition to this trend, as the way they chose to diversify their storyline is as unique as it is much-needed. "A Christmas Spark" gives us a holiday rom-com about finding love later in life, and we are so glad it's now on our annual rewatch list. 
A Christmas Spark's more mature love story
"A Christmas Spark" follows Molly, a mother, and grandmother, who's played by 71-year-old living legend Jane Seymour (via IMDb). As a widow, Molly struggles to let go of the past and its many traditions and memories and embrace living in the present, rather than feeling like the vital part of her life is over. Molly wants the holiday season to be "just like old times" or as close as it can be without her late husband. Yet, as time moves on and things change, Molly finds out that she can't host Christmas this year as she always does.
While spending the holidays visiting her daughter, Molly gets involved in directing the town's Christmas play. This allows her to focus on something that brings her back to her roots and makes her feel more like herself. In the process, Molly meets Hank (Joe Lando) and the pair falls in love. Hank helps Molly to embrace taking risks and having fun like she was able to when she was younger, and she discovers that not only does she have a bright and exciting future ahead of her, but that this doesn't mean she needs to forget about her happy past either.
The movie is also notably a reunion for stars Seymour and Lando, who previously appeared in "Dr. Quinn, Medicine Woman" together, per Collider. 
A Christmas Spark's message about finding love
Michael Tullberg/Getty Images
"A Christmas Spark" isn't just a story about finding love later in life; the movie also has a strong message about how we can navigate it. Learning to let go of what she thinks she should be doing or how she thought her life would go allows Molly to find a romantic connection that makes her feel things she missed from her youth (via Parade). 
It's no surprise that holiday rom-coms are so popular. We love romantic comedies because of how sweet and hopeful they make us feel, and experiencing joy and hope is always extra special around the holidays. Seeing ourselves reflected in that hope, though, is essential. The truth is, not all of us meet our soulmates in the same way or at the same time in our lives. But, when we're repeatedly fed the same narratives through the stories we consume, it can be increasingly difficult to imagine our lives turning out differently.
"A Christmas Spark" proves that finding "the one" isn't the be-all and end-all. Plenty of people have multiple great loves in their lives, and some of us don't find our happy endings until later in life. As Seymour put it, to Media Village, "The hope is that change is not something to be afraid of — that change can bring a Christmas spark and bring something magical to your life when you least expect it, and it's never too late to begin again."