The Workout Routine Lizzo Swears By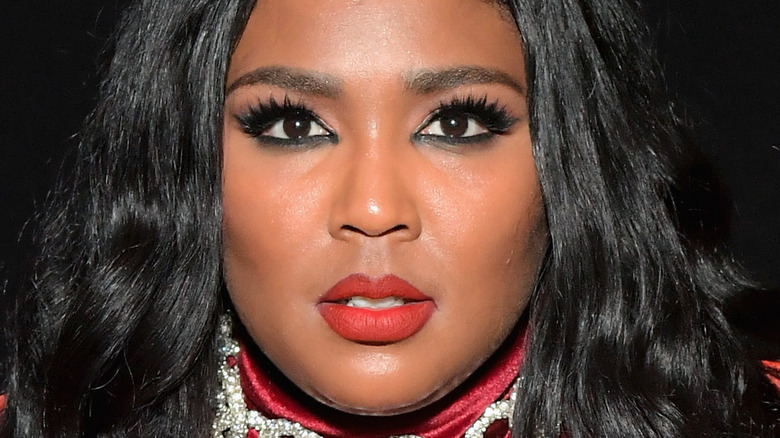 Charley Gallay/Getty Images
Singer Lizzo is known for her impressive stamina — remember, that flute performance at the 2019 BET Awards (via YouTube)? Whether preaching about body confidence or slaying the red carpet, the lovable singer is always authentic to herself, which is also a key theme in Lizzo's chart-topping music. So, how exactly does she achieve such incredible breath control and endurance when performing?
The secret seems to be her workout routines. Per People, Lizzo frequently shares her workout routines on social media alongside supportive messages, previously stating: "The best transformations are the ones only you can see" and encouraging her fans to "celebrate yourself." The singer also follows a clean, plant-based diet. In fact, Lizzo recently revealed how becoming vegan helped her health. 
Moreover, she often posts videos on TikTok about what she eats in a day as a proud "fat vegan" to inspire others. If going completely plant-based isn't your thing, working out is a significant part of staying healthy, too. Luckily, Lizzo has a few go-to exercise routines she swears by, so you can switch it up and hopefully gain some of her incredible stamina in the process (flute skills unfortunately not included). 
Lizzo's routine can easily be done at home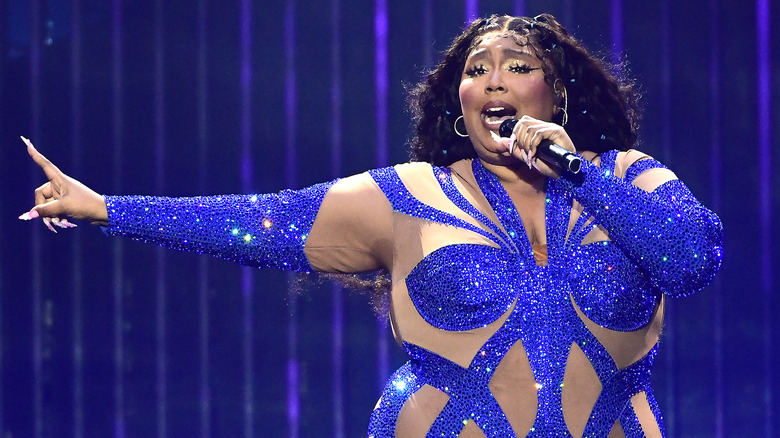 Tim Mosenfelder/Getty Images
According to Marie Claire, Lizzo's main workout is on the shorter side, though you could easily complete more rounds for a higher-intensity challenge. It consists of a minute of battle ropes, to begin with, followed by a minute of the popular Superman move for your core. Next, tone your bum with 8-10 weighted squats (the weights Lizzo uses aren't specified, so you can adjust this to fit your needs). 
Finish the circuit with a minute of skipping — no slow skipping here, you need to go all out to get that heart rate up. And repeat. Aside from covering all ground, this circuit can easily be done at home, meaning it's also great for when you're traveling or don't have access to the gym. However, it isn't all Lizzo does in terms of exercise. The singer is additionally partial to a spin on an exercise bike (via TikTok). 
Indoor cycling is another great form of cardiovascular exercise. According to a study published in the Medicina Journal, indoor cycling lowers blood pressure, increases oxygen intake, and helps to build lean muscle mass. We're definitely convinced.  
The singer doesn't just stick to one workout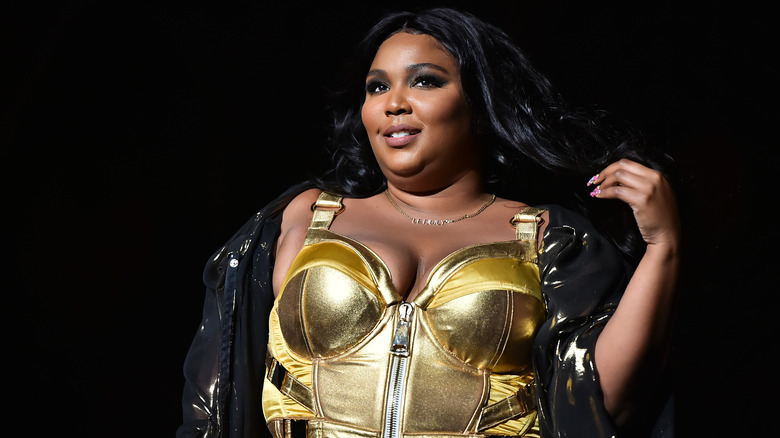 Theo Wargo/Getty Images
Cycling and circuit training aren't all, though. Strutting your stuff on the treadmill is good both for your heart and your self-esteem, and Lizzo clearly agrees. Per SHAPE, the singer posted a TikTok of her trying out a treadmill workout that featured her songs, captioning it: "I started at 2.5>3.1 then jogged at a 3.6 not everyone's journey is the same but we all can STRUT LIKE A BADDIE HEAUX" in her trademark confident style. 
The Lizzo-themed treadmill playlist was originally conceptualized by creator Allie Bennett, aka @benntheredonethat, who is known for sharing themed treadmill workouts set to tons of different songs. Ultimately, Lizzo's goal is to be healthy and to encourage others to love themselves no matter what. She previously said, "I would like to be body-normative. I want to normalize my body" in an interview with Vogue. 
Likewise, the talented flutist also reiterated her core messages of inclusion and body positivity by clarifying: "Inclusivity is what my message is always about." Get ready to slay by trying out one of Lizzo's workouts so you can end up feeling "Good as Hell" too.