The Best Way To Clean Your Eyelash Extensions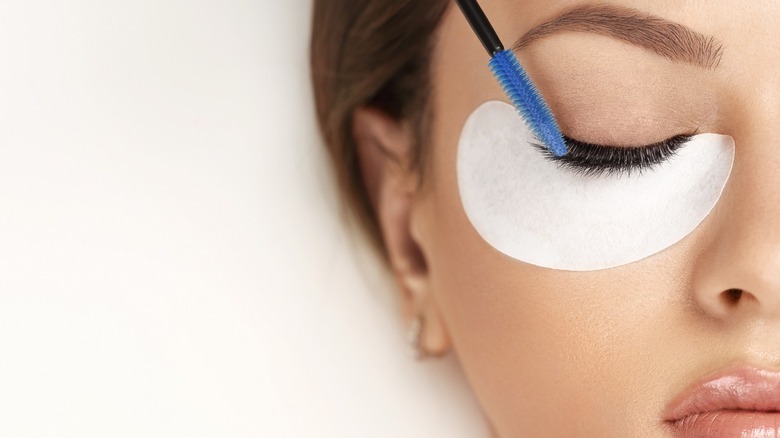 YURII MASLAK/Shutterstock
Over the past few years, eyelash extensions have become one of the most popular beauty treatments in the business, and it's easy to see why! First and foremost, your lashes look luscious, polished, lengthened, and perhaps most importantly, totally natural. Celebrity eyelash expert Clementina Richardson defines lash eyelash extensions as "semi-permanent synthetic, faux mink, or silk strands which are applied strand by strand to your natural lashes," per Harper's Bazaar. And while the process is time-consuming and often expensive, Glamour admits, for most clients, the results are worth it. Given the time and cost investment, you'll want your eyelash extensions to not only last but to keep looking as fresh as they did immediately post-treatment. To achieve this, you'll need to practice proper maintenance until your next lash session. 
There are a few eyelash mistakes you're probably making, especially if you've never had eyelash extensions before. That's okay — knowledge is power. One of the most important parts of maintaining your eyelash extensions is cleaning them properly. There are specific methods to avoid, and certain methods to practice, for the best results.
Oil-free makeup remover is a must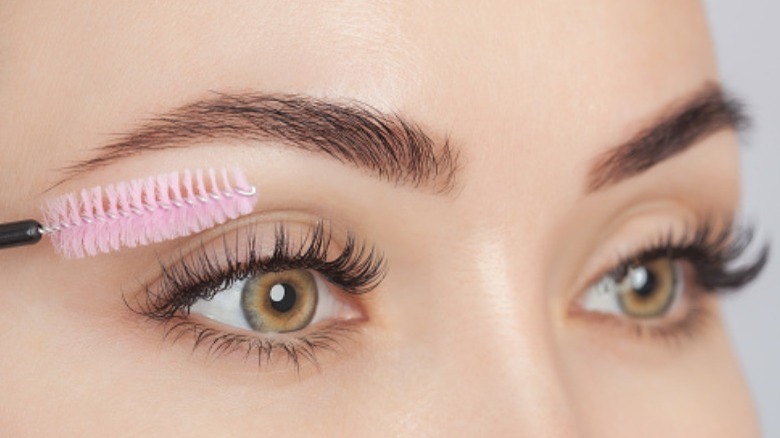 Dimid_86/Getty Images
First and foremost, oil-free makeup remover is a must-have product to add to your cleansing repertoire. This is because oil can break down the adhesive that is used to bond the extensions to your natural lashes, per Lash Affair. Alcohol can also corrode the adhesive, so keep clear of any products containing the ingredient if you want to keep your lashes fresh. 
With this in mind, makeup products that might require you to use an oil-based remover or alcohol to take off should be avoided as well. This includes waterproof mascara, although all mascara is best left on the table when it comes to keeping your lash extensions clean, per Byrdie.
Instead, find an oil-free makeup remover you love — Editorialist recommends La Roche-Posay Effaclar Micellar Water, among others. Apply some product to a clean spoolie brush or your fingers, and gently brush the lashes to remove any makeup or particles from the day, Byrdie suggests. To round out the routine, pat the lashes with a tissue to pick up any remaining product. 
Avoid cotton at all costs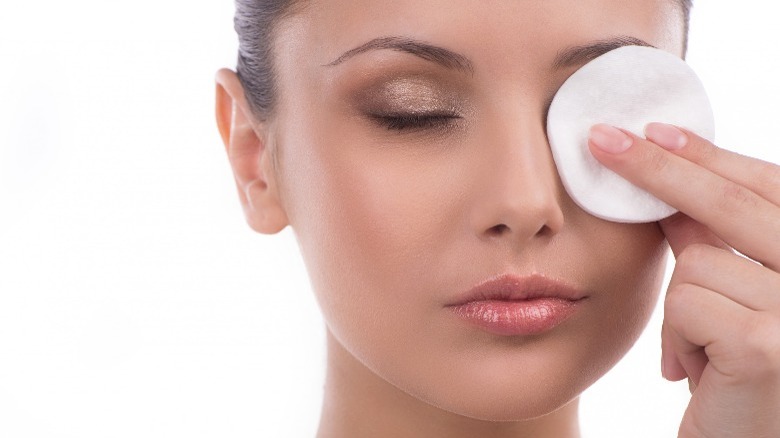 BlueSkyImage/Shutterstock
Whatever you do, there's one product you should avoid with eyelash extensions at all costs: cotton pads. They may seem deceivingly soft and fluffy but can actually do a lot of damage to your false lashes if used. This is because the small cotton fibers can actually catch on your lash extensions and pull them out as you wipe, per Byrdie. Yes, this means that even Q-Tips should be avoided, per Xtreme Lashes. Should you be looking for the right cleaning tools, Target sells a three-piece tool set specifically for lashes that includes a spoolie, carrying case, and an ultrafine spray bottle for your makeup remover.
Should you be looking to strengthen your natural lashes before testing out extensions, you could always use a conditioning serum to keep them in shape. Milk Makeup's KUSH Lash + Brow Enhancing Serum is formulated without parabens or silicones and can be used every day for "longer, fuller-looking lashes and brows," per Sephora. And if you haven't heard, here's why you shouldn't use Vaseline for eyelash growth. We hope your lashes really take off (and stay on)!