What Is Resveratrol And Why Should You Add It To Your Skincare Routine?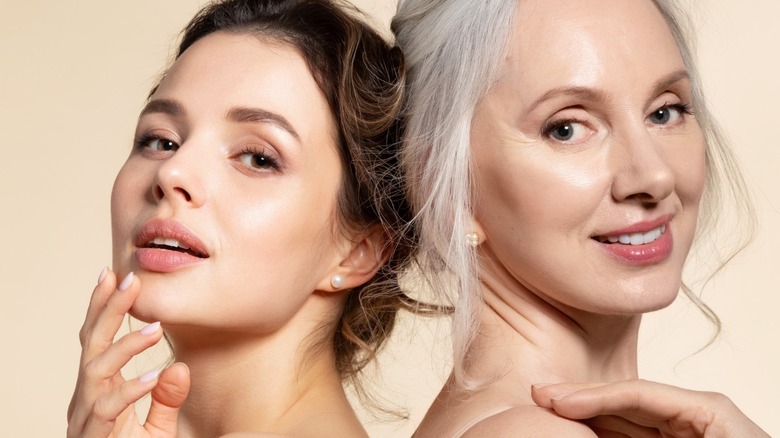 popcorner/Shutterstock
We may receive a commission on purchases made from links.
The largest organ in our bodies, skin both protects us from the elements and is exposed to them, per Medline Plus. While aging skin is beautiful and a natural part of getting older, many turn to beauty products or cosmetics to ease into aging skin or to minimize the damage to the skin that certain external factors can cause. One natural skincare ingredient found in the skin of grapes and other fruits such as blueberries, plums, and apples may have the secrets to maintaining skin as it ages — quite literally "like a fine wine," as the adage goes. 
Resveratrol is an antioxidant that has long been the subject of studies that research whether or not it can be useful in skincare, per Healthline. Included in the polyphenol compound family, resveratrol is known to inhibit cells from aging by fighting free radicals and protecting healthy cells, per Byrdie. Studies have demonstrated that resveratrol has both "chemopreventive and therapeutic effects against many diseases and disorders, including those of the skin," per research published in the Archives of Biochemistry and Biophysics. But, how well does this chemical translate into skincare?
Resveratrol has a number of skincare benefits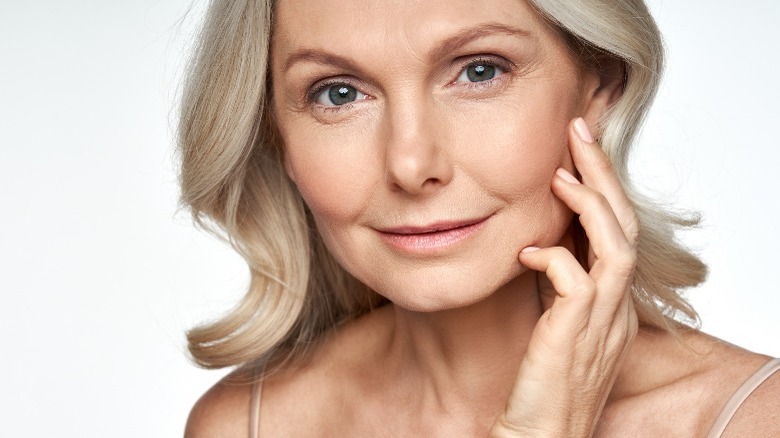 Ground Picture/Shutterstock
Interestingly enough, resveratrol translates pretty well into skincare, according to dermatologists that chatted with Byrdie. This is because resveratrol, when consumed, metabolizes quickly in the digestive system, per a study published in the Archives of Biochemistry and Biophysics. Dr. Ava Shambam told Byrdie that in order to see real benefits to your skin, you'd have to "drink hundreds of cases of cabernet a day," which is just not realistic (or healthy). Instead, topical application is key.
And resveratrol can be used for a number of skincare benefits aside from slowing the effects of aging. First, it can help to rescue the skin from environmental damage, such as sun damage or pollution damage, per Healthline, as it can both prevent and reverse such damage. This includes effects such as hyperpigmentation. Sun damage is frequently shown to speed up the effects of aging skin, and it can also put the skin at risk for cancer, per SkinCancer.org.
Versatile skincare products with resveratrol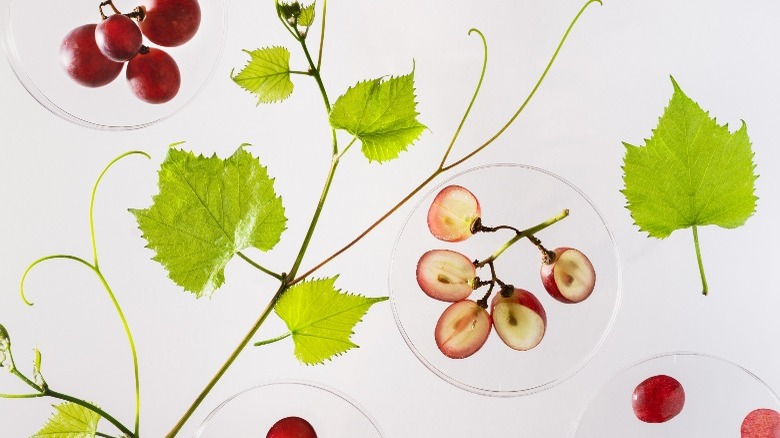 Inna Dodor/Shutterstock
There are many versatile skincare products now on the market that include resveratrol. To get straight to the good stuff, The Ordinary makes a serum that contains 3% resveratrol and 3% ferulic acid to be incorporated into your routine for under $20 on Amazon. Ferulic acid is another natural antioxidant used in skincare that "boosts antioxidant properties of other skincare ingredients," per Medical News Today.
For an all-around moisturizing cream with the benefits of resveratrol, you could test out philosophy's anti-wrinkle miracle worker cream, which is also about $24 for a half-ounce on Amazon. Per its listing, the cream also includes vitamin C and hyaluronic acid, which work wonders when it comes to rejuvenating the skin, according to Healthline. 
And, if you're a big fan of face masks, you might love this iS Clinical Hydra-Intensive Cooling Masque, which contains resveratrol, hyaluronic acid, aloe oil, and rosemary leaf oil to treat "sunburn and inflammation," and restore "powerful hydration" to the skin.