What Is Tiger Grass And Why Should You Add It To Your Skincare Routine?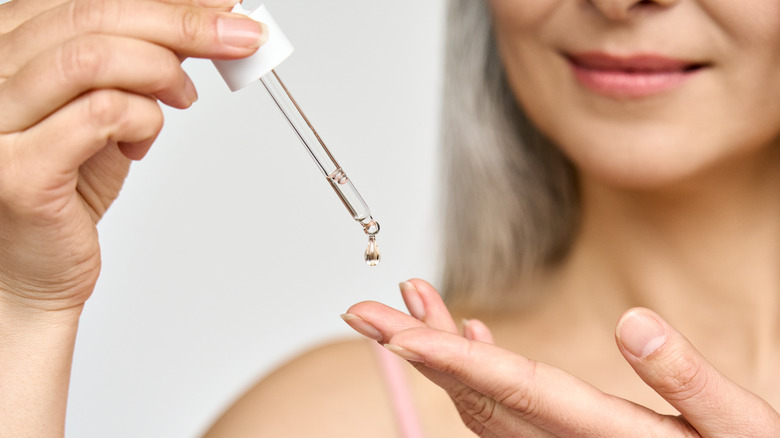 Insta_photos/Getty Images
To give your complexion a boost, you may want to take a cue from some ferocious felines. According to Reader's Digest, injured tigers are said to roll around in a specific type of grass to heal their wounds. Fittingly, that grass is now nicknamed "tiger grass," though it's also known as Centella Asiatica, Cica, and Gotu Kola (via PopSugar).
The plant is native to Southeast Asia, and besides the tigers, beauty devotees in the East have been using it for centuries. Allure notes that, more recently, tiger grass has become a superstar ingredient in K-beauty — read the label of any Korean skincare product, and there's a good chance you'll find it listed.
You no longer have to follow a Korean skincare routine to try tiger grass, however. The plant extract is making its way into Western products, too, from creams to sheet masks. Here's what this buzzy ingredient does and how to incorporate it into your skincare regimen.
Skin benefits of tiger grass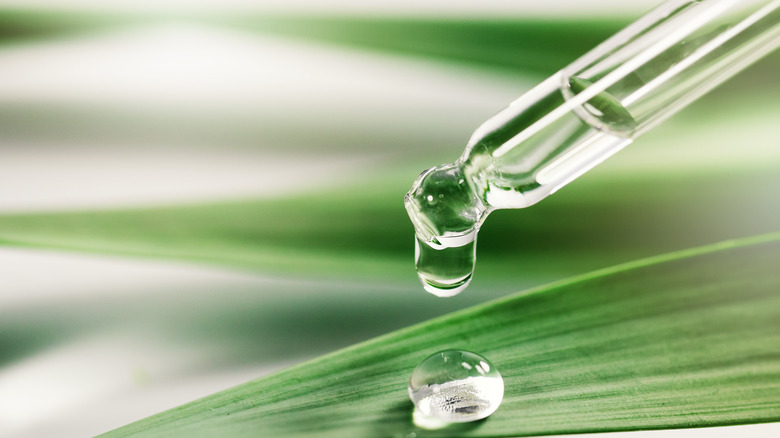 Ronstik/Getty Images
Tiger grass is rising in popularity as a beautifying ingredient, but what exactly does it do? Well, almost everything you might want a skincare product to do. Tiger grass is full of nutrients like zinc, amino acids, beta-carotene, and chlorophyll that can save suffering skin, according to PopSugar. Charlotte Cho, an aesthetician and co-founder of K-beauty shop Soko Glam, told Allure, "[S]ensitive-skin friendly ingredients, such as Cica, are frequently seen in Korean beauty products to calm inflammation, redness, and irritated skin."
Besides its soothing properties, tiger grass is also known to treat acne flare-ups. But if signs of aging are your real concern, tiger grass has that covered too. Alicia Yoon, founder and CEO of K-beauty company Peach & Lily, explained to Allure that tiger grass stimulates collagen production, helping to firm and tighten the skin.
According to Reader's Digest, the plant's green color can also neutralize red blemishes and splotchiness, acting as a topical color corrector. However, this generally works best on lighter skin tones.
How to use tiger grass in your skincare routine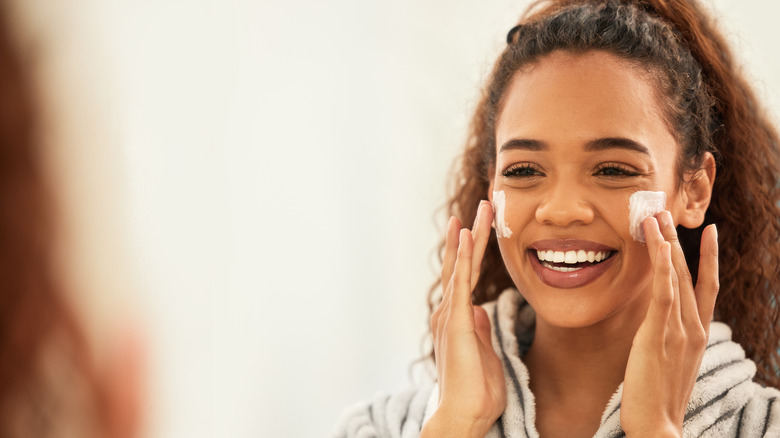 Peopleimages/Getty Images
Whether your concern is acne, aging, or irritation, tiger grass can be a lifesaver. And thankfully, there are several ways to add this star ingredient to your skincare routine. One of the best ways to get your tiger grass fix is by using sheet masks, serums, and moisturizers that contain the plant. As cosmetic chemist Perry Romanowski told Allure, "You likely won't get any benefit from it from a rinse-off product."
There are a variety of creams available that are designed to be applied every day, or any time skin is especially irritated (via Byrdie). Other products lean into the color-correcting benefits of tiger grass and are designed to be used as a primer under makeup, per Real Simple. Take your pick from repairing moisturizers, CC creams, spot treatments, and more, depending on your skincare needs.
When choosing a product, you may also want to look for skincare containing vitamin C. According to a 2008 study published in Experimental Dermatology (via NIH), a combination of tiger grass and vitamin C can improve wrinkles, firmness, roughness, and skin hydration.