Fixer Upper's Best Living Room Remodels That Will Seriously Inspire You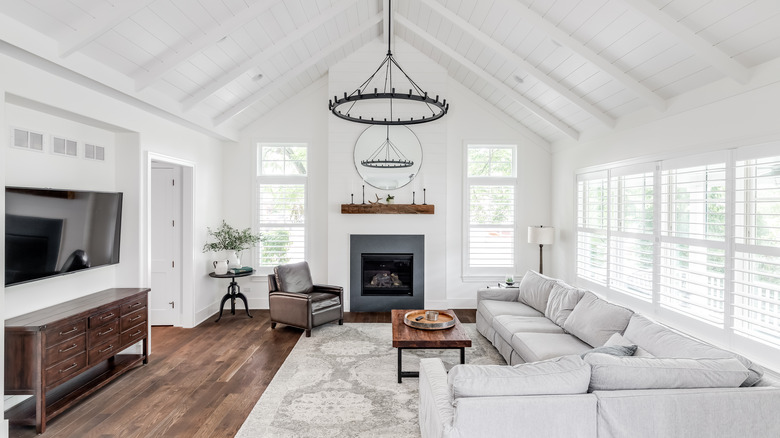 Hendrickson Photography/Shutterstock
Viewers continue to fall head over heels for the charming co-hosts of HGTV's "Fixer Upper," Chip and Joanna Gaines, since its first airing in 2013 (via HGTV). Each episode truly seems like an act of magic. 
The satisfaction of seeing what is sometimes an eyesore of a home transform into complete perfection within the span of an hour is unparalleled. And home remodel projects are often long and tedious with unpredictable upheaval at every turn, so it's no wonder we enjoy watching someone else tackle the project while we recline on the couch with a bowl of popcorn.
A complete home remodel likely strikes an instant headache, but maybe just zeroing in on one room at a time is the way to go. If you're considering a living room makeover, look no further than the works of creative masterminds Chip and Joanna. These living room remodels from "Fixer Upper" will likely jumpstart your motivation to get out the hammer.
Living room details that amaze
While every living space is unique and you've got to keep the flow of your home in mind when redesigning, there are a few qualities we see again and again on "Fixer Upper" that viewers can't seem to get enough — and exposed wood ceiling beams are one of them (via HGTV). 
Interior design and home trends come and go, but the inviting, rustic feel of adding natural wood beams to a vaulted living room ceiling is just what many homeowners are after. This touch really takes a living room from standard to spectacular. The open concept and vaulted ceilings in this living room remodel favorite allow a lot more natural sunlight to filter into the room, creating an inviting and expansive atmosphere. 
Another widely loved feature of living room updates is a stone fireplace (via HGTV), and many of the best living room remodels on "Fixer Upper" feature this beautiful element. The fireplace gives a cozy warmth to the place where coziness matters most. It's often the centerpiece of a living room, and, whether you go for dramatic or simple, a stone design is sure to catch the gaze of guests.
This fan-favorite living room remodel is all about the shiplap. "Fixer Upper" producer Michael Matsumoto's remodeled home was featured on the show and stuns with beautiful wood floors, two sets of French doors, and — you guessed it — shiplap walls. 
There are many decor trends you'll likely want to embrace when it comes to living room accents. Some popular pieces in the best of "Fixer Upper" homes are brown leather couches and jewel-toned area rugs. These important components of any living room design can tie things together in just the right way.
How to begin your living room remodel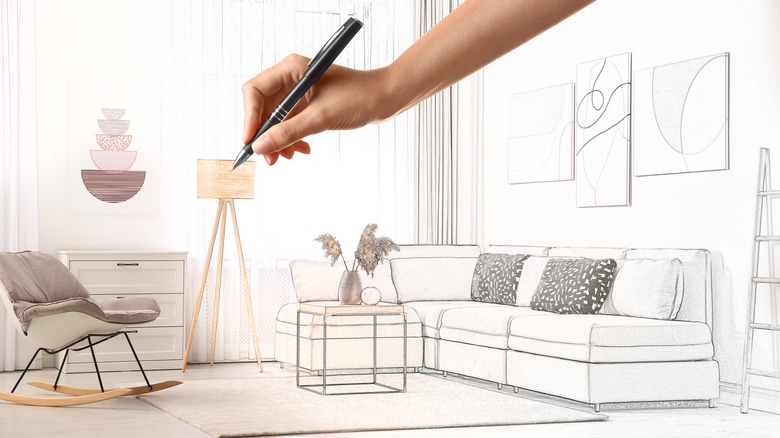 New Africa/Shutterstock
When it comes to diving into a big home project, such as a living room remodel, there are a few precautionary steps you'll be grateful you took prior to swiping that debit card. According to HGTV, taking your time in the planning process is of the utmost importance. 
First, you need to map out your budget for the remodel. After that, being realistic about your lifestyle is crucial. Do you host a lot of parties? Or is your living room primarily used for movie night with the kids and doing homework? How many seating spaces do you need? There's a lot to consider, and it's wise to have this forethought in planning your new living room.
Next, you want to be sure to consult with people who do this for a living (via HGTV). Professionals know what'll work and what won't. They should be able to save you a headache or two down the road. 
Naturally, it's also smart to ask your friends and family members who have been there before what they love about their living room updates and what they wish they would've done differently. This could save you time, money, and stress. 
Now, time to map out the living room of your dreams.