Tips And Tricks For Keeping Your Skin Healthy During The Chilly Winter Months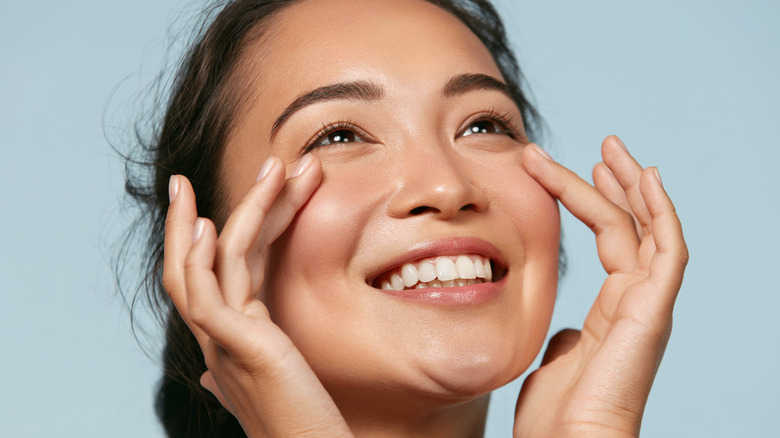 puhhha/Shutterstock
As soon as the cold weather hits, most of us grab our snuggliest sweaters and wrap up. However, in all the chaos of trying to keep our bodies warm, our faces can be neglected. Nobody likes the feeling of dry, flaky, or cracked skin any time of year, but especially in winter. Plus, the redness and irritability that accompanies it can be frustratingly painful. Per Good Housekeeping, dry skin is most often due to declining temperatures and dry air, both of which suck the moisture out of your skin and leave it feeling tight and uncomfortable.
Depending on how you feel, you are probably either searching for the best ways to treat dry skin or considering giving up and hiding your face behind a fuzzy scarf forever. Don't despair quite yet though, as there are plenty of ways to keep your skin looking healthy and hydrated even in the lowest of temps. From supplements to what you should be eating and building a skincare routine that's ideal for dryness, your parched skin will be thanking you for the pampering it receives after reading these tips.
Your diet could help your dry skin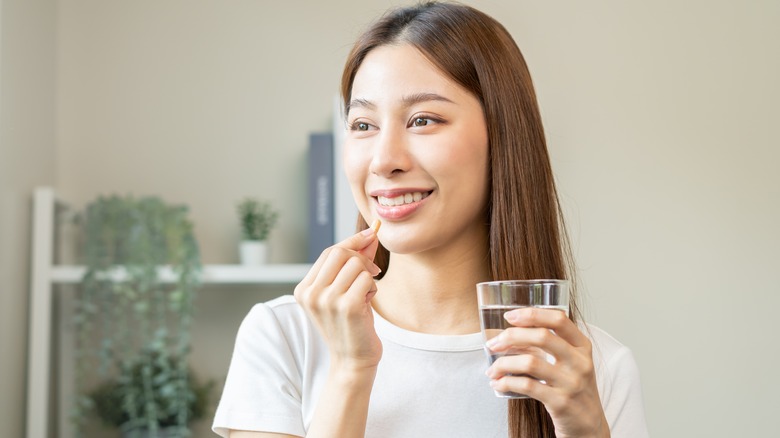 Kmpzzz/Shutterstock
Treating dry skin stems from a place you may not even consider — your diet. Founder of Health & Aesthetics Dr. Rekha Tailor says that introducing more of a certain food into your diet can have a positive effect on dry skin (per Byrdie). Avocado is one of these foods, due to the healthy fats it contains, as is kale. Just like the fats in avocado will encourage skin vitality, Tailor says that the vitamin C in kale "helps your skin to grow new cells and heal." But, if the thought of kale makes you wince, here are some ways to make kale less terrible. 
Additionally, supplements can also contribute to healthier, more hydrated skin. Dr. Sophie Shotter recommends one with omegas 3, 6, and 9, as "there is significant evidence that omegas can even improve eczema," she told Byrdie. Dr. Nicholas Perricone backs this up, stating he has seen "dramatic results" from clients with dry skin who started taking an omega-3 supplement. He also noted that you should "notice diminished dryness and increase in suppleness and radiance" when taking omega-3. This is due to your skin barrier being able to repair itself, which in turn leads to healthier skin. Notably, avocado also contains omega-3 (via Medical News Today).
Your skincare regime may also need a shake-up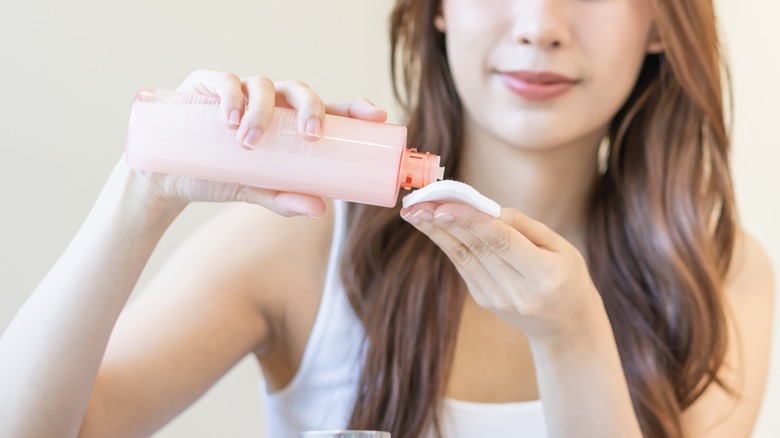 Kmpzzz/Shutterstock
On the skincare side of things, you need products that will help quench thirsty skin. Speaking to Vogue, dermatologist Shari Marchbein, M.D. recommended prepping your skin for moisture with a gentle scrub that contains "mild glycolic or lactic acid." Note that if your skin is painfully dry, you should skip this option. Next, go in with an antioxidant serum, preferably one with vitamin C in it. 
You'll also want to make sure your cleanser is gentle enough — the key here is repairing and protecting, rather than drying out your skin even more (via Vogue). Good ingredients to look out for include chamomile and oatmeal. Finally, start putting on heavier face cream both at night and during the day. Marchbein recommends people "look for creams, rather than lotions, that are made with ceramides and hyaluronic acid," as she told Vogue. Remember to always finish your morning routine with SPF even on cloudy days to provide a final strengthening barrier against the weather. 
By implementing the above steps into your daily routine, you're sure to start seeing a difference in your dry skin sooner rather than later.