Best Holiday Gifts For Meghan Markle And Kate Middleton Fans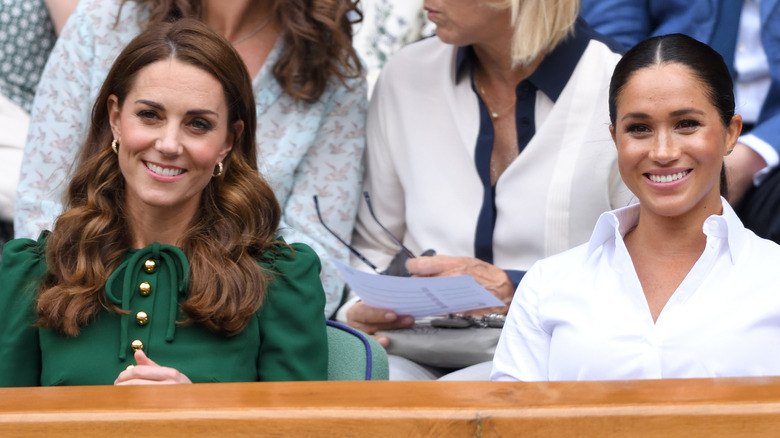 Karwai Tang/Getty Images
We may receive a commission on purchases made from links.
Christmas is right around the corner, which means it's time to get those gifts bought before it is too late. It can be daunting to figure out what to give to your loved ones but getting them something related to their interests is always a safe bet. If you have a fan of the British royal family at home, there are quite a few options for gifts that will definitely get them smiling. Those who followed every step of Prince Harry and Meghan Markle's relationship, or those who can't stop talking about Kate Middleton's best fashion moments, we are talking about you.
So, here is our ultimate gift guide for fans of Meghan, Duchess of Sussex, and Catherine, Princess of Wales, including a variety of clothing, jewelry, and memorabilia. While booking a trip to London to meet the royal family would be the ultimate dream, we promise every gift in this list will leave the recipient feeling like royalty. 
The Kate Middleton fan in your life will love this jewelry piece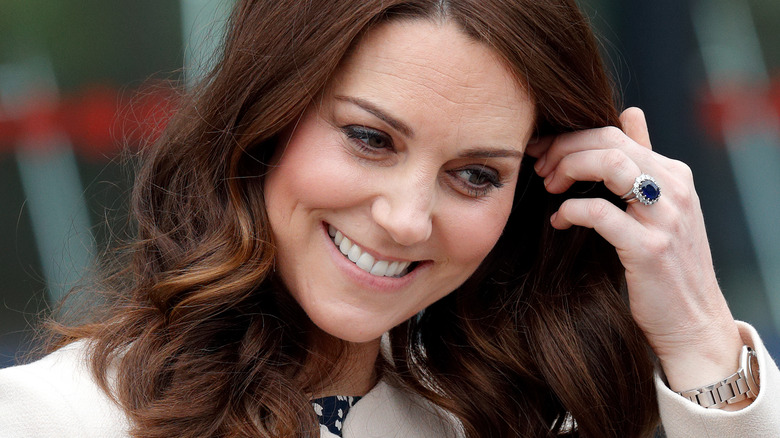 Max Mumby/indigo/Getty Images
Lifelong followers of the British royal family probably remember Princess Diana's stunning sapphire engagement ring, which later became Kate Middleton's. The ring was originally valued at $37,500 but the price has only kept increasing throughout the years due to its historical significance (via People). "Obviously, [Princess Diana] is not going to be around to share the fun and excitement of all of this so this is my way of keeping her close," Prince William said about the ring in a 2010 engagement interview.
If you want to have a little piece of royal history at home without breaking the bank, consider purchasing a replica of the iconic piece of jewelry, including Amazon's "Kate" Ring, which closely mimics the original.
Another great option for those who want to learn more about the fashion of the Princess of Wales, consider getting them the New York Times best-seller "HRH: So Many Thoughts on Royal Style" by fashion journalist Elizabeth Holmes. The book dives into the meaning behind some of Middleton's most iconic looks along with hundreds of high-definition photographs showcasing each of them. 
There are some affordable gifts for Meghan Markle fans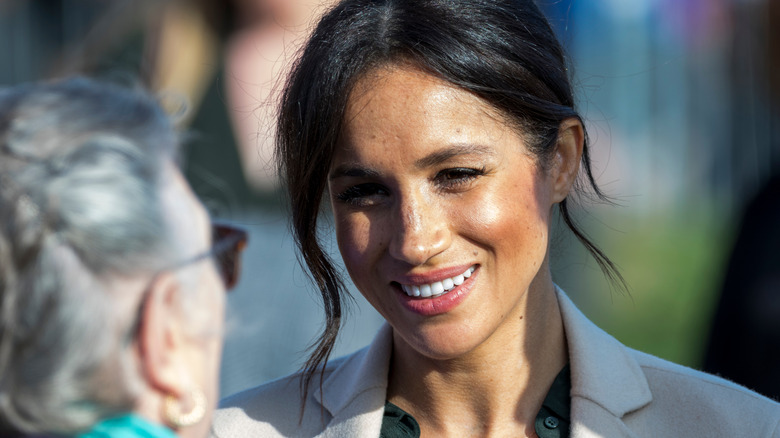 Alan Fraser Images/Shutterstock
Meghan Markle is known for her many knock-out fashion moments, and her outfits and accessories are often sought after by those who admire her style. While some of Markle's favorite pieces might be out of our purchase limits, she has worn some more affordable options that any fan of the Duchess of Sussex would love in their closet. 
During a 2018 trip to Melbourne, the royal was seen wearing a pair of Rothy's Black Solid Point Flats, per Town & Country. These shoes are known for being machine-washable, lightweight, and comfortable, in addition to coming in over a dozen colors (via Rothy's). 
If the Markle fan in your life has children, you might want to get them the first children's book written by the Duchess of Sussex. "The Bench" is an illustrated book discussing the deep and warm connection between a father and his son from a mother's point of view. "I wrote this as a poem for my husband and our son Archie and then turned it into a book so you could enjoy it too," Markle said in a video read-aloud of the book.