General Hospital Fans Are Stunned Carly Attended The Quartermaine Thanksgiving
The wealthy Quartermaine family on "General Hospital" made their fortune through the late patriarch, Edward Quartermaine's (originally David Lewis, later John Ingle) pharmaceutical company, ELQ. With wealthy families, dinners and holidays can be lavish set-ups with tons of food, and for the Quartermaines, an extravagant Thanksgiving spread was no exception. However, in 1994, the family dog Annabelle decided to eat most of the holiday buffet. Ned Quartermaine (Wally Kurth) picked up what was left of the Turkey and said, "Pizza anyone?" via YouTube. Thus began the annual "GH" tradition whereby something would inevitably go wrong on Thanksgiving and the family had to order pizza. 
Ned's wife, Olivia Quartermaine (Lisa LoCicero), insisted that this year's Thanksgiving dinner would be a traditional one and there would be no pizza involved. She hinted that there would be a special guest at the dinner, and the guest eventually arrived in the form of a live turkey. Olivia had ordered what she believed would be a fully prepared and cooked Turkey from a French-owned local farm named Dinde Viante, not realizing the name of the farm literally meant "live turkey." When the family decided they would attempt to cook the bird, Ned and Olivia's son, Leo Quartermaine (Easton Rocket Sweda), freed the animal to save it. The turkey then proceeded to wreck the kitchen, and the Quartermaines once again ordered pizza for Thanksgiving, per SoapHub.
But the turkey wasn't the only surprise guest at the Quartermaine Thanksgiving this year.
A Thanksgiving guest surprised viewers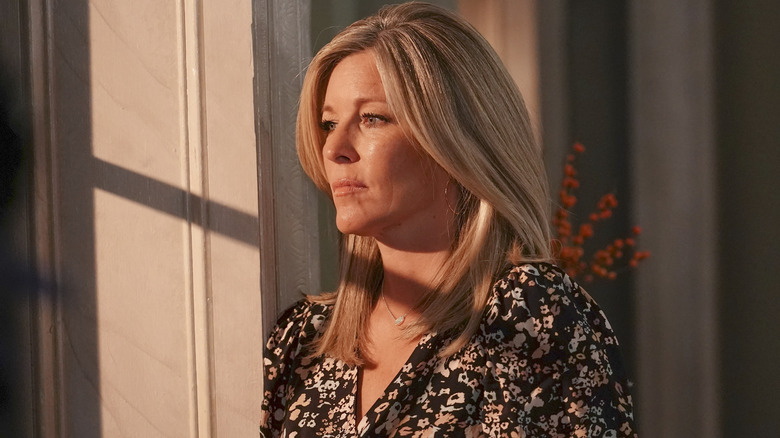 ABC/Troy Harvey
Ever since Carly Spencer (formerly Corinthos, Laura Wright) wrecked AJ Quartermaine's (Sean Kanan) life on "General Hospital" by marrying mobster Sonny Corinthos (Maurice Benard) to keep Carly and AJ's son, Michael (Chad Duell), away from the Quartermaines, she's been at odds with the wealthy family, per Soap Central. When the show posted about this year's Thanksgiving episode on Twitter, writing, "Who wants a slice?" fans were surprised to see Carly celebrating with the Quartermaines.
"Carly at the Quartermaine's for Thanksgiving. My how things have changed," said one viewer. The Pop Break critiqued the show for seemingly inserting Carly into almost every storyline, and one fan echoed that opinion, stating, "Oh look it's Carly ... what a surprise (NOT)!!!!" Another posted, "Why were Carly and Drew there? Makes no sense!" But a regular viewer recapped the storyline, replying, "Did u all forget the scene when Carly was about to marry Jason when Monica (Quartermaine, Leslie Charleson) welcomed her back to her family? And Drew (Caine, Cameron Mathison) is a Quartermaine." This referenced the fact that Monica and Carly have a truce, via Celebrating the Soaps. Some were supportive of Carly being there with one saying, "I always watch on a Carly day, and especially when she's with Drew! Nice to see some romance and also some comedy too. There was lots to enjoy in todays show." 
And one fan truly enjoyed the episode stating, "Just watched, a lot of fun and now I'm craving pizza."