Here's How Much Botox Really Costs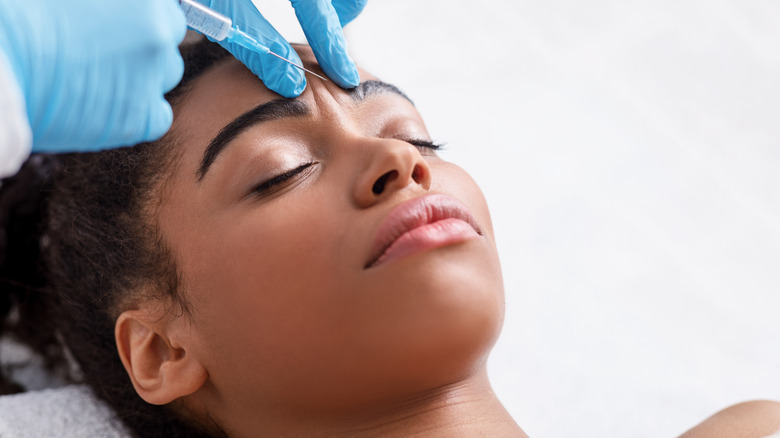 Prostock-studio/Shutterstock
On season 3 of Netflix's hit show "Selling Sunset," Christine Quinn hosted a "burgers and Botox" themed open house that had everybody talking. Guests were treated to complimentary Botox injections and sliders all from the comfort of a luxurious Los Angeles living room, as The New Yorker reported at the time. Though it's easily one of the most unforgettable Christine Quinn moments on the show, it's fair to say that LA parties aren't usually the environment where most people get their injections. 
In fact, Botox is a practiced clinical procedure that can do far more than simply smooth out smile lines. According to the Mayo Clinic, Botox can help with excessive sweating, migraines, and even neck pain. Botulinum toxin is injected into the face, temporarily preventing muscle contractions. Although the toxin is poisonous in large doses, in small amounts it can safely smooth out your face and even make for a glamorous "Selling Sunset" open house. 
Though Botox isn't the name of the procedure itself, it is the most popular wrinkle-smoothing drug on the market. In 2020 alone, 4.4 million people received the injection, per Insider. Since it was first used for cosmetic purposes in the 1960s, Botox has quickly become the most widely-requested non-invasive cosmetic procedure. Today, the Botox industry is worth billions (via Fortune Business Insights). But, how much does each individual procedure cost? 
Botox prices vary depending on where you live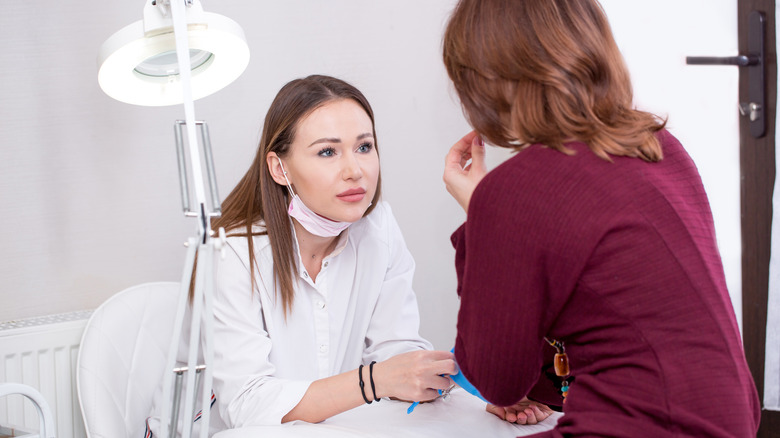 Vera Larina/Shutterstock
According to Cosmopolitan, Botox is measured in "units." For instance, a forehead procedure could require 20-30 units, and crow's feet might take as few as 15 injections per eye. Really, it depends on how smooth you want your face. A single unit of Botox costs anywhere between $10 and $15, according to GoodRx Health, meaning that one procedure usually ranges between $300-$600. The average price, meanwhile, comes in at $466.
The city in which you book your appointment will also play a role in determining the price. For instance, Botox costs far more in New York City and Los Angeles than it does in smaller towns and cities. If you're curious, enter your zip code into The American Board of Cosmetic Surgery's database, a resource that will show you how much Botox costs in your area. Likewise, the more experience your provider has, the higher the price. 
Cosmopolitan points out that a board-certified dermatologist will probably charge more than a medical spa, for instance. Though it might be tempting to save $200 on your next procedure, you can never be too careful when it comes to sharp needles. Board-certified dermatologist George Bitar, MD, warned GoodRx: "Family physicians will typically charge less than a board-certified plastic surgeon or a dermatologist, as they have not trained for years in the field of aesthetics." Due to the many benefits of Botox and the associated risks, it's worth investing in someone who knows what they're doing. 
Botox will last longer the more often you do it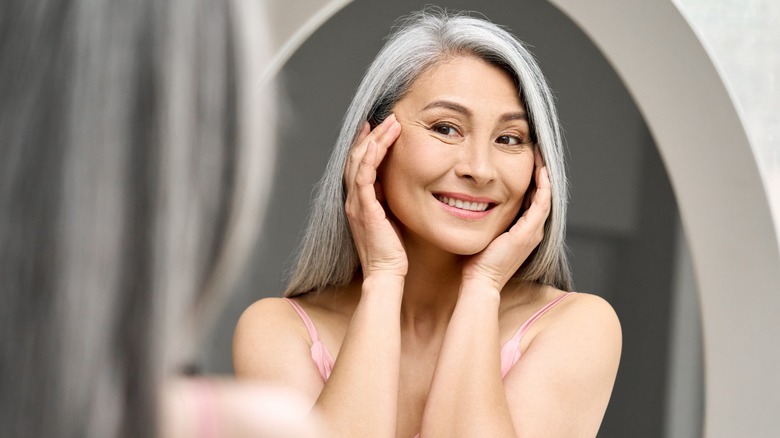 Ground Picture/Shutterstock
If you don't see results right away after your first treatment, don't panic. Botox can take up to 10 days to fulfill its skin-plumping potential. However, unlike some plastic surgery procedures, Botox isn't a one-time injection either. In fact, it may last as little as two months, especially if it's your first time, per the American Society of Plastic Surgeons.
Fortunately, the effects of Botox only improve after each appointment. Because the drug essentially paralyzes your muscles, it will prevent future wrinkles as well as reduce current lines (via Healthline). Eventually, you may only need to visit the dermatologist every six months to maintain your smooth skin. Ultimately, the results are usually more effective than any retinol or salon facial.
Botox has very few side effects — you'll barely even notice marks on your face after the procedure. However, as is the case with any medical treatment, there are always potential downsides, especially if you get an injection at an open house party like in "Selling Sunset." Cosmopolitan advises avoiding napping immediately after your appointment as this might cause your eyelids to droop. In some (rare) cases, Botox might also cause vision problems or muscle weakness (via the Mayo Clinic).