All The Details About The GMA Co-Host Affair Rumors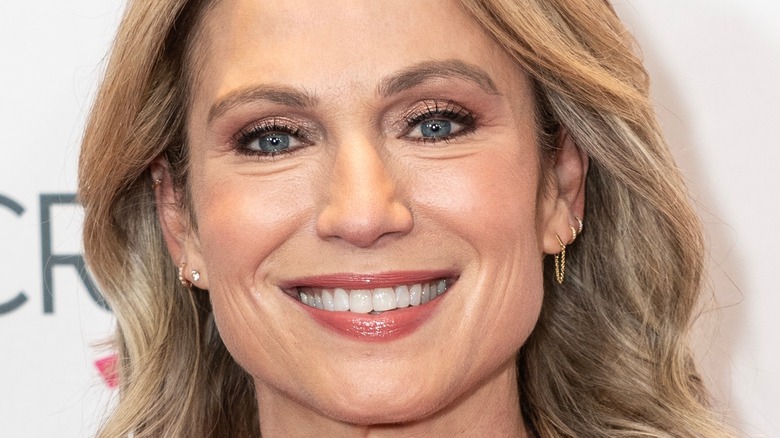 lev radin/Shutterstock
There's a scandal rocking the set of one of the most popular talk shows on the airwaves, "Good Morning America." The Daily Mail was the first publication to break the story surrounding an affair between GMA anchors Amy Robach and T.J. Holmes. The co-hosts, who have great chemistry on-screen, have reportedly taken it off-screen, which has come at the cost of their marriages.
"Everyone knows that Amy and T.J. have been close friends for a long time now, running together and even socializing as a foursome with each other's spouses," a source close to the pair told the Daily Mail. However, things between the anchors appeared to be more serious than just a friendship "'when they were in London together filming the queen's Diamond Jubilee for ABC and the staff was buzzing about the intimacy between them," the source added.
According to Page Six, the affair had been ongoing since March of this year, but now, it appears they have left their spouses for one another.
Both of the anchors separated from their spouses before news of the affair came out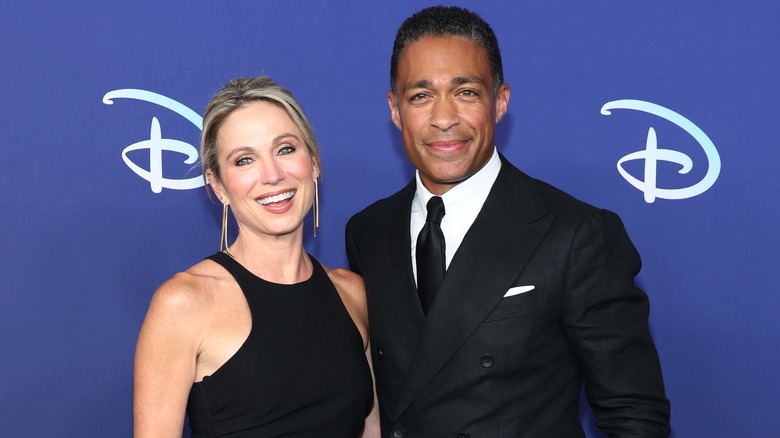 Dia Dipasupil/Getty Images
T.J. Holmes and Amy Robach, two hosts of "Good Morning America," have allegedly been having an affair over the last several months that has come at the cost of their marriages, Page Six reports. The pair managed to keep the affair a secret at work until tabloid pictures appeared, according to a source.
"They have a very cozy relationship on air, but that is what is expected. But they were very careful behind the scenes to keep their affair secret. The producers at 'GMA' are shocked to hear they are having an affair," the source told the publication.
Now, news has broken that Robach and Holmes have separated from their respective spouses, actor Andrew Shue and lawyer Marilee Fiebig. The Daily Mail reports that both of these marriages ended in August. Robach's husband, Shue, was the former star of "Melrose Place," while Fiebig is a successful immigration attorney in New York City.
Adding to the intrigue, a Twitter user found and posted an interesting post Holmes made to his estranged wife on their 10th anniversary in 2020 on Facebook. When he claimed he gave her many reasons to leave him, Holmes emphasized, "That's not hyperbole. I'm not being dramatic. I gave her plenty of reasons, excuses, and opportunities to walk her fine a** out the doooooooor."
At this time, it is unclear how the spouses of the anchors found out about the affair. Statements from the former spouses have not been made.
The pair have now made their relationship public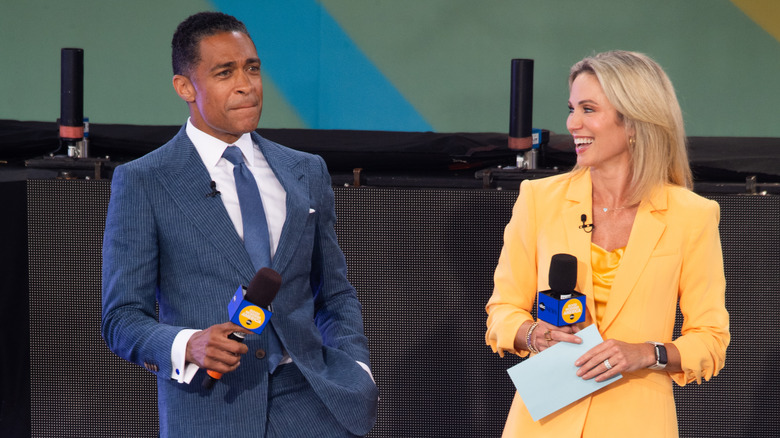 Noam Galai/Getty Images
While T.J. Holmes and Amy Robach had separated from their former partners, they were still trying to keep their relationship under wraps. However, paparazzi photos have shown the couple spending romantic weekends together and dining at various restaurants (via the Daily Mail).
One source saw the two cuddled up at a bar last month. They told the Daily Mail, "They were totally into each other. She was giggling at whatever he was saying, and they were looking at each other's phones. At one point she was kind of dancing in her chair to the music and laughing so hard she practically fell into his lap."
Now, it seems that they are making their relationship public knowledge. Page Six reports that the pair arrived on the set of "Good Morning America" on December 1 as a couple.
"While producers had been freaking out and having meetings about whether it was right to put them back on air again together, they showed up as a couple and said they were ready and totally fine to go on air," a source told the publication. "Their attitude seems to be that they are both separated, and now they are together, so there's nothing to hide."
It seems the couple is ready to make their relationship public, although producers at "Good Morning America" may not be as enthusiastic about their decision.