How Should You Actually Be Washing Your Lingerie?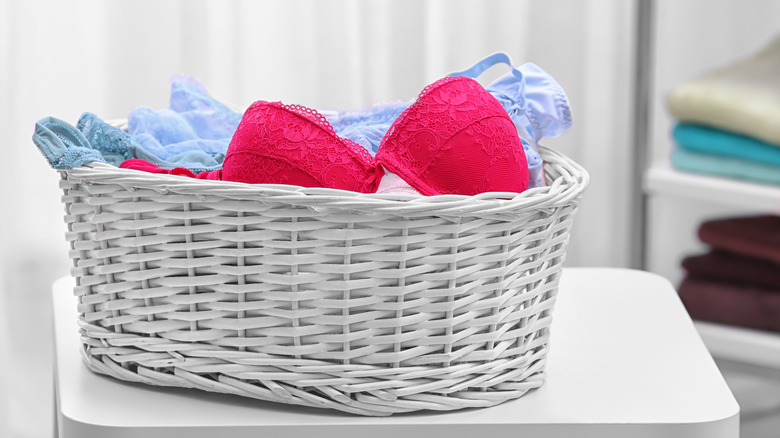 Africa Studio/Shutterstock
We may receive a commission on purchases made from links.
Lingerie is an intrinsic part of the wardrobe for many women. Coming in all shapes, sizes, and colors, people wear it to feel bold and sexy, or just to feel comfortable on an everyday basis. It can be a confidence booster for many. It can also be quite expensive at times. One corset top at Victoria's Secret can run you almost $90.
Whether it's something you wear on a regular basis or for special occasions, if you're dropping a lot of money on lingerie, you probably want the quality of it to hold up. According to The Lingerie Addict, delicate materials such as satin, lace, mesh, and silk often go into your undies. These are materials that probably shouldn't be thrown into the washer with your jeans, t-shirts, and sweaters.
Machine washing your lingerie and non-cotton intimates without care can result in their lifespan shortening due to the elastic stretching and damage, according to Broad Lingerie. Hand washing or taking precautionary steps while machine washing is the best way to preserve the life of your lingerie.
How to wash lingerie properly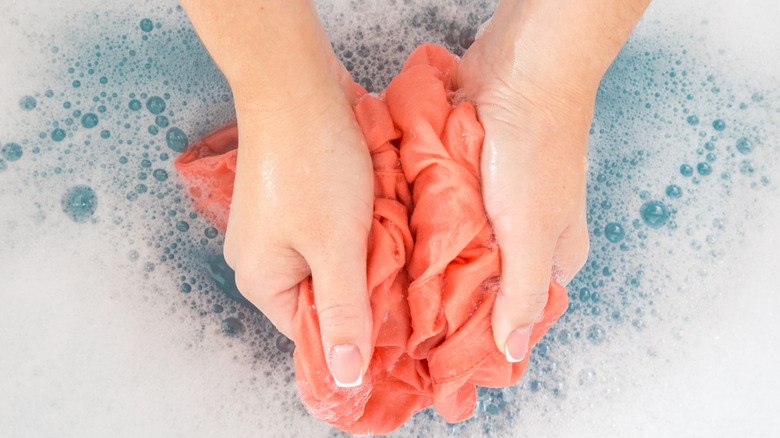 mariakray/Shutterstock
To wash lingerie, Deluxe Maid recommends separating the pieces by material and color. Like colors should be washed together and cotton and non-wire pieces can be placed in the washing machine. Before washing the lingerie, spot-treating stains will help prevent them from settling in. Using a gentle detergent or a stain bar, cool water, and a soft-bristle brush on the stain fifteen minutes before washing will help get out blood, lotion, or self-tanner stains (via The Spruce.)
Using a sink, tub, or bucket, fill your container of choice with cool water and two cups of a gentle detergent. Gently mix the water and detergent together and place the lingerie in the bucket one by one (via The Laundress.) Let it sit for about 30 minutes then rinse until there's no soap on the lingerie. Rather than squeezing out the water, gently press it out and hang to dry.
If you're in a pinch and need to machine wash your lingerie, House Beautiful says to use a mesh garment bag before throwing your lingerie in the washer. The drawstring bags protect the elasticity and integrity of your clothes by preventing them from getting tangled and stretched. Use a gentle detergent and cool water like normal and place the washing machine on the delicate setting. Hang to dry like normal.
The best products for washing your lingerie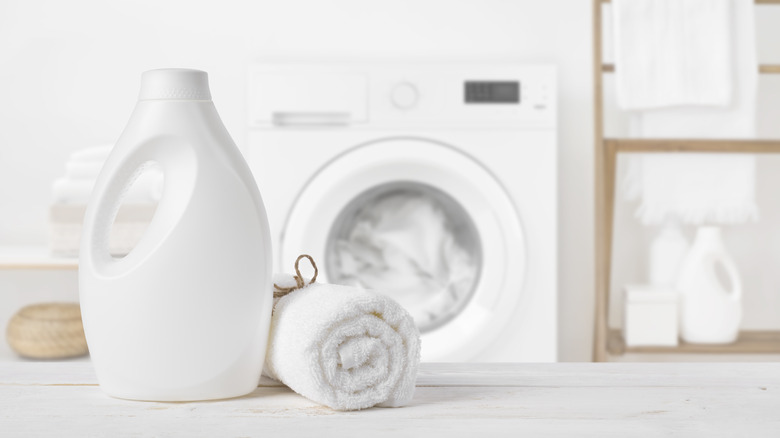 Didecs/Getty Images
For pre-treating stains with precision, try The Laundress Wash & Stain Bar. The bar is great for not only spot-treating clothes but also furniture and washing things on the go. The wash and stain bar is cruelty-free, made from vegetable soap, borax, and essential oils. It helps to rid the clothes of stubborn, persistent stains, leaving behind a fresh scent of jasmine, sandalwood and citrus.
The Woolite Extra Delicates Laundry Detergent is an ideal detergent for hand and machine washing your lingerie. The product is bleach and aluminum free and has been tested by dermatologists. It's a hypoallergenic detergent, so you don't run the risk of getting rashes or allergic reactions from using it on your lingerie.
This drying rack from Amazon is perfect for hanging your lingerie out to dry. It doesn't wobble and can be folded away for easy storage. It's lightweight, yet durable, so it can hold up all your lingerie without crashing down. It weighs about four pounds and at less than $24, is an inexpensive drying rack.