How To Successfully Air-Dry Your Hair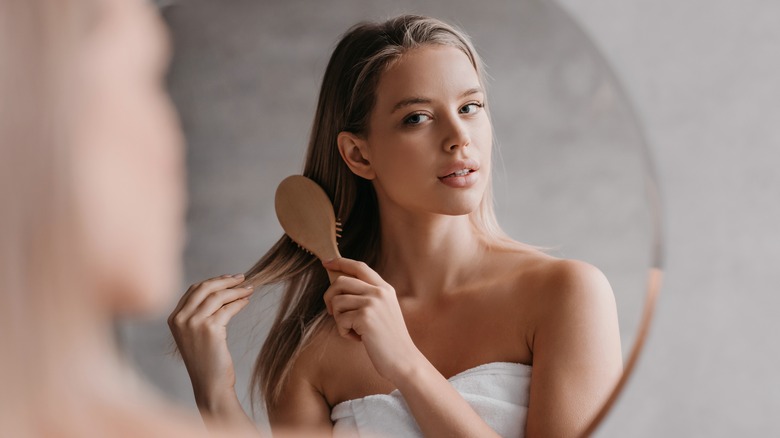 Prostock-studio/Shutterstock
We may receive a commission on purchases made from links.
When it comes to universal human experiences, very few can rival the feeling of having freshly washed hair. Getting out of the shower after lathering your locks up with a great shampoo and finishing off with a nice conditioner can make anyone feel like they've just stepped straight out of a luxury spa experience. But then, the styling afterward can come to feel like a real chore. Especially if you have thick or super curly hair, styling it after a wash can take a hot minute. 
This is why, according to Healthline, air-drying your hair can be a great way to spend less money and save you the time you would have spent with the hot tools. Whether you aren't in a rush to an event or you just want to take a break from your daily blow-dry, opting for air-drying can be a good way to reset your hair. Likewise, Allure points out that styles like beachy waves or soft, natural curls can be great results from air-drying your hair. 
There are a number of ways you can try this technique, and figuring out which methods and products work best for your hair type can be a fun process too.
Choosing the proper method for your hair type is key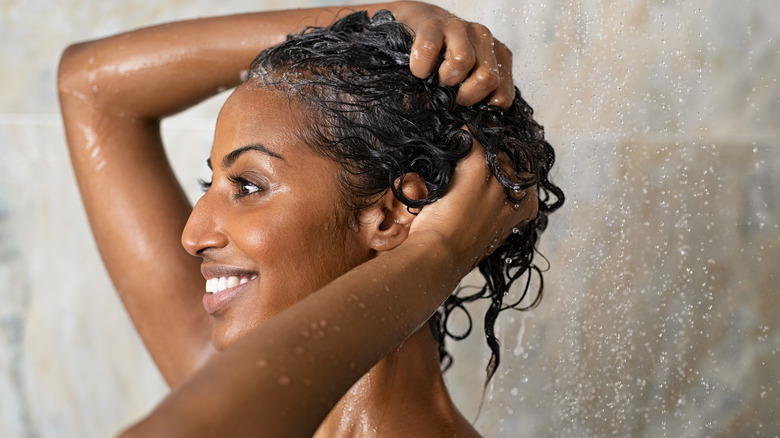 Ground Picture/Shutterstock
Whether you have thick curls or fine and wispy hair, anyone can successfully air-dry their tresses with the proper technique. According to Coco and Eve, choosing to let your hair air-dry as opposed to using heat styling can allow it to retain moisture, which causes less breakage and frizziness over time. This means that, even without a blow dryer and round brush, you can get a nicely polished and styled look — without the heat damage.
Before you get to the actual styling itself, Function of Beauty clarifies that the proper air-drying technique for any hair type starts in the shower. They recommend hydrating your locks with a moisturizing shampoo and conditioner, ideally those that are free of harmful sulfates, which can strip your hair of its natural moisture. From there, always rinse out your conditioner with cold water. It might feel unpleasant for a moment, but cold water helps seal the cuticle and keeps frizz at bay.
From there, Camille Styles recommends a few different styling techniques. One option is to use straight clips to reduce cowlicks and flyaways while your hair is drying, and set it where you want it to dry. Another option, for curly hair, is to style your hair using a curl-defining cream and form the ringlets with your fingers. They also suggest going old-school and using the classic braid technique — the tighter the braid, the tighter the waves.
The products you use will seal the deal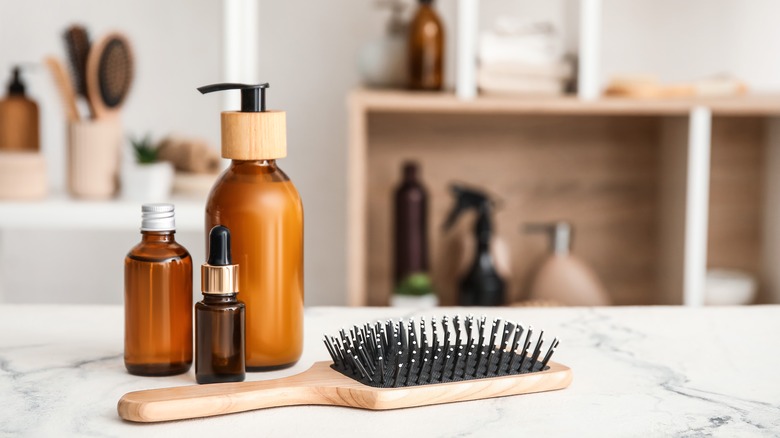 Pixel-Shot/Shutterstock
While the initial washing and drying methods you use are crucial to getting an effortless but well-formed hairstyle, air drying will only be as successful as the quality of the products you choose. Function of Beauty recommends using a leave-in conditioner not only to retain moisture as your hair air-dries but also to protect it from different factors that can cause frizz and damage to your tresses, like humidity. 
Opting for one that is labeled "deep conditioning" or "anti-frizz" will ensure that you're getting all the necessary ingredients and nutrients to air-dry your hair without frizz. Styling with the proper products afterward is also important. Once you're ready to actually create your style, Allure shares that, for frizz-free curls, try a curl-defining cream or a styling gel. If you're looking to create softer waves try an air-dry spray. 
Likewise, Camille Styles also recommends a smoothing balm, regardless of your hair type, to further tame frizz.