The Foundation James Charles Swears By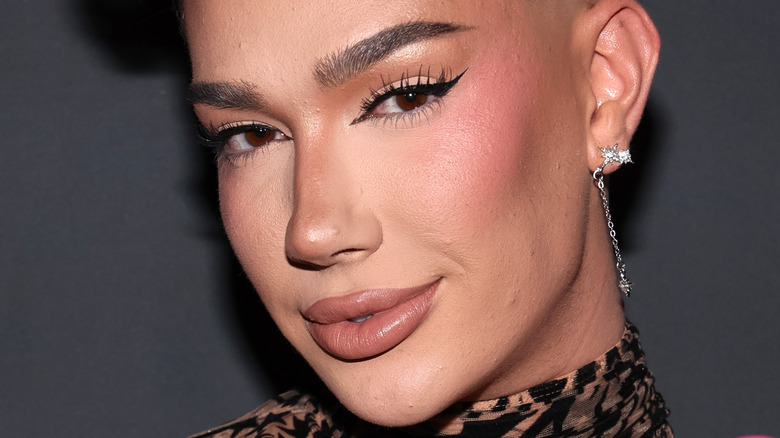 David Livingston/Getty Images
We may receive a commission on purchases made from links.
James Charles has pretty much become the go-to for the very best makeup products. The makeup artist and hugely popular YouTuber has developed quite the following since he started his beauty YouTube page back in 2015, now boasting an eye-watering 23.8 million subscribers as of December 2022. He's also super popular across the other notable social media platforms, with 22.3 million Instagram followers, 7.1 million followers on Twitter, 2.6 million followers on Facebook, and a whopping 37.6 million followers on TikTok to his name. Not bad. Not bad at all!
But it's not just online where Charles is super popular. Of course, with such an impressive following, this influencer literally has brands begging to work with him, so it's probably no surprise to hear this star has his own palette. The social media star teamed up with the makeup brand Morphe in 2018 to create his own eyeshadow collection, meaning this is one beauty guru who really knows his stuff when it comes to makeup products.
So, with so much beauty knowledge, Charles surely has some tips when it comes to looking your best, right? Right! And he's answered one of the most popular questions makeup wearers have been battling for decades. Which is the best foundation for me?
James Charles can't get enough of this Too Faced foundation
Looking for a foundation that's influencer approved? Look no further! James Charles swears by Too Faced's Born This Way foundation (which is $45 at Sephora) and revealed to Entertainment Tonight in February 2021 it's his go to keep his skin looking flawless. As for why the beauty guru is totally obsessed with this product? The medium coverage. "When I first started off doing makeup I used to use literally the most intense, cement, full coverage makeup ever, but I realized, hey if you're working really hard on your skincare routine, you don't need this," he shared. He added he loved how his skin looked with a less full coverage product, and now likes to show his naturally glowing skin a little through his foundation. "I much prefer a more dewy, natural base with just a little bit of coverage to even everything out, and this is my all-time favorite foundation to achieve that," the influencer said.
But that's not the first time Charles has totally gushed over the product. In a 2019 YouTube video, he revealed he'd found his perfect match in the foundation with the color Nude, while 2018 saw him show off the foundation in his videos for one of the first times. He explained in that YouTube video (in which he revealed how he gets his flawless complexion), "I really, really love the formula. I think it works very, very beautifully on my skin at least."
James Charles isn't the only one who loves Too Faced's Born This Way foundation
With how much James Charles has been gushing over Too Faced's Born This Way foundation, it's probably no surprise to learn he's not the only familiar face totally in love with this product. In fact, he's not even the only beauty YouTuber who can't get enough of the stuff! Charles' fellow influencer Jackie Aina has also sung the praises of Born This Way, revealing in 2018 that she thought the wide range of shades the product comes in also makes it a great pick for people of color who may struggle to find the right match for their skin tone. "There are some shades in here that don't translate to other lines because like they don't really exist," she said in a YouTube video, revealing she actually worked with Too Faced to expand the foundation's shade range.
Another star who appears to love the product? Kylie Jenner herself! Yep, People reported in 2019 that "The Kardashians" star and makeup mogul in her own right seemingly used the foundation mixed with a little of Beautyblender's Bounce (which was actually one of The List's top picks for our 2022 beauty awards!) to keep her skin looking flawless.