Buckingham Palace Prepares For King Charles' Coronation With Historic Crown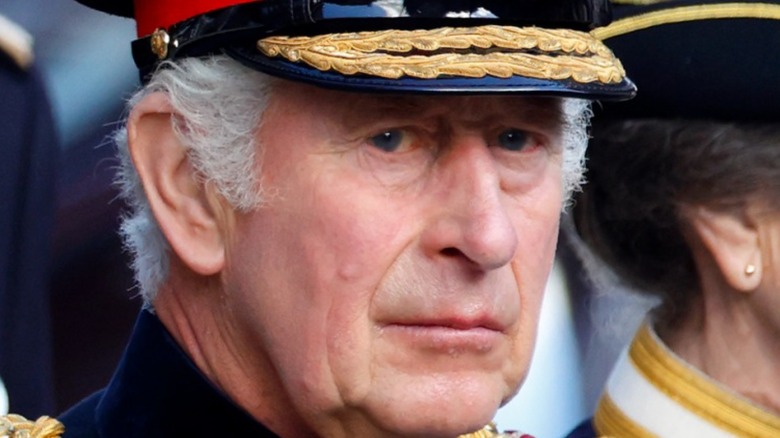 Max Mumby/indigo
The new British monarch, King Charles III, will be crowned at his coronation on May 6, 2023, at Westminster Abbey. The event is expected to be lavish, as it "will reflect the monarch's role today and look towards the future, while being rooted in longstanding traditions and pageantry," according to Royal.uk. The pageantry will be fit for a king. 
During the coronation of Queen Elizabeth II, eight gray horses pulled her in the Gold State Coach to Westminster Abbey from Buckingham Palace, where she was dressed in a white satin gown embroidered with silver and gold thread. The late queen was then outfitted with several symbolic items of royal paraphernalia that make up the Crown Jewels, including a bejeweled sword, a scepter, and the sovereign's orb. 
But one item reigns supreme over the rest: the crown. While Elizabeth wore the State Diadem to her coronation, she was crowned with another headpiece during the ceremony itself — the same crown that Charles will don on his big day.
King Charles III will wear St. Edward's Crown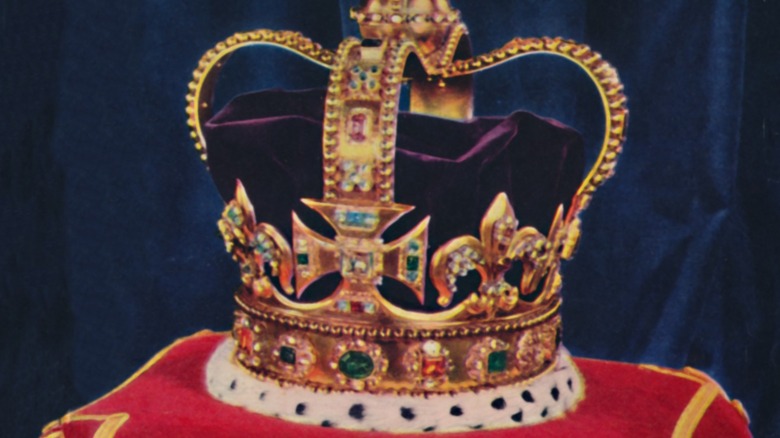 Print Collector/Getty Images
Keeping with tradition, King Charles III will be crowned with the St. Edward's Crown during his coronation. The crown, which is kept in the Tower of London, was moved in preparation for the coronation, per CBS, and will likely be refitted for Charles. 
The crown was first made for King Charles II in 1661. The original medieval crown upon which this one was modeled was melted down after the execution of King Charles I.
St. Edward's Crown features a solid gold frame, a purple velvet cap, four crosses-pattée, four fleurs-de-lis, and two arches. The base is lined with ermine, and it's set with a slew of gems, including rubies, emeralds, amethysts, and sapphires, among others. The crown weighs close to five pounds total.
The king will also wear the equally stunning Imperial State Crown during the service, which Elizabeth also sported as she departed Westminster Abbey following her coronation.