Inside Jennifer Aniston's Workout Routine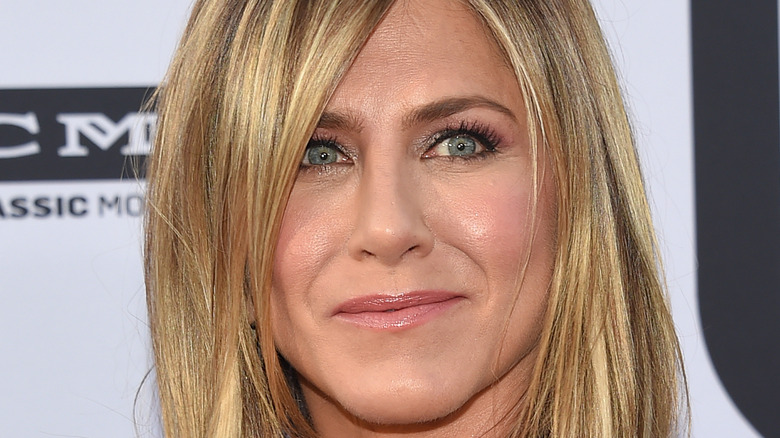 DFree/Shutterstock
Jennifer Aniston has become Hollywood royalty over the years. The actress is widely considered to be one of the most beautiful women in the entertainment industry, and she's starred in some of the biggest TV shows and films of the past few decades. Acting is in Aniston's blood as both of her parents were actors, including her father, John Aniston, who appeared on the popular soap opera "Days of Our Lives" for decades before his death in 2022, per People Magazine.
In the 1990's Aniston had her big break when she was cast as the character of Rachel Green on the NBC series "Friends." The TV show was an instant hit and became one of the most popular shows of all time. Her fans emulated everything from Aniston's wardrobe to her hairstyle, and she became the show's breakout star (via Biography). During that time, Aniston's personal life also became a staple in the tabloids. The actress dated men like Counting Crows frontman Adam Duritz and actor Tate Donovan and even married Hollywood A-lister Brad Pitt, per Yahoo.
Aniston also turned her attention to the film, where she starred in fan-favorite movies like "The Object of My Affection," "Rock Star," "Bruce Almighty," "Marley and Me," "Office Space," "The Break-Up," "Picture Perfect," and more. Because of her fame and stunning good looks, fans have been especially interested in Aniston's health and wellness routine over the years.
Jennifer Aniston starts her day with a strict morning routine before working out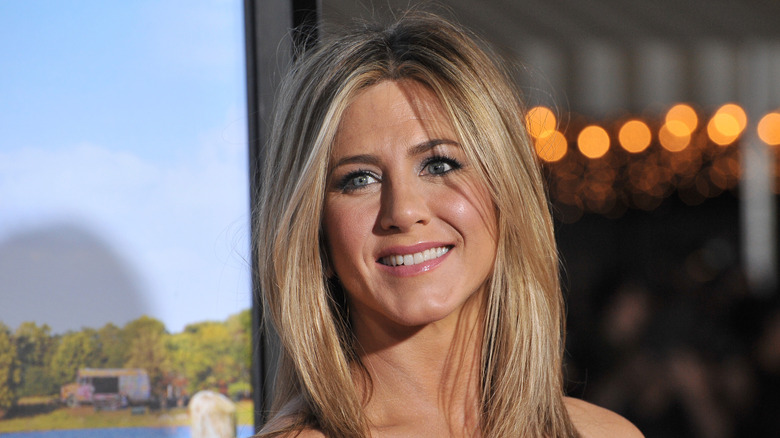 Featureflash Photo Agency/Shutterstock
Now in her 50s, Jennifer Aniston has perfected her health and wellness routine. The "Friends" star has focused on beauty, nutrition, exercise, and mental health, and it all starts with her morning routine, according to Women's Health. When Aniston wakes in the morning, she starts her day screen-free. "I don't look at my phone for at least the first hour after waking up. The mental difference this makes impacts the whole day," Aniston previously told Vogue.
After getting out of bed, Aniston takes her dogs for a walk, has her coffee, and settles in to do a bit of meditation, journaling, and gratitude practice before jumping into her day. "During the pandemic, that has been really helpful for me. They have one on lowering anxiety and on how to create abundance and gratitude. After I do my 20-minute meditations, I take out my journal. Some days it's just stream-of-consciousness for, like, 10-12 minutes; some days I make gratitude lists," she revealed.
According to Prevention, Aniston also makes sure to do her skincare routine, which includes moisturizer and SPF, to keep her skin looking youthful and healthy. Of course, she also has to move her body, and her workout routine has become an important staple in her life.
Jennifer Aniston has multiple workout routines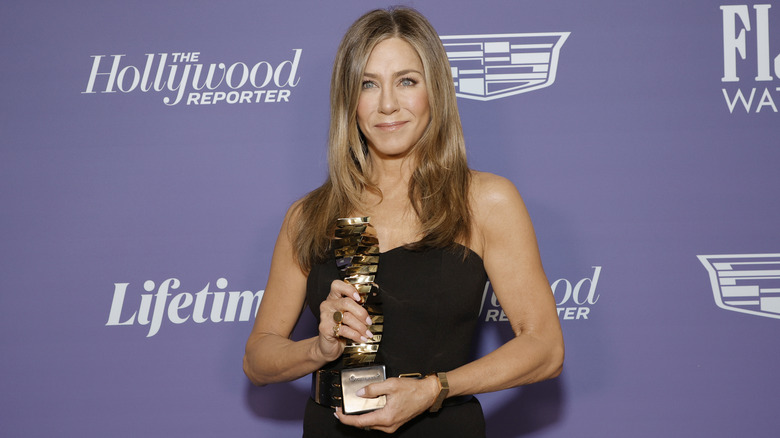 Amy Sussman/Getty Images
Jennifer Aniston is a busy woman. However, she still finds time to work out nearly every day. The actress has admitted that on extremely busy days when she might not have time to do her full workout routine, she tries to do a bit of exercise in the morning. "If I have only five minutes, I'll use them to move my body. Jumping rope is a killer workout," Aniston said (via Prevention). However, on days when she has the time, the actress will go hard with her fitness routine.
Aniston's personal trainer Leyon Azubuike tells Women's Health that Aniston usually works out every day of the week for about 90 minutes a day. The trainer reveals that their routine consists of a lot of strength training. "We box, we jump rope, we do strength training, we do a lot of work with resistance bands—we're big on resistance bands," says Azubuike. "We rotate these things, so it's always hard. She's consistently being challenged."
However, when Aniston isn't in a training cycle, she has developed a more low-impact way to work out, revealing that she'll spend 15 minutes on a bike and a treadmill before moving to a cross trainer. She also says that she loves to do Pilates, per InStyle.
Aniston is obviously a woman who likes to keep her body healthy and happy and has developed a rigorous routine that works perfectly for her lifestyle.