Prince Harry Explains The Cynical Way British Tabloids Work In Royal Family's Favor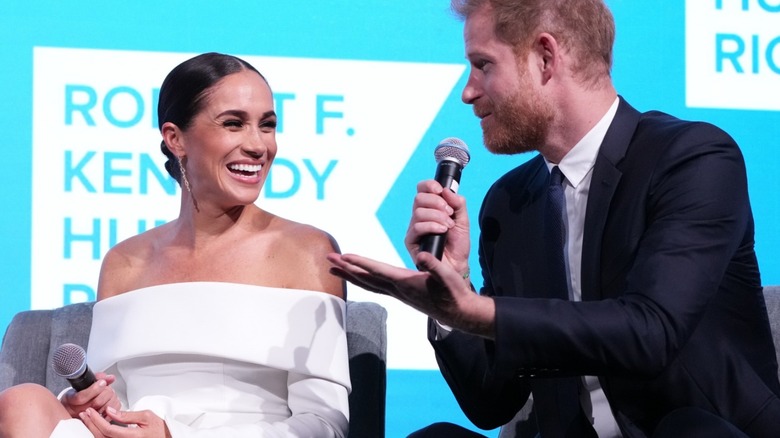 Kevin Mazur/Getty Images
It's no secret that Meghan Markle and Prince Harry have an unfavorable, if not outright hostile, relationship with the U.K.'s tabloid press (via The U.S. Sun). Both the Duke and Duchess of Sussex have sued British newspapers for breach of privacy. First, Meghan sued Associated Newspapers, which owns the Daily Mail and the Mail on Sunday, for publishing a private, hand-written letter to her father and won back in 2019 (via Forbes).
Elsewhere, the duchess settled another case brought against the same publisher for an undisclosed amount for copyright infringement against her. And, earlier this year, Harry also sued the Associated Newspapers for libel, after an article alleged that he had attempted to keep details of his battle for private security a secret after Buckingham Palace stripped him and his family of police protection following their defection. 
A court ultimately ruled the article was defamatory, per NBC News. During the third episode of their highly-anticipated Netflix docuseries, "Harry & Meghan," the Sussexes dove into the inner workings of a press that has threatened their relationship and damaged their mental health, among other things. 
The Duke of Sussex claimed the two are working in tandem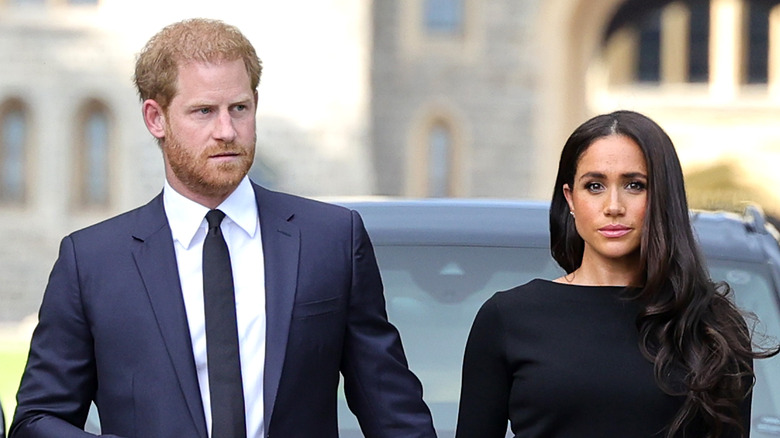 Chris Jackson/Getty Images
Having been exposed to news media for his entire life, and especially after his mother, Princess Diana — who also had a fraught relationship with the press (via USA Today) — passed away, Prince Harry shared his intimate knowledge of the British tabloids in the third episode of "Harry & Meghan." When questioned about what it takes to become a so-called "royal expert," the Duke of Sussex delved into the Royal Rota, which is an exclusive press pool dedicated to coverage of The Firm (via OK! magazine).
The group, which can benefit the royals in good times, is often ravenous for exclusive details. "It all comes down to control," Harry explained. Speaking from the perspective of the Royal Rota, he declared: "It's like, this family is ours to exploit. Their trauma is our story — our narrative to control." Harry also discussed the nature of fact versus fiction in media during a 2021 appearance on "The Late Late Show with James Corden." 
When the host asked how the royal defector felt about the hit Netflix show "The Crown," Harry admitted: "I'm way more comfortable with 'The Crown' than I am seeing the stories written about my family or my wife or myself." The Duke of Sussex continued, "Because it's the difference between that is obviously fiction, take it how you will, but this is being reported on as fact because you're supposedly news. I have a real issue with that."