The Untold Truth Of Sarah Jessica Parker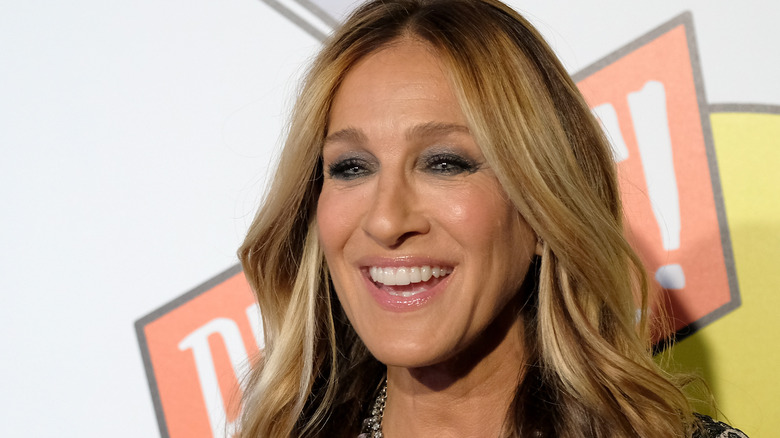 Getty Images
Sarah Jessica Parker has made a name for herself in film, on television, and on the stage. She has amazing fashion sense, and through the years has stood out on the red carpet with her style choices. She truly has organically become an expert in the field.
On top of all of this success, she has been married to fellow actor Matthew Broderick for more than two decades and is a mother to three kids, showcasing how important family is to her.
Plus, one of the things that makes Parker so charming is the fact that she is open. During interviews, she will share her own insecurities and becomes easy for fans to relate to her.
And even though fans know all of these things about Parker, there are still some untold truths about the performer that, shockingly, make her even more lovable. So let's take a closer look at some of these little known facts, giving people more of a reason to be fans of this style icon and actress.
She almost dated an unexpected costar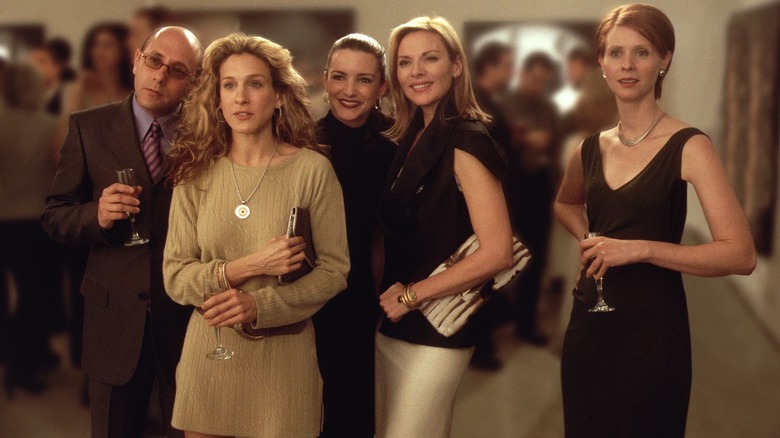 Getty Images
Before she was with Broderick, and still long before she took on the role of Carrie Bradshaw, Sarah Jessica Parker was just a girl who got set up on a blind date.
The mystery man was named Willie Garson. Little did Parker know at the time that she would work with Garson a decade later on Sex and the City. And oddly enough, on the show Garson played Carrie's gay best friend, Stanford Blatch.
While the date didn't go anywhere, Parker and Garson did end up with a life-long friendship. Garson later spoke of the date and what happened to Out, sharing, "I've known Sarah for 15 years — we were set up once, had a very long flirtation, and then just settled into being best friends, something I think really reads on the show." 
Still, there are some things that are very different between Garson and his character Stanford Blatch. He continued, "It's funny, she's said in interviews that every single one of her friends is gay 'except for Willie Garson.'"
She remembers every date night outfit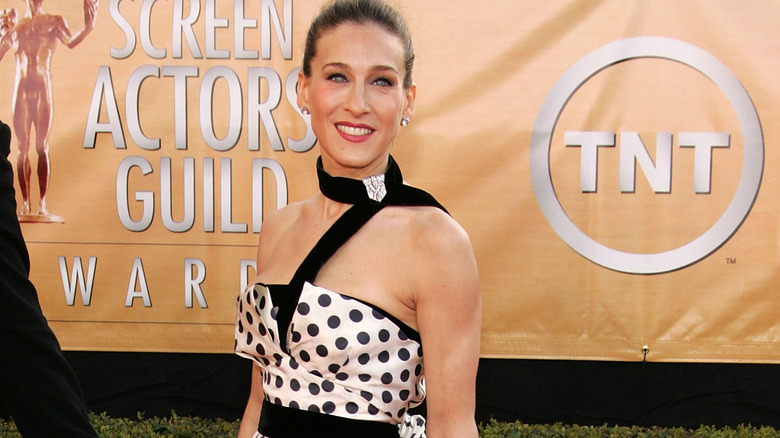 Getty Images
Parker has been associated with fashion for a long time, as she is an expert when it comes to the perfect look. So when she looks back on certain nights throughout the year, she can specifically remember what she wore. This also applies to any of her date nights. 
With someone as fabulous as this actress, how can she possibly remember all of her date night outfits? As she told Glamour, it had to do with the number of dates she has been on in her life.
She discussed the pressure she felt to wear that perfect outfit, saying, "Yeah. I always worried, regardless of who the person was. I went on so few dates that I was very concerned. And I didn't have a lot of money, so I had to be creative. But I remember almost every outfit I've ever worn on a date. That's how much I thought about it."
So, what did she wear on her date with John F. Kennedy Jr.? It was a "black cocktail dress" from Barneys. And with future husband Matthew Broderick? "I wore a pair of jeans I had bought from Fred Segal in, like, 1986. I still have them," she revealed.
She tried to save her relationship with Robert Downey Jr.
Before Sarah Jessica Parker found love with Matthew Broderick, she was in a long-term relationship with fellow actor Robert Downey Jr. The couple dated for seven years, with Parker eventually breaking up with Downey in 1991. What many may not know is that Parker did what she could to save the relationship.
Many years later, Downey sat down with Parade (via Huffington Post) and spoke candidly about his responsibility in the breakup. He said, "I liked to drink, and I had a drug problem, and that didn't jibe with Sarah Jessica, because it is the furthest thing from what she is. She provided me a home and understanding. She tried to help me. She was so miffed when I didn't get my act together."
He understood what happened and, if anything, wanted Parker to be happy. He continued, "I thought my way was so much cooler than people who were actually building lives and careers" also revealing that he was in love with the actress, but that "love clearly was not enough. I was meant to move on. And, after some heartache, she was meant to find her home with a great star."
Regretting her wedding dress
Just as Downey noted, Sarah Jessica Parker found that great love and star in Matthew Broderick. Still, not everything was picture perfect; Parker regrets her wedding choice. No, no, not the groom. The fashion guru actually looks back on her wedding dress and wishes she did it differently.
She went with a little black dress for the occasion. She shared her thought process on the choice with Glamour, saying, "Our logic was we didn't want to call attention to ourselves that day, because we're actors and we get attention all day long. It was a party for everybody else." 
The star also noted that Broderick's suit was off the rack and that Parker herself bought the first dress she looked at, but wishes she'd looked a little longer. "I wish I had worn white, or off-white, I should say."
Looking back, Parker has a better idea of how she would have wanted to dress that day if she had a do-over. She told Martha Stewart Weddings, "Now I would want my dress to have an Oscar de la Renta feel, pockets below the waist, a very fitted bodice, a huge skirt, in taffeta or duchesse satin." The star shared just why that look would be her winner these days. "That silhouette appeals to me because it's old-fashioned yet can look very modern," she said.
Surprise wedding party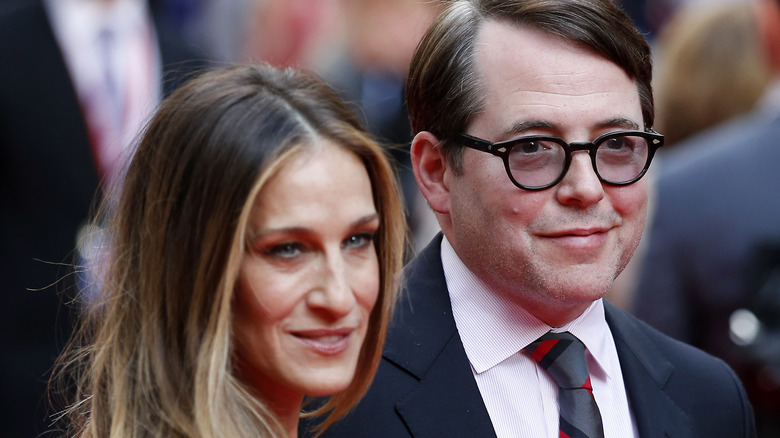 Getty Images
It wasn't just Parker's black dress on her wedding day that strayed from normal tradition. It was the wedding itself that didn't go down the normal path. In fact, guests didn't even know they were going to a wedding that day.

As People reported, when guests arrived to the wedding on May 19, 1997, they thought they were just attending a party with the couple. Then Parker walked down the aisle.
It wasn't as if they were a new couple rushing into marriage. In fact, Broderick and Parker dated for five years before even deciding to tie the knot. When People asked Parker when she knew that Broderick was "the one," she said it has not crossed her mind. 
She revealed, "At one point I just simply remember thinking, 'God, I really hope he asks me to marry him.' I don't know when or why. It was fairly early on."
No nude scenes for her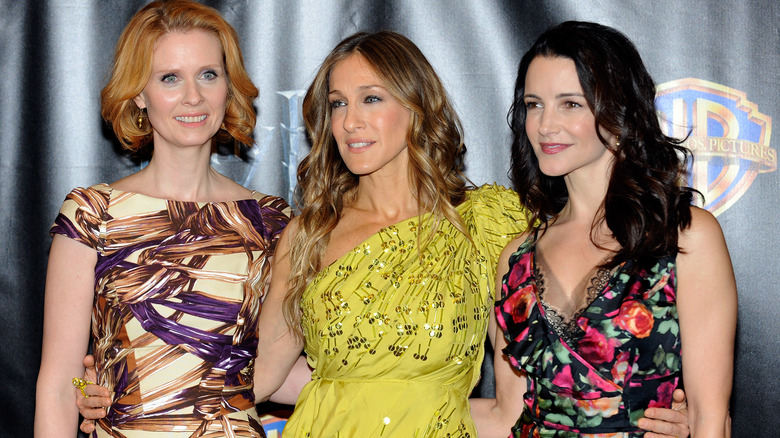 Getty Images
Parker has been an actress for many years, and one of her most famous roles is columnist and designer shoe lover Carrie Bradshaw on Sex and the City. It was a show that pushed boundaries and showed strong women living in New York City. It also put the focus on the core characters' relationships over the years, including their intimate lives. 
Although there was quite a bit of nudity on the show, Parker's main character Carrie Bradshaw was not among those seen baring it all. That's not just a coincidence; Parker actually makes it a requirement in her contract.
As she shared with The Hollywood Reporter, "Some people have a perks list and they are legendary. They have to have white candles in their room. I don't have a crazy list like that. I've just always had [a no-nudity clause]."
It's not that she sees anything wrong with nudity in television and film. She continued, "I think it's fantastic that people feel comfortable doing it. It's not some kind of principled position or religious or ideological on my part."
Flip flops over heels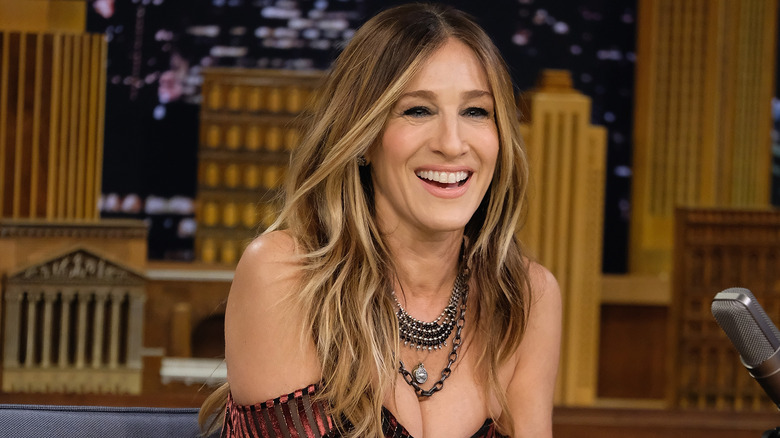 Getty Images
Sarah Jessica Parker is the kind of woman who is easy to picture wearing a ball gown while sitting and watching television. She's made a name for herself in the fashion world, and now all eyes are on her at events and on the red carpet. And it doesn't hurt that she never fails to amaze and impress. So, it may come as a shock that Parker isn't always in Manolo Blahnik heels. In fact, wearing heels isn't even her preference. Gasp.
The style expert actually told Glamour that she would pick flip flops over heels any day. It's a shocking statement to many, given her iconic character's obsession with designer heels. Parker described a normal interaction she experiences in life, telling the publication, "Often I'll go to the market, and women will say to me: 'Let me see your shoes.' And then I show them I'm wearing flip-flops."
It isn't that Parker never enjoyed wearing heels, she's just over it these days. "I say, 'I'm old now. I can't run around in heels when I go to the market for my son's yogurt.'"
She almost wasn't Carrie Bradshaw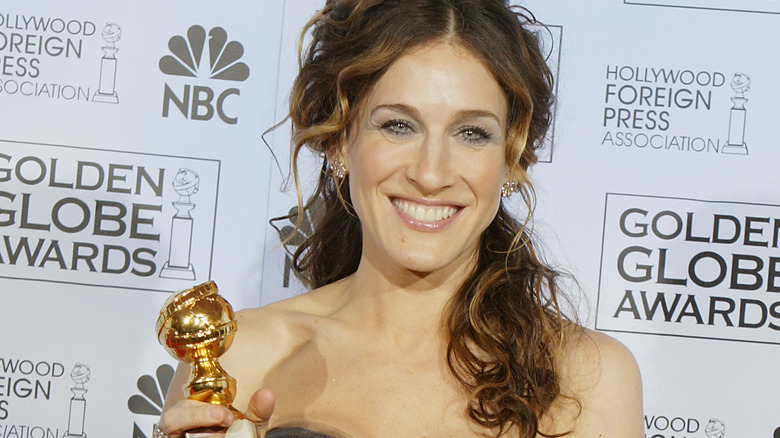 Getty Images
It's virtually impossible to picture Sex and the City without Sarah Jessica Parker in the lead role of Carrie Bradshaw, narrating through her writing. However, Parker almost turned down the role. She spoke with Jimmy Kimmel about the situation and why she almost passed on the super popular show.
Essentially, Parker filmed the pilot, and then went on her way to do a play, not giving much thought to the show at all. It wasn't until she ran into someone who had seen her Sex and the City debut that she was reminded of her acting in the episode. While the show was picked up, it wasn't immediately clear if Parker was going to move forward with it.
She told Kimmel on his eponymous late night show, "And then when they finally said we're gonna do it, I was like, 'I don't know. I don't know I feel like the moment passed. Like, I feel like maybe I'm not so keen to commit.' But I was foolish and people wisely talked me out of it — I went to set the first day and never looked back." Thank goodness.
Still nervous in front of the camera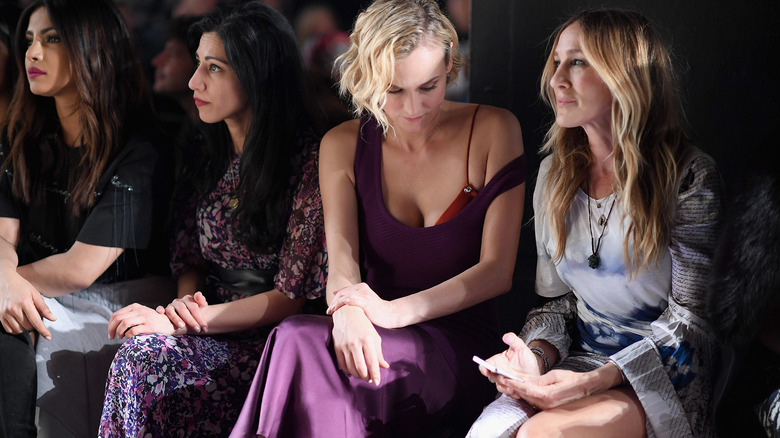 Getty Images
By now, it feels like Parker is a true expert in her field and can do no wrong. But this is far from how she views herself. The actress actually still feels very nervous before filming and tends to psych herself out. That doesn't feel possible, but she described the way she has felt in front of the camera during an interview with Vogue. 
In fact, the star revealed that it's even gone so far as to make her lose her appetite. Discussing one movie in particular, Parker shared, "By Wednesday of the first week on I Don't Know How She Does It, I was sobbing, I was apologizing. I was feeling so awful and ashamed, like I had let the director down." She further revealed that this is the norm for her "two weeks into every movie" and that if the team just wouldn't tell her when the cameras are rolling, she'd be totally fine.
While the first two weeks are a bit of a struggle, after those two weeks Parker feels comfortable and owns the role. And frankly, she's even more amazing for the simple fact that she is open about these insecurities. So relatable.