Hallmark's Mahogany Brand Of Movies Doubles Down On Diversity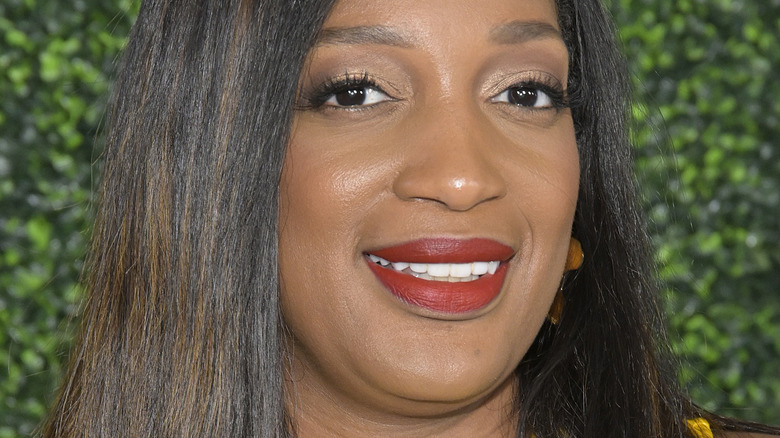 Michael Tullberg/Getty Images
In the past, The Hallmark Channel has received a lot of criticism for its lack of diversity — and for very good reason. Of the 24 original movies that premiered as a part of the network's 2019 Countdown to Christmas, only four featured POC as leads (via The Vision). These days, though, the network has made many strides toward better reflecting reality and representing more people, both in its casting decisions and its content. Starting in 2020, not only were there more BIPOC leads starring in the channel's original movies, but there were also many more non-white secondary characters, as well as more LGBTQ+ representation and representation of religions other than Christianity (via The Peak). As a result, you may have heard of the competition coming from GAC Family. GAC Family is a rival network that's taking a lot of Hallmark's stars — and it seems as though they may be interested in pursuing the direction of Hallmark's old whitewashing ways (via QC Approved). 
This threat doesn't seem to be scaring The Hallmark Channel, though. The network isn't just hard at work repairing its less-than-stellar reputation when it comes to representation; it's also creating a whole new offshoot of their brand. The Mahogany Brand is a big part of Hallmark's future and we have a feeling that this means "unthinkably good things" are ahead for the channel, as well as its upcoming content (via Parade).
What is the Mahogany Brand?
We all know that, while The Hallmark Channel is now a favorite TV destination for feel-good rom-coms, it's also a famous greeting card company, which is how the Hallmark name originated. Well, the same goes for Mahogany brand. Mahogany is a subsection of Hallmark's card and gift brand that launched around 40 years ago (via Parade). According to Hallmark, the brand is focused on creating cards specifically for the African American community. Since the release of its first line of cards back in 1987, Hallmark Mahogany has partnered with many influential Black stars, from Maya Angelou to Jill Scott. 
In 2021, Hallmark Movies & Mysteries announced that it would be premiering a new line of films that are based on the Mahogany Brand. These movies will focus on Black culture and reflect Mahogany's spirit in its storylines. This past August the first Mahogany movie, "Unthinkably Good Things," premiered on Hallmark Movies & Mysteries. Other films under the Mahogany name include "To Her, With Love" and "The Holiday Stocking."
How the Mahogany brand is changing Hallmark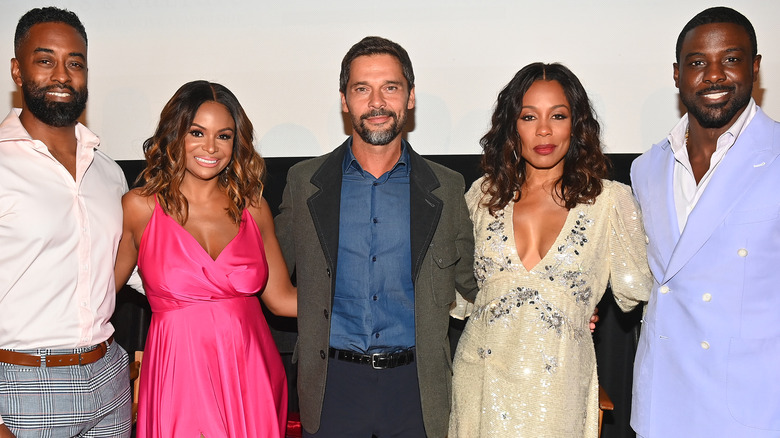 Paras Griffin/Getty Images
When "Unthinkably Good Things" premiered, the SVP of Programming Development for Crown Media, Toni Judkins, said, "Mahogany is a beloved brand by millions of consumers around the world and we are thrilled to bring the brand to life on screen with this first new movie" (via Parade). Mahogany's second film, "To Her, With Love" premiered the following month, in September 2022.
Another new Mahogany film, "The Holiday Stocking," also premiered as part of Hallmark's 40 new holiday movies during the 2022 season. Beyond that, it has already been announced that many movies starring leading ladies of color will be making their debuts, including films starring Tamera Mowry-Housley, Kara Wang, and Ledisi to name a few. It's very clear that Hallmark's commitment to diversity is rapidly growing, and this is certainly enough to keep many fans of the network from turning over to GAC Family. Like so many fans, we're excited to see what the future holds for the Mahogany brand and how that will make The Hallmark Channel's success grow even bigger.