A Dermatologist's Complete Skin Cycling Guide For Beginners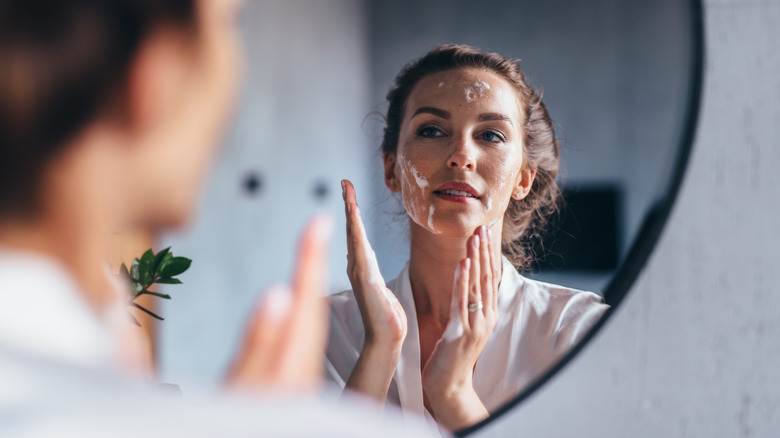 Undrey/Getty Images
A viral new TikTok trend promises you can use fewer products to get amazing skin. Before you write this off as just another beauty routine having a moment, "skin cycling" is actually a skincare schedule dermatologists believe is worth following.
The root of the popularity of hashtag #skincycling on TikTok can be traced to Dr. Whitney Bowe, MD, a board-certified dermatologist and the founder of Dr. Whitney Bowe Beauty (via Vogue). Through multiple videos, Dr. Bowe has done everything from sharing a beginner's guide to skin cycling to sharing what personal products she uses each night of the routine, collaborating with fellow dermatologists to spread information about skin cycling.
Since Dr. Bowe first started posting about the routine, the hashtag #skincycling has had over 3.5 billion views on TikTok, with some skin cycling routine videos getting 1 million views (and counting). But if you ask Dr. Bowe, she says skin cycling started during the pandemic. "I noticed a shift away from makeup towards skin care," she told SELF in an interview. According to Dr. Bowe, too much advice was being shared; beauty influencers with blotchy, sensitive skin were telling their followers to use so many products at once that their skincare routines were damaging their skin, not protecting it.
When we asked Dr. Marisa Garschick, MD, a board-certified dermatologist, about the trend, she told The List was a great skincare routine for beginners, especially if you're new to using products like retinoids or exfoliants.
New to skin cycling? Follow this dermatologist-approved routine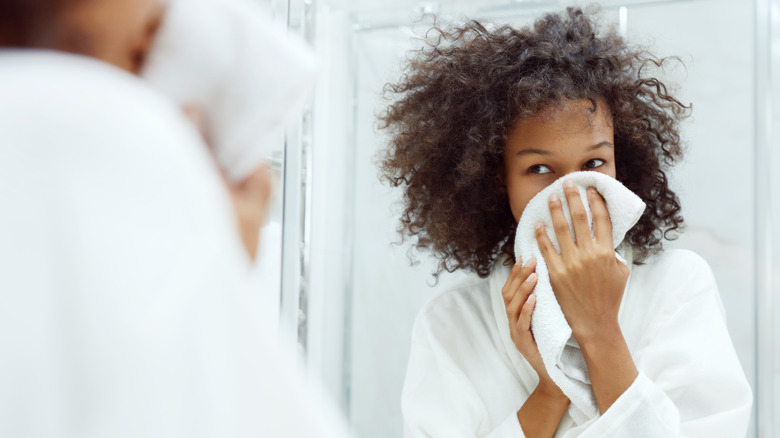 Puhhha/Getty Images
One of the great things about skin cycling is a four-day routine that's super simple to follow. Night one is for exfoliation. Dr. Whitney Bowe recommends choosing a chemical exfoliation after you cleanse—one with AHAs, BHAs, and PHAs as the active ingredients, like Glossier's Solution—instead of using an exfoliating scrub (via Vogue). According to Healthline, AHAs and BHAs (alpha hydroxy and beta hydroxy acids) can help dry out excess oil, clear out dead skin cells, unplug pores, and even skintone. After applying exfoliant, don't forget to put on moisturizer.
Dr. Marisa Garschick told us great beginner-friendly exfoliants were products like Bloss ProLiquid Exfoliant or Drunk Elphant TLC Framboos Glycolic Night Serum. For nightly moisturizing, she told us to look for products with hyaluronic acid. A favorite around the halls of The List is Glossier's Priming Moisturizer.
After you wash your face on night two, Dr. Bowe says to use a retinoid (via Self). According to the American Academy of Dermatology, retinoids are vitamin-A based skincare products that are supposed to help stimulate cell renewal, even skintone, and minimize lines and wrinkles. Dr. Garschick told us to not only make sure you find a product that has a low concentration of retinol to prevent skin irritation—like Medik8 Crystal Retinal or Skinbetter Science AlphaRet Overnight—but also warned to only use a "pea-sized amount" of product. Yes, we promise that's enough to cover your whole face.
Why dermatologists believe skin cycling is so good for your skin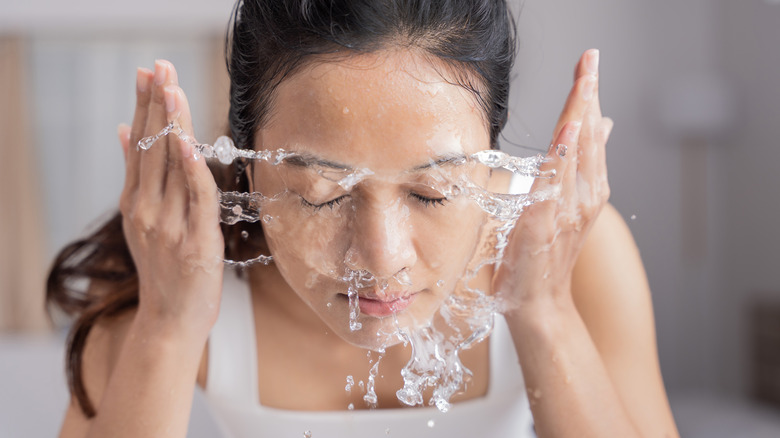 TORWAISTUDIO/Shutterstock
Nights three and four of skin cycling are the nights that give your skin time to recover. Dr. Alexis Granite told Vogue in an interview that skin cycling is to "help prevent the skin barrier from being compromised due to overuse of active ingredients," which makes these rest nights essential to the routine. Dr. Whitney Bowe adds that nights off from using exfoliants and retinols can also help limit skin irritation or dryness (via Self).
Overall, dermatologists believe less skin care products is better for your skin. Currently, research only supports the claims that using retinols, exfoliators, vitamin C, and sunscreen are actually beneficial for your skin (via UCI Health). In fact, a vitamin C serum like Perricone MD Vitamin C Esther or belif Aqua Bomb Brightening Vitamin C Cream are two Allure-recommended products to use before your nightly moisturizure on your recovery days.
Other ingredients for serums for nights three and four to look for according to Dr. Bowe are hyalruonic acid, glycerin, and/or niacinamide (via Vogue). Glossier's Super Bounce or Super Pure are great recovery night products to try out.
"When it comes to skincare in general, it is best to start slow and use low concentrations," Dr. Marisa Garschick told us about starting skincare routines. Starting slow helps your skin build up a tolerance to irritations and for you to find out whether a product is going to cause more problems than it'll solve.