How To Dodge Unwanted Questions About Your Dating Life This Holiday Season, Per A Neuropsychologist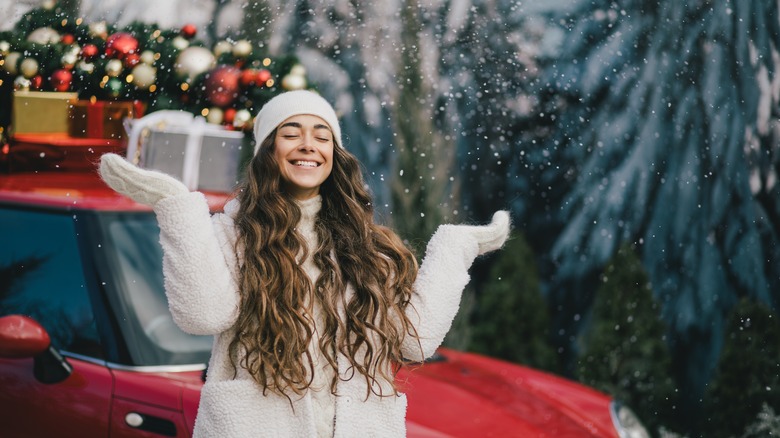 polinaloves/Shutterstock
The holidays are known to be the "greatest time of the year," when everyone celebrates the season with family and friends. While these gatherings and events may be exciting and even magical for some, not everyone shares in that experience. Mental health can factor into this. Per Psychology Today, things like seasonal depression and managing holiday anxiety can impact how excited someone feels around this celebratory time. Between family dysfunction and feeling lonely while being single during the holidays, there are plenty of reasons why the season doesn't always feel merry and bright.
If you are single this year and are preparing yourself to fend off all the questions about your personal and love life, you're not alone. Plenty of single people have curious (or even nosy) friends and family members, and the holidays seem to bring about a particular interest in their dating lives. According to neuropsychologist Dr. Sanam Hafeez, being single during the holidays is nothing to feel embarrassed about — even when your meddling aunt starts to pry at Christmas dinner. On a recent episode of "The Everygirl Podcast," Hafeez shared her expert advice for answering questions about your dating life this holiday season.
Use confidence to your advantage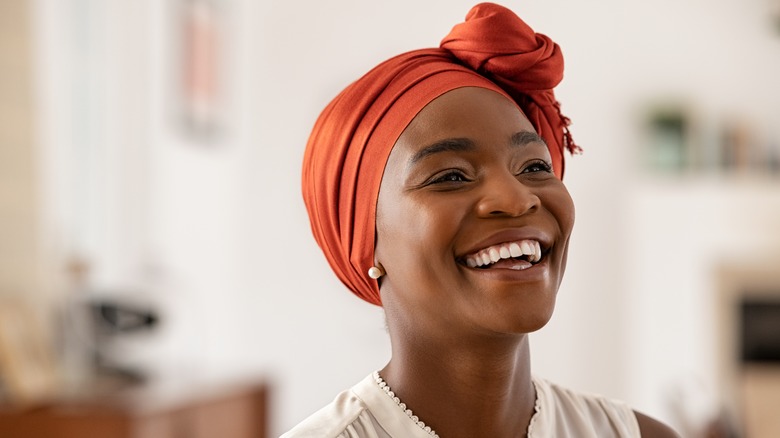 Ground Picture/Shutterstock
Whether you're at a large family gathering for a holiday dinner or at a winter soiree with friends, if you're single, there's a good chance that you'll face some questions about your love life. Although it might feel pitiful in the moment, it's completely valid to feel upset or even frustrated by these questions. After all, your dating life is really your business. Alas, it's still a common occurrence during the holiday season, so on "The Everygirl Podcast," Dr. Sanam Hafeez explained that there are a few easy ways to avoid answering these inquiries.
When a loved one asks if you're seeing someone, Dr. Hafeez says, "If it is your choice to be single, or even if it's not your choice, you say, 'No I'm not, but I just got back from an amazing vacation, would you like to hear about it?' Or, 'No I'm not, but I just started working with this amazing charity for children, can I tell you more about that?'" Rather than changing the subject or explaining why you're single, Dr. Hafeez explains that being proud of who you are and your accomplishments or successes can help you to not feel ashamed or embarrassed about going solo to holiday events. She says that loving yourself and feeling confident in the work you've done on yourself and your life as a single person should be the focus.
Bring backup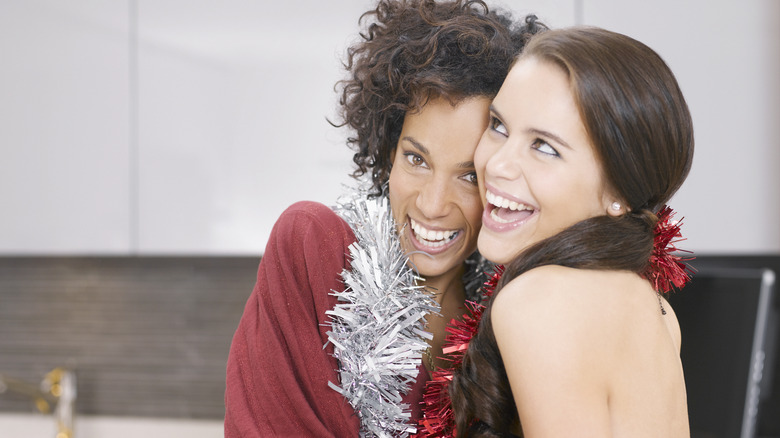 Robert Daly/Getty Images
If, despite your best efforts, you can't seem to shake the questions about your love life during the holidays, Dr. Sanam Hafeez also suggested on "The Everygirl Podcast" that you can bring a friend to whatever family event or celebration you're attending. "All of us have a single friend [...] who either doesn't want to go home, can't afford to go home, [...] or doesn't like home," she says, noting that having a friend with you can help you dodge those unwanted questions during the event. Even if the nosiness about your relationship status continues, Dr. Hafeez says that you and your friend can take a break, go for a walk, or even grab a drink outside of the house and get some moments of relief together while enjoying their company.
Regardless of how you choose to deal with questions about it, being single during the holidays is totally valid and more than okay. On the podcast, Dr. Hafeez explains that the season tends to make people feel like they shouldn't be single because of all the movies, social media posts, and advertisements that show you pictures of happy couples together during this time. "[A]lmost everyone is struggling on some level with their relationship. There is no such thing as a perfectly happy couple. [...] It's so easy to think that everyone seems to have someone, but you have no idea what's going on behind closed doors," she says. With these reminders in mind, you can go into the holiday season feeling proud of who you are — and prepared to share that with anyone who questions you.