The Daily Supplement People Swear By For Stress Management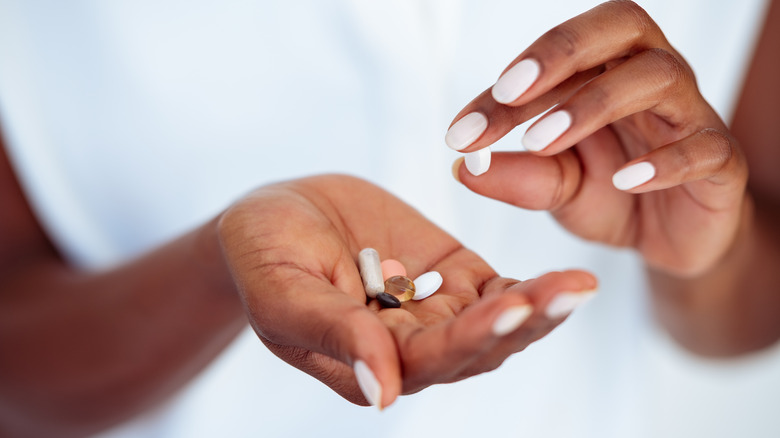 Ground Picture/Shutterstock
Meditation, self-care, and time spent in nature are all ways to lower the stress dial. But did you know there are daily supplements that can also keep you on track by alleviating the effects of stress? Cortisol levels are the primary biological marker of stress in the body, and several studies have found consistently high amounts contribute to chronic disease.
Everyone feels stressed. It's a natural part of life, but how you've learned to respond to it will determine the degree to which it affects your well-being. Several lifestyle factors should be addressed first, but supplements are another way to assist the body into a calmer, more balanced state. Recently, an increasing amount of studies (via the National Library of Medicine) have found that supplementing with adaptogens increases the body's resistance to stress while providing a stimulating effect that reduces fatigue.
How do adaptogens differ from vitamins? Adaptogens are plants, herbs, or mushrooms that rebalance the body into homeostasis by helping it adapt to stressors and lowering cortisol, per Cleveland Clinic. Vitamin supplements, on the other hand, are essential for your body to function, according to Medical News Today. Vitamins can come from a whole food source, but most are in the form of synthetic supplements.
Adaptogens are popular in the health and wellness world because they typically come from a natural plant-based source. Moon Juice is riding that wave with its authentic line of adaptogenic powders and supplements.
SuperYou Daily Stress Management by Moon Juice
Since 2011, Moon Juice's superbly branded adaptogenic latte mixes have inspired many people to incorporate wellness into their lives. Now with products ranging from supplements to skincare, the Los Angeles-based company is responsible for transforming adaptogens from a niche herbal medicine into a mainstream health and wellness product. Californians can shop and sample juices, tonics, and healthy treats at two Moon Juice cafes in Venice and Silver Lake. But health nuts nationwide can easily enjoy these nourishing products from the comfort of their homes.
One of the brand's best-selling supplements is SuperYou, a daily blend of four stress-fighting adaptogens (via Moon Juice). Long periods of stress can affect your hormones. That's why SuperYou includes Shatavari. You'll also find Amla and Ashwagandha, potent stress fighters, and Rhodiola to increase alertness.
With the brand's high-quality and organic ingredients comes a high price. So we've often wondered if Moon Juice is worth the hype (and the cost). But with over 2000 5-star reviews, it's undeniable that SuperYou is making a difference in people's health. Dana Perry K says, "I do feel more energized and vibrant since taking SuperYou. I don't feel as sluggish and drained."
Other Moon Juice Faves
Now that you're properly intrigued, you may wonder what else Moon Juice is up to. The Cali brand is certainly innovative with its wellness products and branding. Quickly peruse the website, and you'll come across the best-selling Sex Dust, which is part of their Moon Dust collection of adaptogenic powders. Blend the smokey cacao-tasting powder into coffee, milk, or smoothies for enhanced libido and creative energy.
Another Moon Juice concoction with a 5-star rating is their powdered magnesium supplement, Magnesi-Om, which boosts digestion, relaxation, and brain function. According to the website, "Every cell in the body needs Magnesium to function, and over 50% of us are deficient."
And we can't overlook our favorite category: skin care. Acid Potion liquid exfoliator tops the list of the brand's best-sellers (via Moon Juice). The "quickie facial" speeds up cell turnover and livens up dull skin with a combo of glycolic acid, lactic acid, and salicylic acid, while niacinamide and reishi work their soothing magic.
Moon Juice takes its supplements seriously, backing its claims with clinical research and 100% traceable ingredients. Since the FDA doesn't regulate supplements, trusted and quality sourcing is incredibly valuable. So which powder or potion will you be trying first?