Fans Tell The List Their Pick For Best Drugstore Setting Powder - Exclusive Survey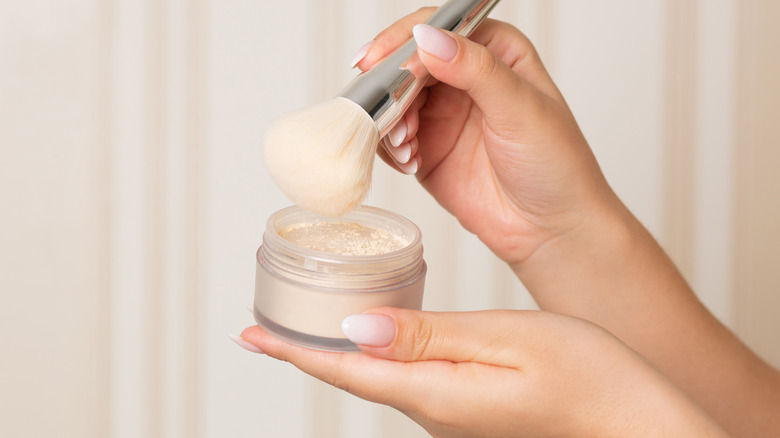 Viktoriya Pavliuk/Shutterstock
We may receive a commission on purchases made from links.
With the cost of just about everything going up due to global inflation, saving money anywhere you can is probably a good idea. In fact, CNBC reports that we spent $445 less per month on the same goods and services a year ago than we're paying today. Ouch! It seems like everyone is cutting back, and one way to do so is to switch over to more affordable drugstore makeup.
According to a February 2022 Nielsen IQ report, the cost per unit of cosmetic and nail products has gone up by 19% in the past year. Glossy even reports that the term "dupe" saw a 40% spike in Google queries across the world as of June 2022 when compared to the same period in 2021. Apps like Brandefy that help customers compare high-end makeup products to similar affordable options are also seeing an uptick in usage from people looking to save money. 
However, if the thought of letting go of your holy grail setting powder is giving you anxiety, then fear not. The List surveyed our readers on their pick for the best drugstore setting powder and got recommendations for products that are guaranteed to replace your old favorites — with the top pick being from a well-respected and very popular beauty brand.
This setting powder gives you the ultimate glass skin glow
The glowy skin trend seems to be going strong, especially among readers of The List. Out of 602 survey responses, the L'Oréal Paris Infallible Pro-Glow Face Powder came in first place with roughly 31% of the vote. According to the product page on Amazon, the powder "leaves skin feeling smooth, soft, and even — never cakey, never shiny." The dual-sided powder has a side with a matte finish and a side with a shimmer finish for a customizable glow. You can swipe your brush into both sides for the perfect candlelight luminescence or just concentrate on the shimmer side for a next-level sheen.
Numerous product reviewers on Influenster seem to agree with our readers, noting that the powder offers medium-full coverage, making it adaptable as a powder foundation or setting powder. As one reviewer said: "The finish is a satin matte for me personally. Looks very skin-like and natural while also covering." It doesn't create a chalky effect on the skin and actually keeps your makeup intact. That's a win-win.
One Amazon reviewer praised the powder for staying on all day even though she was sweating, while another applauded L'Oreal's face powder for giving users the option of a "subtle or pronounced glow." A third person added: "The powder is excellent for managing the parts of my face that tend to "shine by the end of the day, as well as keeping the foundation itself from becoming overly pronounced."
Makeup consumers seem to prefer high coverage powders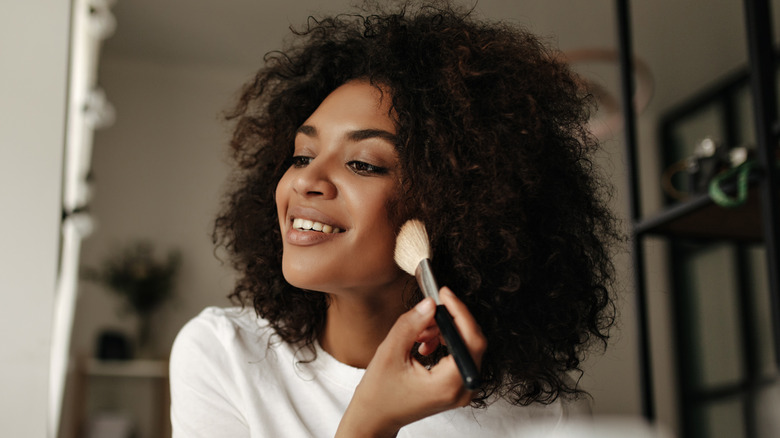 Look Studio/Shutterstock
Other powders that were popular among our readers are the Maybelline Fit Me Loose Finishing Powder and the Revlon Colorstay Pressed Powder, with roughly 28% and 22% of the vote respectively. These two powders are known among beauty enthusiasts to offer medium-to-full coverage that can further even out the skin tone.
In fact, beauty guru Allie Glines surveyed her subscribers on their favorite face powders and the Maybelline Fit Me Loose Finishing Powder tied in third place. One fan of the product claimed it can give you "the skin of an old Hollywood bombshell" with the invisible pores "of a porcelain doll," all for less money than you probably spend on your morning Starbucks order. 
The Revlon powder has an impressive 4.6 star rating out of 8,808 reviews on Amazon. Beauty product reviewer Stephanie Holiday wore the powder for 10 hours while wearing a mask and going on a walk. Holiday, who has oily skin, said this powder smoothed and brightened her skin without separating or creasing. With our readers' recommendations for bulletproof setting powders, now you too can just set it and forget it when it comes to your makeup.