Is It Safe To Combine Skincare With Niacinamide And Vitamin C?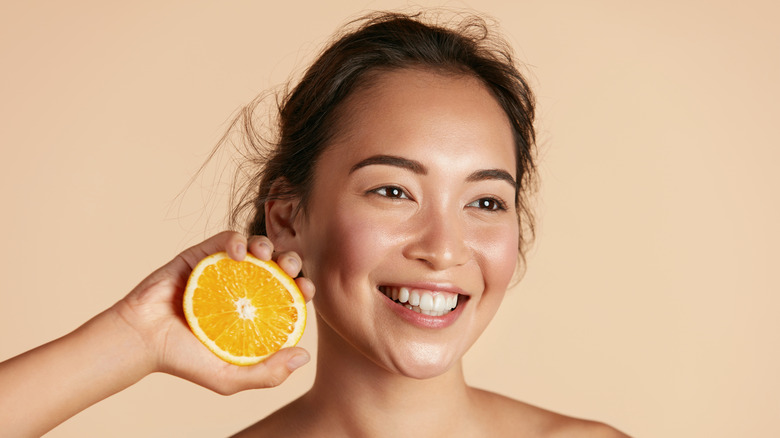 puhhha/Shutterstock
We may receive a commission on purchases made from links.
In skincare, some people may hesitate to include new products into their routine or combine them with the items they already use. Once you find something that works, why switch it up? Using too many products can harm your skin, according to Insider. Skincare items that don't mesh well together can cause dryness, irritation and redness, and breakouts to the skin.
When looking for a new addition to your routine, there are so many ingredients that go together, a duo that works better together. Retinol and a good moisturizer, toner and essence, and sunscreen and well — everything. With ingredients and products such as these, their effectiveness is diminished without the addition of the other. Can this apply to your niacinamide and vitamin C products?
Niacinamide can reduce the appearance of pores and hydrate and brighten skin, says Paula's Choice. Vitamin C also brightens skin, reducing hyperpigmentation and scarring while boosting the production of collagen (via WebMD.) The efficacy of these products on their own is satisfactory, but can combining them yield better results?
A breakdown of niacinamide and vitamin C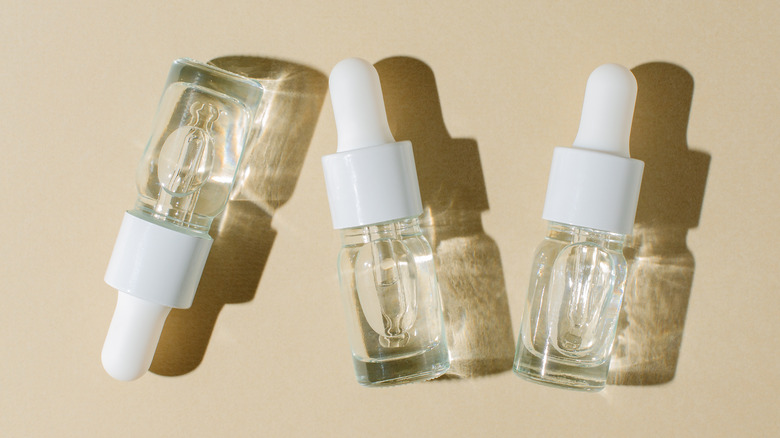 Andrey Mitrofanov/Getty Images
Niacinamide, it turns out, is also a vitamin. According to Glamour UK, niacinamide is the topical version of vitamin B3. The derivative soothes a wealth of skin issues, from excess oil and acne to fine lines and a weak skin barrier. The anti-inflammatory ingredient prevents moisture loss and gets rid of irritation.
There are various types of vitamin C, says 100% Pure, with ascorbic acid being the most prominent one in skincare use. The antioxidant fights toxins, such as pollution, that touches your skin and can help to prevent sun damage. As a brightening ingredient, it's often used to reduce the appearance of hyperpigmentation, wrinkles and fine lines, and acne (via Harvard Medical School.)
Due to the fact that both ingredients share so many benefits, they can be used together, complementing one another and possibly strengthening the effects. However, if you have sensitive skin, you may want to ask a dermatologist before layering the two, according to MindBodyGreen. If you're using them in the same routine, Vogue India suggests applying the vitamin C before the niacinamide, followed by a moisturizer and sunscreen during the day.
The best products with niacinamide and vitamin C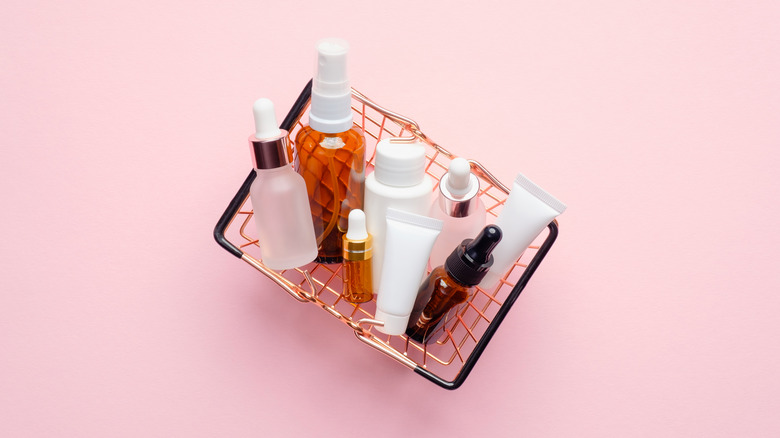 Photoguns/Getty Images
If you want the best of both worlds in one go, then the Naturium Niacinamide Cleansing Gel is for you. The cleanser is formulated with both niacinamide and vitamin C, alongside hyaluronic acid for an extra dose of moisture. It has the texture of an essence and takes off makeup and oil, leaving the skin feeling fresh and hydrated. Naturium created the gel with 3% niacinamide, allowing you to still use a niacinamide serum since the ingredient loses its effectiveness past 10% (via Allure.)
The Mad Hippie Vitamin C Serum is a blend of vitamins C and E with a few key ingredients that targets signs of aging, sun damage, and acne, leaving the skin bright and glowing. The serum uses Sodium Ascorbyl Phosphate, a water-soluble, stable, and oxidation-free form of vitamin C that layers well with niacinamide (via Re'equil.) It also contains chamomile extract for soothing, clary sage, a natural astringent for excess oil, and konjac root, a nutrient-rich flower that smooths the skin and forms a protective barrier.
According to Real Simple, using vitamin C alongside your sunscreen boosts your protection against UV rays. The La Roche-Posay Anthelios UV Correct Sunscreen contains niacinamide, blocking out the sun while reducing spots and fine lines. The lightweight, non-greasy sunscreen has an SPF of 70 and it's absorbable, melting into the skin easily without leaving a white cast behind.