Are Lower Lash Lifts Actually Safe?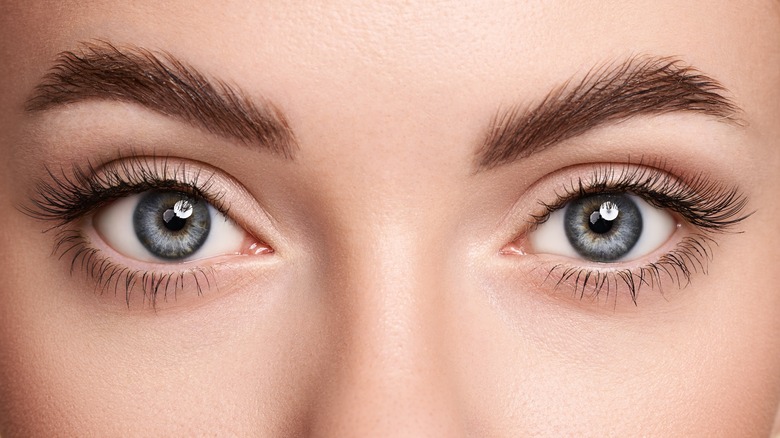 Oleg Gekman/Shutterstock
Longer, more voluminous, and thicker eyelashes are what is in. And there are several ways to achieve this look. Mascara has always been a cosmetic favorite. You can get mascara in different shades for a pop of color, and it has the ability to enhance the eyes. The product darkens the hair and creates the appearance of fuller lashes. For even thicker eyelashes, falsies and eyelash extensions became a go-to.
The trend of lash lifts might put all those other options to bed. Upper lash lifts are the alternative to cover magazine lashes without mascara and fake hair. It is a transformation for your natural eyelashes. According to Healthline, upper lash lifts are essentially a perm for your eyelashes. However, it seems bottom lashes are having their turn in the spotlight with lower lash lifts. But what exactly does a lift entail, and how safe is it?
The lower lash lift beauty trend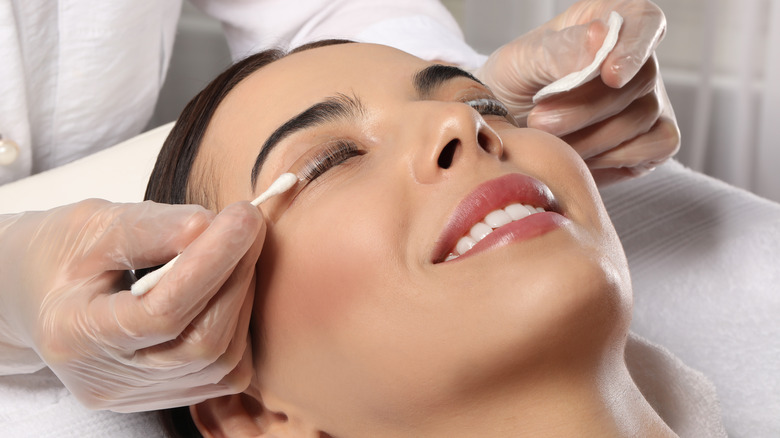 New Africa/Shutterstock
This procedure for lower lash lifts is quite similar to upper lash lifts. According to Divine Lashes, the process has a few steps that reset your eyelashes to curl in a manner that gives you the appearance of brighter and fuller eyes. During the procedure, your bottom lashes will be secured to a silicon shield to ensure that the softening solution is applied only to the hairs. That solution is then smeared onto your lashes to transform them into a lifted curl. The lashes are then finished with a setting solution to maintain your lifted look for weeks to come.
Lower lash lifts, according to Debbie Law, a lash trainer at Nouveau Lashes, "helps to balance out fuller top lashes (for those with or without extensions), as well as open up the eye and make it appear larger" (via Hola). With a lower lift, you can skip the lash-curling mascara. But if you want that extra oomph, a lash lift will keep the mascara from smearing on your skin. This is because the lift pushes the lower lash hairs downward and away from the under the eye. Before you book a lower lash lift, there are some risks you need to know about.
Risks of lower lash lifts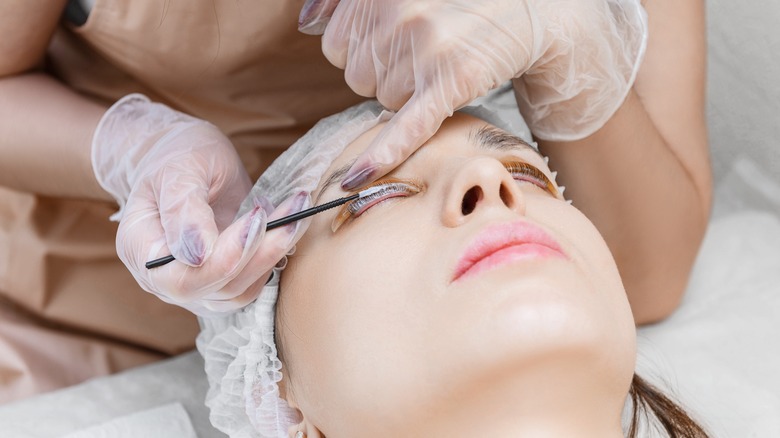 A.Shvedov/Shutterstock
With this procedure centered around the eye, things can go from glamorous to disastrous quickly. There is a potential for chemical injury. Ophthalmologist Ashley Brissette, MD warns, "The skin of the eyelids is very delicate and thin and much more prone to redness and swelling" (via The Zoe Report). Dr. Brissette suggests staying away from lash lifts if you have sensitive skin or eyes. We might want bigger eyes, but not from swelling.
Lower lash lifts are not a cosmetic procedure you can DIY beauty hack either. It is important to go to a licensed and certified professional. Debbie Law warns, "Lash lift kits can be extremely dangerous and should not be used at home. The chemicals in these kits (when used incorrectly) can potentially cause significant damage and permanent lash loss, as well as threaten your eyesight" (via Makeup). The stakes are too high to not go to professional lash technicians. The right lash tech will guide you to know if lower lash lifts are right for you. If all else fails, you'll always have mascara.