Here's How Kate Hudson Stays In Shape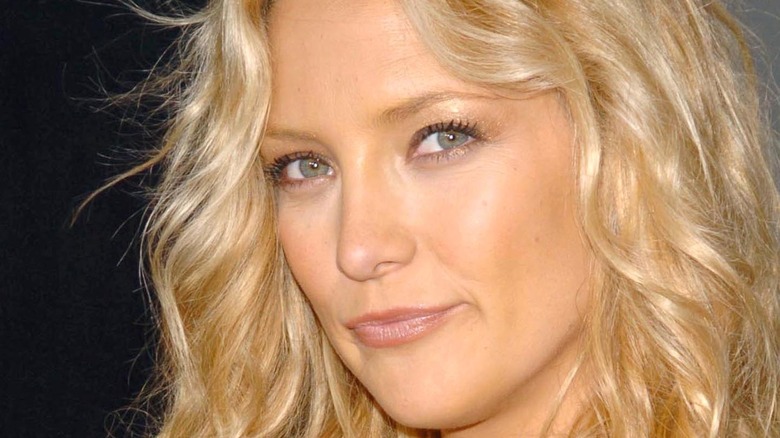 s_bukley/Shutterstock
Kate Hudson is one of the most recognizable faces in Hollywood. The actress has starred in some of the most beloved films such as "How To Lose A Guy In 10 Days," "Almost Famous," "Bride Wars," and more (via IMDb). However, she also comes from a very famous family. Hudson's mother is none other than iconic actress Goldie Hawn and her father is musician Bill Hudson, per Hollywood Life.
Hudson's mother is known for her work in movies like "Cactus Flower," "Overboard," and "Private Benjamin." Meanwhile, her father is known as an actor and a member of the band The Hudson Brothers, which he started with his siblings Brett and Mark. Hudson's parents divorced when she was young, and Hawn later began dating actor Kurt Russell. Hawn and Russell have one of those long-lasting Hollywood relationships, and the actor has grown extremely close to Hawn's children. Meanwhile, Hudson's brother, Oliver Hudson is also an actor.
However, Hudson is much more than just a beloved rom-com actress. She also co-founded a company called Fabletics, which makes affordable casual and athletic clothing for women, per Biz Women. Hudson's involvement in the company appears to show just how interested she really is in health and wellness. So, just how does the actress stay in shape?
She enjoys a vegan diet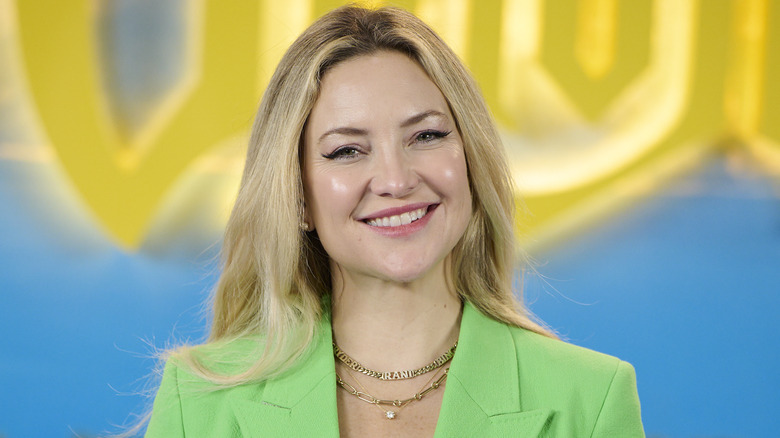 Carlos Alvarez/Getty Images
Kate Hudson is one of the most beautiful actresses in the world, and part of that is taking care of her body. The actress has seemingly cultivated the perfect diet and workout routine for herself over the years, and she's often shared insight into what works for her. According to Eating Well, Hudson likes to eat about five small meals each day. Although she admits to trying many different diet styles over the years, she's found that vegetarianism works best for her — eating this way strictly three days a week (via Self).
Prevention notes that Hudson may be focused on what she puts into her body, but that doesn't mean she doesn't allow herself to have treats every once in a while. This can often include a cocktail with dinner. "If I'm in a health mode it's sparkling water all day long. If I'm not on a health kick, which happens every other week, I might do a pre-dinner cocktail—a martini or I'll do a Moscow mule," she revealed. "Cocktails are good but I'm a good responsible cocktail person. Like I'll go a good two weeks and be like, 'Oh, I haven't had a cocktail.'"
When it comes to dessert, Hudson has the same philosophy and often grabs for non-dairy ice cream. "I'd love it to be like an old school Haagen-Dazs, they do great oat milk ice creams now," she told Prevention.
The actress loves to change up her workouts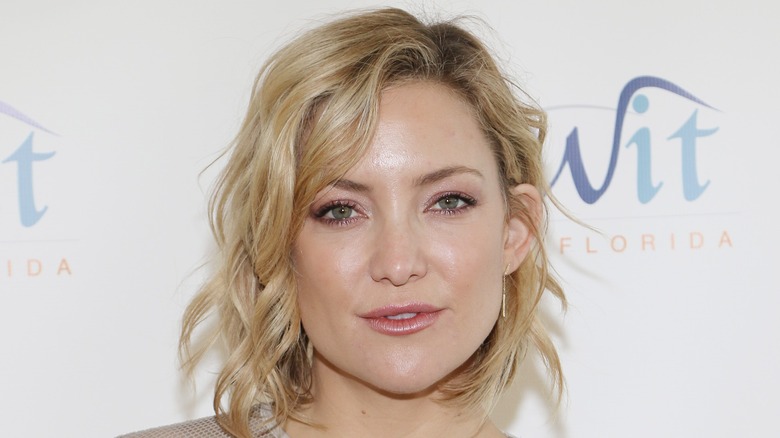 Alexander Tamargo/Getty Images
Kate Hudson has been open about her diet and workout routine. In fact, she even revealed that she lost 25 pounds using WW after the birth of her third child in 2018, per Women's Health. Of course, Hudson stays in shape by combining diet and exercise, and her workout routine is serious. The "Almost Famous" star absolutely loves doing Pilates and turns to it to help her stay fit. She also enjoys things like dancing and yoga to help her get her body moving. In addition, Hudson also reveals that she enjoys using her Peloton to get in some cardio. "I think they make it so easy to have no excuse workouts. [I can spend] 10 minutes doing a little mile run instead of just sitting there doing nothing," she explained to Women's Health.
Hudson also likes to venture outside to get some fresh air during her workouts, taking hikes as a way to stay active. Meanwhile, she doesn't take fitness too seriously, admitting that she's not a professional athlete. "I see fitness as being active, not like being some sort of Olympian—as an expression," Hudson told Yahoo. "When we ride our bikes, when we hike, when we get into nature, when we dance, all of those things connect us to something outside of ourselves."
It's clear that Hudson has a great outlook on fitness and whatever she's doing to stay in shape is certainly working for her.