Why Peter Reckell Seemingly Left Days Of Our Lives For Good
Charley Gallay/Getty Images
Bo Brady is one of the most beloved "Days of Our Lives" characters of all time. Played by actor Peter Reckell, Bo was first introduced in 1983. It wasn't long before the soap opera paired him with one of the show's legacy characters, Hope Williams (Kristian Alfonso), per Soap Central. Together, the duo captivated fans and drew plenty of interest for the sudser. According to We Love Soaps, Bo and Hope eventually became one of the most popular super couples on daytime television.
Over the years, Bo delighted fans with his heroic storylines, especially where the women in his life were concerned. The character became a well-respected police officer and even served as police commissioner for a bit. He also worked for the ISA. Bo was beloved by his family, including his three children, Shawn-Douglas, Zack, and Ciara. Of course, things weren't always easy for the character. Bo dealt with plenty of drama and heartbreak in his life. Storylines involving his true paternity, believing Hope was dead, losing his father in a plane crash, and the heartbreaking death of his youngest son, Zack (via Soaps in Depth).
The fan-favorite character seemed to be at the center of so many memorable storylines. That is until Reckell decided that he no longer wanted to appear on the soap opera.
Peter Reckell left Days of Our Lives in 2012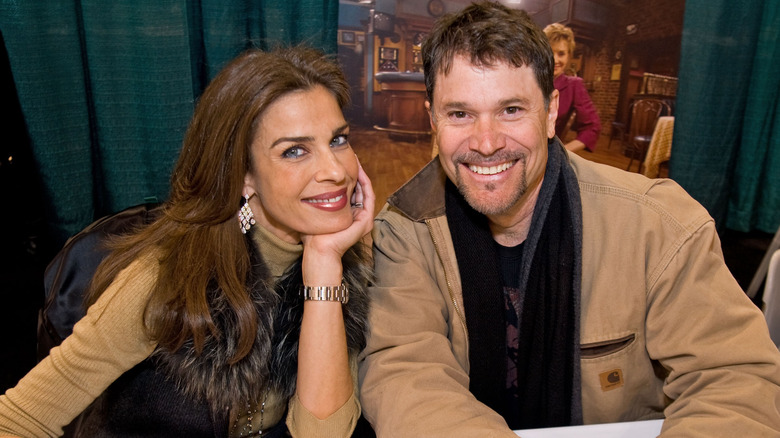 Timothy Hiatt/Getty Images
After decades of portraying Bo Brady, actor Peter Reckell decided to leave "Days of Our Lives" in 2012, per Collider. The following year, Reckell revealed the real reason why he decided to leave the soap opera after 30 years. "Not having a storyline, not being able to do anything artistic there was my issue... I just want the people who support me to know the real reason why I'm not there," he said (via Michael Fairman TV). After being absent from Salem for three years, Reckell decided to return to give Bo a proper send-off. In 2015, during the soap's 50th-anniversary celebration, the actor reprised the role of Bo. However, it wasn't a happy ending for the character.
Upon returning to Salem, Bo announced that he had been kept prisoner for three years, revealing the reason why he had seemingly abandoned Hope and their children, according to Soaps in Depth. Bo and Hope quickly rekindled their romance, but they didn't have long together before Bo was diagnosed with a brain tumor that left him forced to say his final goodbyes to his loved ones (via Soaps). Bo later died in Hope's arms in one of the most heartbreaking scenes in the soap's history.
While it seemed that both Reckell and Bo were gone from "Days" for good, the actor decided to return to the soap in 2022.
Bo Brady returned in 2022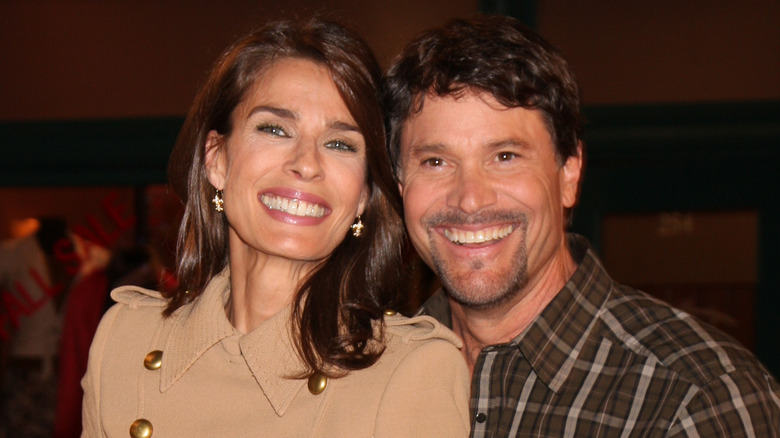 Kathy Hutchins/Shutterstock
A few years after Bo Brady's death, his on-screen wife, Hope Brady, also left "Days of Our Lives." However, in 2022, fans were thrilled when both Peter Reckell and Kristian Alfonso announced that they were reprising their iconic characters for the soap opera's spin-off series "Beyond Salem." According to Entertainment Weekly, the pair signed on for the 5-episode series, which detailed what Hope had been doing since leaving Salem, as well as Bo's activity in heaven. At the end of the season, it was revealed that the three prisms obtained by Stefano DiMera's daughter Megan Hathaway had been used to bring Bo's cryogenically frozen body back to life (via Soaps).
Fans were left on edge after the cliffhanger, wondering what it meant for Bo and Hope's future. A few months later, Peacock announced that Bo and Hope would officially be returning to "Days of Our Lives" for a new juicy storyline in 2023, per TVLine. A brand new promo was released, showing Bo asking for Hope, as it seems that the soap opera is set to fully reunite the iconic couple with each other and their family members.
While fans had believed that Reckell was gone from Salem forever, the outpouring of excitement over Bo's return has been evident via social media, and viewers can't wait to see what's in store for the beloved character.