'90s Butterfly Hair Clips: How To Pull Off The Trendy Retro Accessory
Remember those tiny little claw clips in the shape of a butterfly? You pushed the wings together to open them up, then clipped them into your hair for both festive fun and as a way to create the most stunning of styles. Ah, the '90s and early '00s! Those flights of fashionable fancy are back and hotter than ever.
"From the popular Y2K butterfly clips to press-on rhinestones, hair is becoming a playground for fun accessories," hairstylist Justin Toves-Vinceilione told Today. You can see evidence of this just by scrolling through Instagram and TikTok.
And not only do the butterfly clips serve as a cute hair accessory, but they have a little bit of an added benefit, too. "Aside from looking cute and being very on trend, the claw clip is a lot better for your hair health since it causes less breakage [than a hair elastic]," celebrity hairstylist Lara Polko shared with Harper's Bazaar.
Taking a cue from the original trend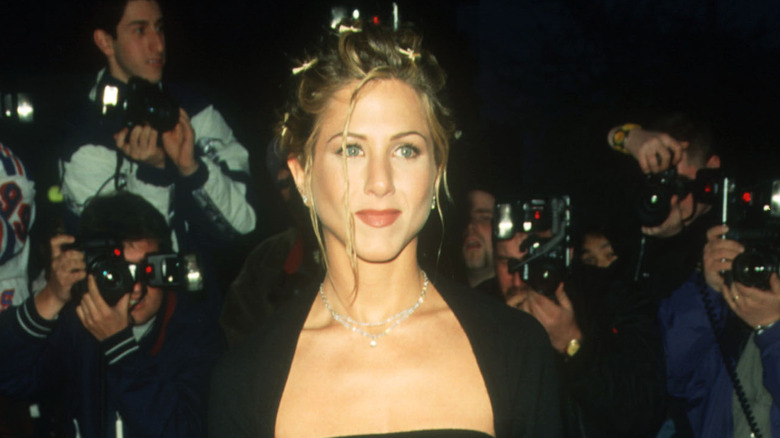 Evan Agostini/Getty Images
There were two ways to wear butterfly clips back in the day: colorful and cute or high-fashion with a touch of elegance. Jennifer Aniston famously walked the red carpet with her version of the trend, using a modified version of the clips to elevate the style. In fact, she's still a fan. "I remember butterfly clips," she told Allure upon seeing the trend on TikTok. "I still do that!"
In her red-carpet look, Aniston used the clips in one of the most popular ways to wear them — pulling sections of hair back and creating a "crown" of butterflies. It's a look that still holds up today. "I personally love when you take little one-inch sections and twist the hair back and around the head, and place the clips strategically on either side of your part," Lara Polko said (via Harper's Bazaar).
For evidence of the cute and colorful variety, just look to Mandy Moore in "The Princess Diaries," Hilary Duff in "Lizzie McGuire," and Melissa Joan Hart in "Sabrina the Teenage Witch." Just remember to choose your clip wisely. "When picking an accessory, make sure it can hold the weight of your hair, it has a grip to it, and is able to slide and stay in your hair," hairstylist Sara Yousif advised Today.
Putting your own twist on butterfly clips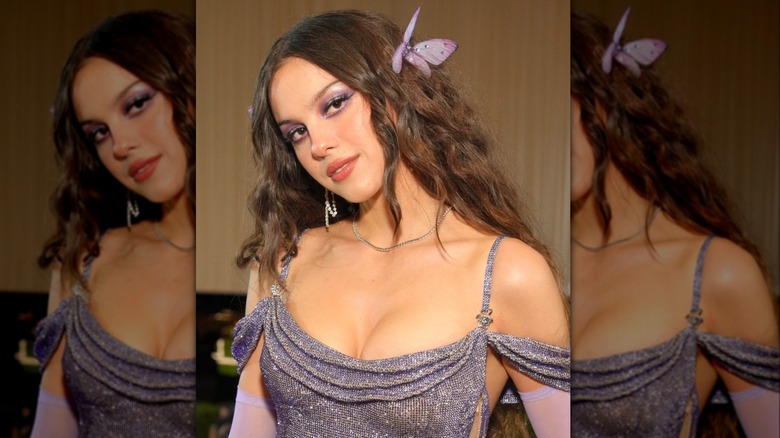 Kevin Mazur/mg22
Known for loving all things '90s-related in terms of fashion, singer Olivia Rodrigo has worn butterfly clips in both the traditional sense and in an elevated design — proving the versatility of the hair accessory. She's also a great example of how you can put your own personal spin on the trend.
In her music video for "Brutal," you can spy the original tiny plastic clips scattered throughout the singer's mane. On the red carpet at the Met Gala, though, Rodrigo glammed it up several notches with multiple purple butterflies scattered through her brunette lengths. Per Elite Daily, the butterfly clips were a custom design created by Jennifer Behr and Betsey Johnson, crafted of silk organza, and sparkled into existence with Swarovski crystals.
Rodrigo wore the clips not as a way to hold her style in place but as strictly an additional element to her outfit. "Hair accessories are such a great way to spruce up any style and add some sparkle and fun," says hairstylist Desiree Leigh via Today. And butterfly clips, any version of them, are a great way to do that!