Princess Anne's Most Iconic Outfits Ever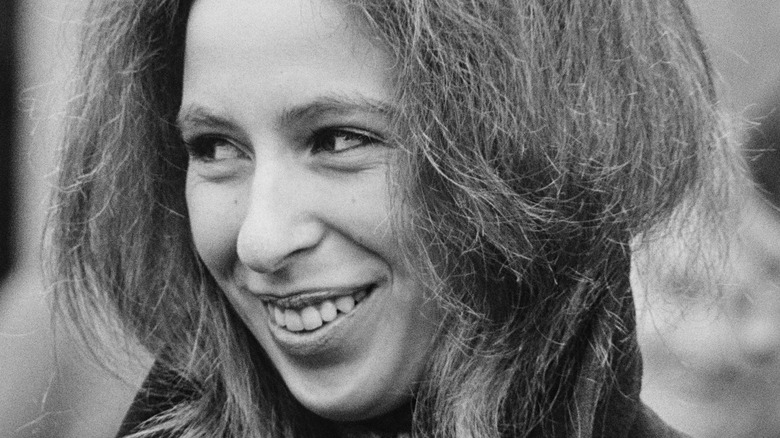 Harry Dempster/Getty Images
When you hear the words "the most fashionable royals," modern, younger members of the firm may immediately come to mind. Catherine, Princess of Wales, has dazzled since she stepped onto the royal scene, but her style as of late has elevated her looks to the next level. On the other side of the pond, Meghan, Duchess of Sussex, has ushered in a new era of royal dress — pantsuits, bare legs, and an overall relaxed wardrobe. Even the late Queen Elizabeth II was a style icon in her own right — she was always recognizable in her electric ensembles, and her black purse was just as iconic as she was. And yet there is another member of the royal family who is a style icon all their own — Princess Anne.
Anne, Princess Royal, is the second eldest of the late queen's four children and her only daughter. She sparkled as a young lady and had incredible fashion moments, yet as her brothers were born and had children of their own, she dropped significantly in the line of succession. Anne may be 16th in line to the throne, as of this writing, but she's often referred to as the hardest-working royal, and she always looks put together while representing the family.
Still, there are moments from her time as a young woman when the Princess Royal threw out the rule book and brought new, exciting ensembles to the once-stuffy style of the royal family. 
Princess Anne's wedding dress still stands out to this day
Anwar Hussein/Getty Images
Though some royal wedding dresses are remembered for their grandeur — Diana Spencer's over the top gown immediately comes to mind — Princess Anne's wedding dress was not only appropriate for the 1970s era, but it was incredibly timeless. When she and Mark Phillips tied the knot in 1973, Anne appeared before 2,000 guests piled into Westminster Abbey and — as with many royal weddings — thousands of people lined the streets to get a look at the bride.
As noted by Vogue, Anne's dress on the day in question was a Tudor-style dress featuring a princess silhouette. Its trumpet sleeves still stand out as one of the more unique elements of the dress, and it was all brought together by the seven-foot train. It was designed by Maureen Baker, Susan Smalls' chief designer, and was composed mostly of silk chiffon. Anne did stick to the "something borrowed" tradition, too. Vogue points out that the Princess Royal chose the Queen Mary's Fringe Tiara for her big day, borrowing it not only from her mom, but following in a lovely tradition — Queen Elizabeth II wore the same tiara when she married Prince Philip in 1947. 
Topping off the bride's look, of course, was her veil — a silk netted garment with floral patterns intricately woven into the material. And, like any other royal, Anne's wedding ring was sourced from the same Welsh gold that has provided wedding bands for generations. 
The princess's look at a 1971 awards show was iconic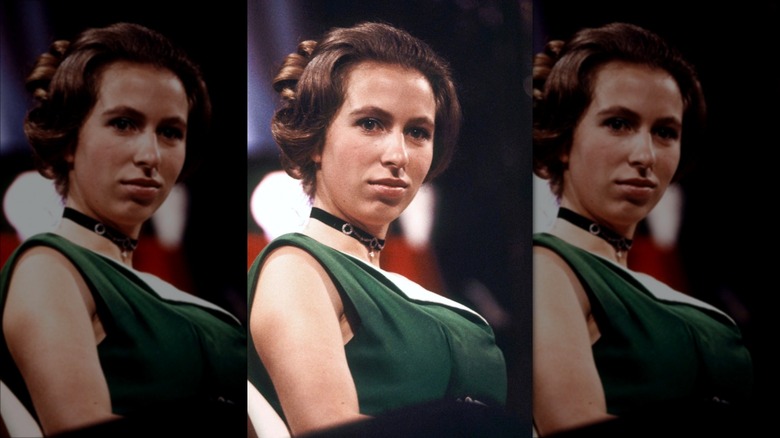 Anwar Hussein/Getty Images
While we know Princess Anne today as the stiff-upper-lipped royal who is arguably more hardworking than any other royal counterpart, she was once a rather provocative young lady who really knew how to dress to impress. Of course, her stunning complexion and dazzling features helped her pull off looks that were a bit daring for a member of the royal family. The dark green gown she wore to the Society of Film and Television Awards in 1971 was no exception.
As pictured, Anne's gown for the evening in question was sleeveless — not a common move for a royal — and its bustier detailing certainly gave it a modern (and spicy) look. Anne paired the square-neckline dress with a delicate black and jeweled choker, simple makeup, and her classic updo. 
This iconic look was just the start of Anne's dedication to the Society of Film and Television — later named the British Academy of Film and Television Arts (BAFTAs). A year after her dazzling attendance at the award ceremony, she was named the president of the academy and remained in her position until 2000. A dedicated figure in the artistic and film community, the central movie theater at BAFTA's HQ was named The Princess Anne Theatre in her honor, clearly displaying just how much her dedication meant to the organization. And, luckily for us, we got this incredible fashion moment to commemorate the occasion. 
Equestrian chic is Anne's look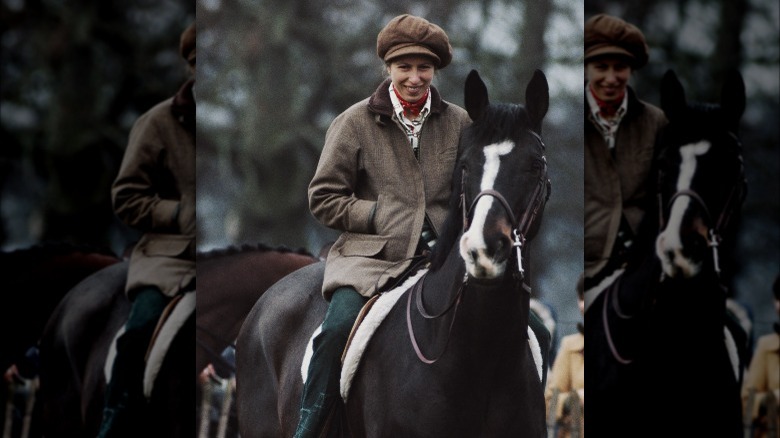 Getty Images/Getty Images
These days, Princess Anne is more known for her incredible dedication to the crown, but she was once famously known for her equestrian career. Often spotted in the rider-chic looks that would make Ralph Lauren proud, Anne shone on horseback.
In one particular look that shines above the rest, the princess looked casual — yet somehow so sophisticated — in a newsboy-style hat, oversized tweed coat, and green corduroy pants. Bringing the look together completely was Anne's red neck scarf, the style of which can most certainly be seen in a Madewell near you. The snap was taken in April 1978 while the Princess Royal rode her beloved horse Goodwill during the Badminton Horse Trials. 
As noted by Biography, Anne gravitated towards horses at a young age, no doubt due to her parents' individual love for all things equestrian-related. By 11 years old, she was competing on the horseriding circuit, and not only was it fun to watch a Royal compete in a new capacity, but Anne was good — really good. In 1971, the Princess Royal dazzled in the European Eventing Championships, delivering a show-stopping dressage performance. Her work at the event was so impressive that she clinched the gold medal, and just a little while later, Anne was named the BBC's Sports Personality of the Year. Anne would go on to compete for team Great Britain at the Olympics, and she remains an avid supporter of the sport. 
Canary yellow is absolutely Anne's color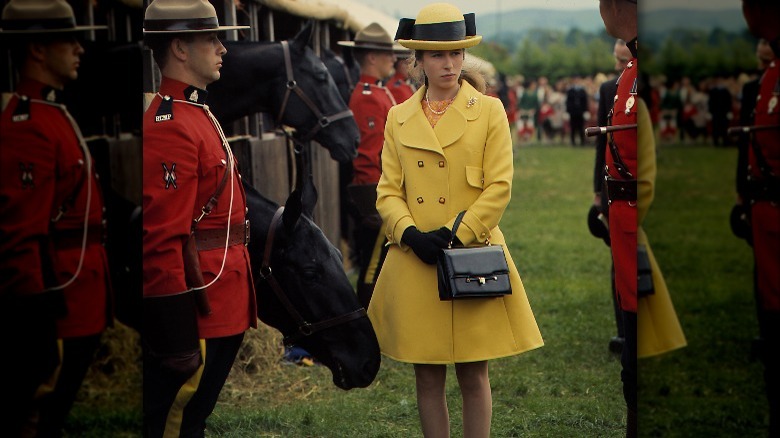 Jeremy Fletcher/Getty Images
While you may think of Catherine, Princess of Wales, as the glittering member of the royal family, it was Princess Anne who clinched that title before her. When she started becoming more active in royal scene as a teenager, Anne knew how to look both appropriate and youthful.
As detailed by Harper's Bazaar, her brightly colored dress in 1969 certainly put her a step above the rest, and she absolutely dazzled while inspecting members of the Royal Canadian Mounted Police. The 19-year-old princess sported a canary yellow coat dress and matching hat. Pairing the look with a black purse (very Queen Elizabeth II of her), black gloves, and a string of pearls, Anne looked classy, youthful, and very royal — a combo that she has certainly nailed over the years.
1969 happened to be the same year that Anne met her first husband, Mark Phillips, and it's no wonder he was so taken by the princess. As noted by Elle, Anne met Mark just as she was starting to date Andrew Parker Bowles (yes, that Parker Bowles), but the young equestrian was ultimately swooned by the captain.
The young princess dazzled alongside her mom in 1969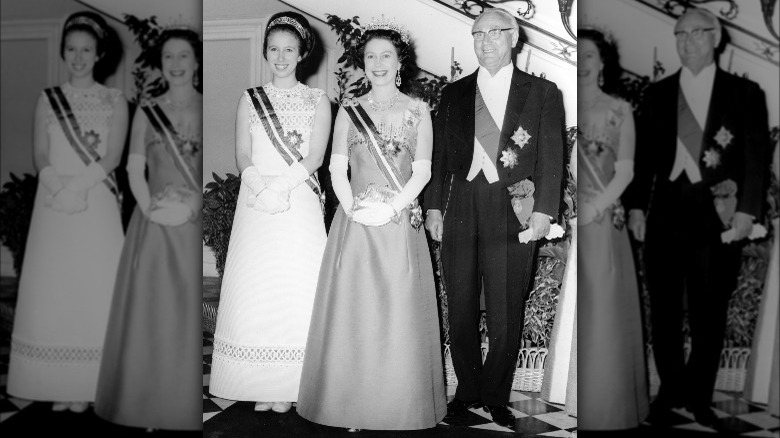 Brandstaetter Images/Getty Images
Though she was never destined to sit on the throne, Princess Anne made it a point early on in her royal life to dedicate herself to the crown. She has been — for her entire life thus far — one of the most steadfast members of the royal family.
In 1969, Anne joined her parents on a state visit to Austria, and not only did she attend events with her parents, Queen Elizabeth II and Prince Philip, but she represented the monarchy on her own too. As noted by Royal Collection Trust, Anne famously visited the Spanish Riding School in Vienna, where she was seen riding one of the horses. Just days prior, her parents rode through the streets of the city in an open car, clearly displaying warmth and welcome to the Austrian people.
When it came time for the main event, a dinner hosted by then-President Franz Jonas, Anne sparkled alongside her mother in a white gown, adorned with delicate neckline detailing. Wearing her hair in a trendy beehive and topping it off with a tiara, the Princess Royal certainly lived up to her title. She wore the Meander Tiara, which fits more like a headband than a crown. The tiara was originally given to Queen Elizabeth II by Philip's mother and was later gifted to Anne. It has since been seen worn by Anne's daughter, Zara Phillips, on her wedding day.
Anne dazzled in this iconic coat with fur detailing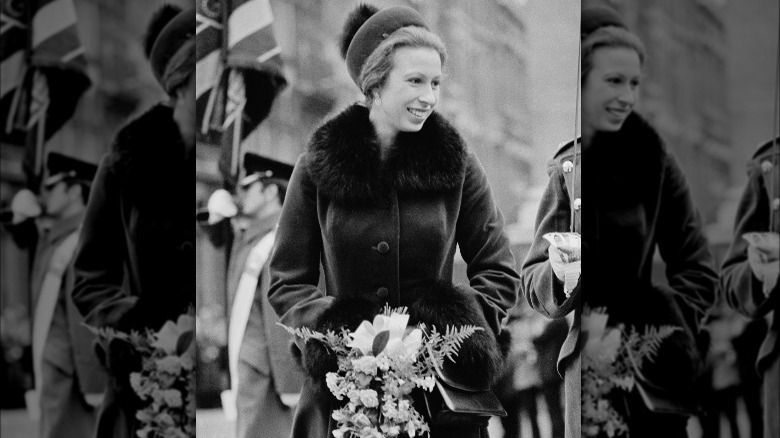 Evening Standard/Getty Images
Princess Anne's looks throughout the 1970s were absolutely iconic. For a formal event in the chilly month of February 1976, Anne donned a perfectly tailored coat dress for the occasion. At first glance, the fur-lined cuffs and collar grab attention — as the luxuriousness and opulence that's associated with fur is hard to beat. But, on closer look, the coat Anne chose was beautifully adorned with bold buttons, subtle pleats, and a flared skirt. Altogether, the elements of the coat dress flattered the princess beautifully. 
Topping off this iconic look were a few key elements that just scream "Princess Anne." The princess opted for a pill-box hat, which was very circa 1950s (think Jackie Kennedy). She chose simple diamond drop earrings and a black handbag, and she finished the entire upper ensemble with natural makeup. Honestly, this is a look that deserves to be in Vogue. 
Princess Anne has a thing for slacks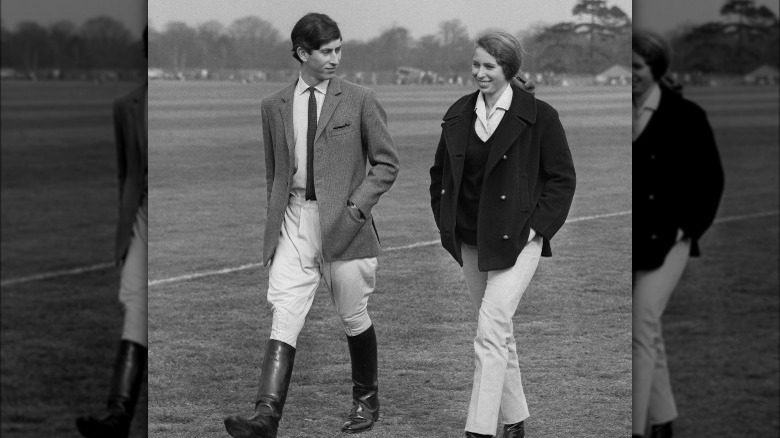 Express/Getty Images
If there is one member of the royal family that has defined feminism in their own right, it's Princess Anne. This may come as a surprise to some, but Anne has marched to the beat of her own drum for years, demanding the same treatment as her brothers.
When it comes to clothing, the princess made it known from an early age that she wasn't always going to wear frilly dresses. In 1968, Anne was pictured walking alongside her brother, King Charles III, in a pair of slacks, a coat, and a hat. The siblings were pictured walking the grounds of Windsor Great Park, and Anne's light slacks and oversized coat certainly stood out.
Anne has been seen in trousers not only in casual settings but in professional appearances as well. When her mother, Queen Elizabeth II, passed in September 2022, Anne donned military dress during her funeral — but it was not the military dress you likely expected. Anne wore her royal blue military uniform — slacks included — alongside her brothers. She sported the iconic white hat, gloves, and sash that make up the ensemble (via Footwear News).
In yet another instance where Anne has worn the pants — both literally and figuratively — the princess royal, when made a member of the Order of the Garter, demanded to be a knight like her brothers rather than a lady, Express noted. When it comes to feminist icons, Anne should certainly be on the list. 
Princess Anne couldn't be missed in her electric blue ensemble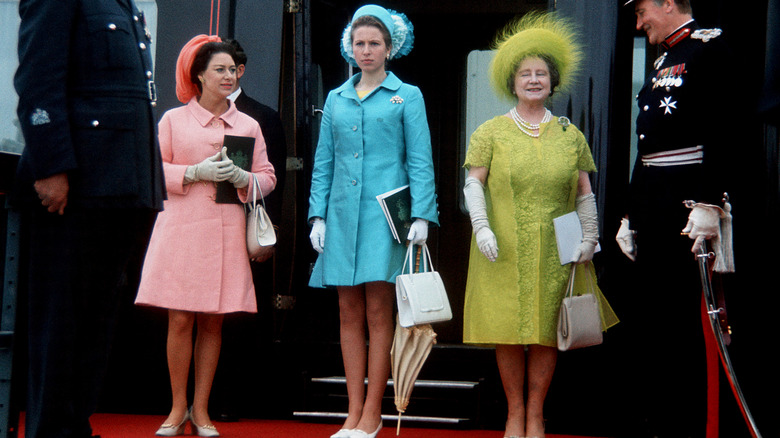 Anwar Hussein/Getty Images
As Princess Anne continued to work in an official capacity for the royal family, she did so in style. During a visit to Wales in 1969, Anne was pictured alongside her aunt, Princess Margaret, and her grandmother, the Queen Mother, at then-Prince Charles' investiture as the Prince of Wales, which was held at Caernarfon Castle in north Wales.
At the event, Anne looked royally appropriate and quite fun in her electric blue coat dress, cut just above the knee, and matching hat. Pairing the look with white gloves, a white handbag, and low-heeled white pumps, Anne certainly could not be missed in the crowd. She, her aunt, and grandmother were pictured together in their bright colors, with the Queen Mother in green and Princess Margaret in pink. All lined up, they look like the Powerpuff Girls ... but in the best way possible.
Princess Anne stunned in this patterned mini dress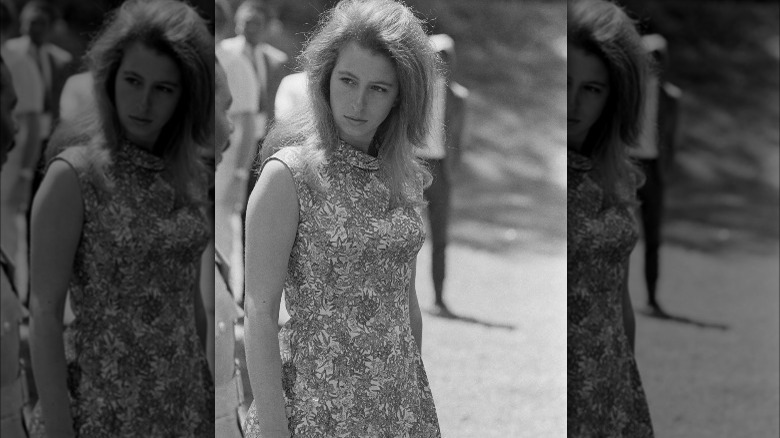 William Lovelace/Getty Images
Allow us to set the scene: It's 1971. Fashion is about bold colors, big hair, and intricate patterns. Princess Anne embraced the trends of the time while on a royal trip to Africa. Though it was February when Anne arrived on the continent, the weather clearly allowed her to keep her British-winter coats at home. She opted for an intricately patterned mini dress on this particular day in '71, choosing a sleeveless look to brace the heat. This look was a departure from the princess' usual style. She predominantly wore more gender-neutral outfits. Embracing her more feminine side, Anne completed this iconic look with teased hair.
As noted by the BBC, Anne's trip to Africa in 1971 marked the first time she traveled by herself on behalf of the crown. Just 20 years old at the time, Anne spent time in Kenya to support childhood programs — she was president of the Save the Children Fund at the time. Working to create a special program that aired on Easter Sunday in the United Kingdom, Anne put together a bicontinental effort to support childhood education — and looked stylish while doing so, of course.
In 1971, Princess Anne channeled the monarch's bright fashion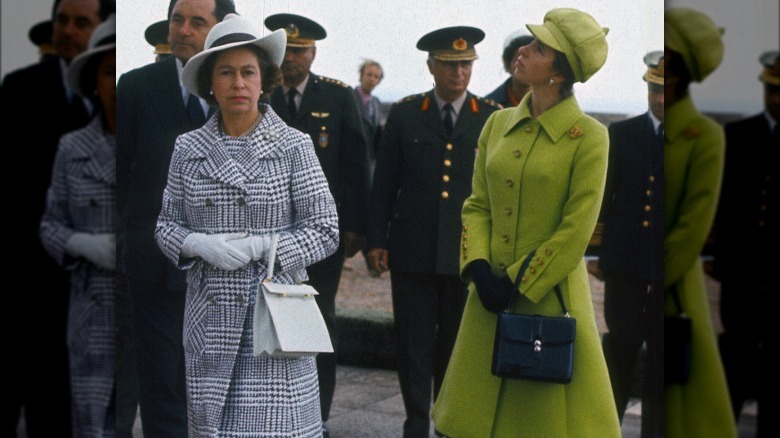 Anwar Hussein/Getty Images
Though many may not see her fashion as realistic to replicate, Queen Elizabeth II was a fashion icon in her own right. She often donned bright colors, matching dresses and coats, and her black loafer heels and handbag were synonymous with her sense of style.
The late queen often wore bright green, including on her 90th birthday in 2016. She was said to wear such bright colors so that members of the public could spot her in the crowd. However, on one particular day in 1971, the queen's fashion took a backseat to Princess Anne's.
As noted by the Royal Collection Trust, Elizabeth, Prince Philip, and Princess Anne all traveled together during a visit to Turkey in 1971. When they touched down at the Ankara Airport and disembarked the plane, Anne was spotted in a chartreuse coat dress and matching hat, which she paired with black gloves, a black bag, and black heels. The queen, meanwhile, was photographed wearing — gasp — black and white! She donned a houndstooth black and white coat and corresponding white hat, finishing off her look with a white handbag, gloves, and shoes.
Anne's iconic look while visiting Ecuador remains a favorite
Remember how we said that yellow was Princess Anne's color of the decade, so much so that we couldn't choose just one outfit to highlight? That remains true, but there is one look that deserves its own attention. While on her honeymoon with husband Mark Phillips in 1973, Anne looked positively stunning (and very 1970s) in a yellow dress that just skimmed the top of her knee. What really makes this look stand out, however, is the black and white detailing that trimmed the waistline and the sleeves. Anne paired her look with a yellow hat (of course), white gloves, and a bold white handbag. If the '70s were an outfit, this would be it.
Just because they were on their honeymoon and first official royal tour — and just because Anne looked dazzling — didn't mean that things were easy for the young couple. As noted by The New York Times all the way back in 1973, a tear-gas grenade fell off a soldier's belt in her vicinity and caused quite the scene. Anne and Phillips were quickly whisked away to their car.
While Anne has endured quite a lot of tragedy in her life as a royal, but she's managed to do it all with grace and in style.