Try This To Prevent Your Makeup From Pilling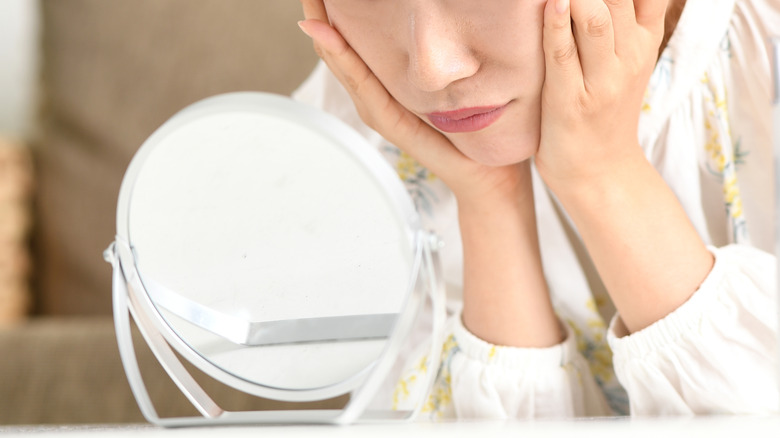 koumaru/Shutterstock
We may receive a commission on purchases made from links.
You're probably already playing around with the new makeup trends that will be big in 2023, but you may also experience the worst-case scenario — you've just finished a full face of makeup and start having issues with the final product. Whether you smudge mascara over your foundation, color outside the lines with lipstick, or botch your blush, there's usually a painless fix. But what happens when your makeup itself starts pilling, or rolling off your skin in tiny balls? 
Pilling can be caused by a number of factors that you may not consider when purchasing foundation, primer, and other products. It often results from layering skincare products in the wrong order or not keeping up with your routine. To solve your pilling problem, you'll need to pinpoint the cause, then experiment until you find the perfect technique to make your glow smooth and lasting. Though it can feel like a minefield figuring out which skincare products you should and shouldn't be using, with the right know-how, you can avoid future pilling disasters and apply these tried-and-true rules to pretty much any beauty products in your life.
Look out for silicones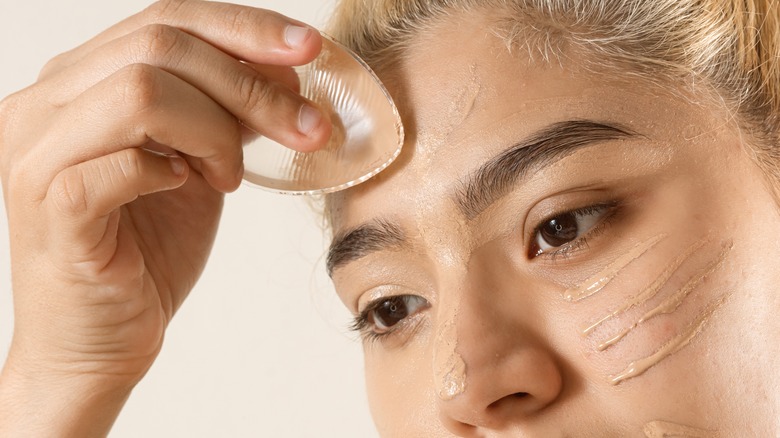 Djavan Rodriguez/Shutterstock
One issue that can cause pilling is likely something you haven't considered when purchasing a new, buzzed-about makeup item. Silicone is found in a range of products: blush, primer, foundation, serum, and even moisturizer can contain silicone. The ingredient can also go by other names including dimethicone, cyclomethicone, amodimethicone, and methicone, according to The Skincare Edit. 
Silicone isn't always a bad ingredient; it helps your makeup achieve a smooth, moisturized look (per Get the Gloss), and it doesn't penetrate the skin barrier. Because of this, however, whatever you apply after a silicone-based product likely won't absorb into the skin either, causing a pile-up, and, likely, product pilling. However, if you find compatible silicone-based products to use together, they won't give you trouble. And, likewise, sticking to compatible water-based formulas can be equally effective in preventing pilling.
Lightweight products are more easily absorbed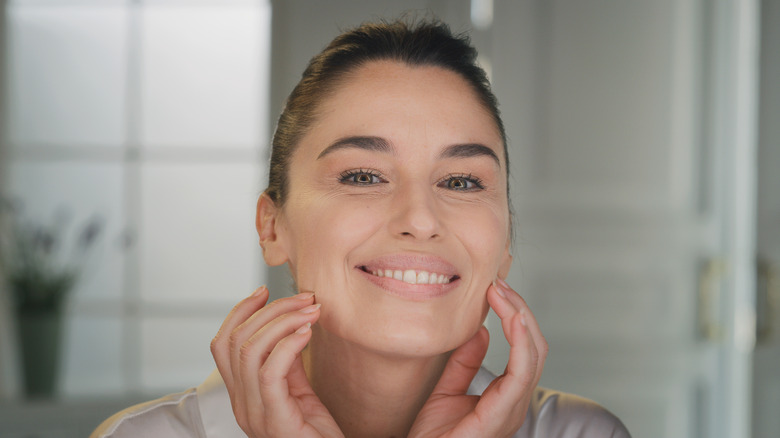 Kitreel/Shutterstock
It's best to start your routine with products that the skin can absorb, especially when it comes to primer. Laura Mercier's hydrating primer and Rare Beauty's 4-in-1 primer and setting spray are both able to add moisture and refresh the skin, and these products play multiple roles, allowing you to simplify your routine and reduce the chance of pilling from non-compatible products.
You should also double-check which products you truly need during the daytime; if you've been using an ultra-creamy moisturizer to soothe dry skin, there may be a serum with similar benefits and ingredients that has a lighter feel. Glossier's super bounce serum is an excellent example, and Clinique's lightweight foundation, which is a combined serum and foundation with SPF 20, provides impressive three-in-one benefits.
Less is more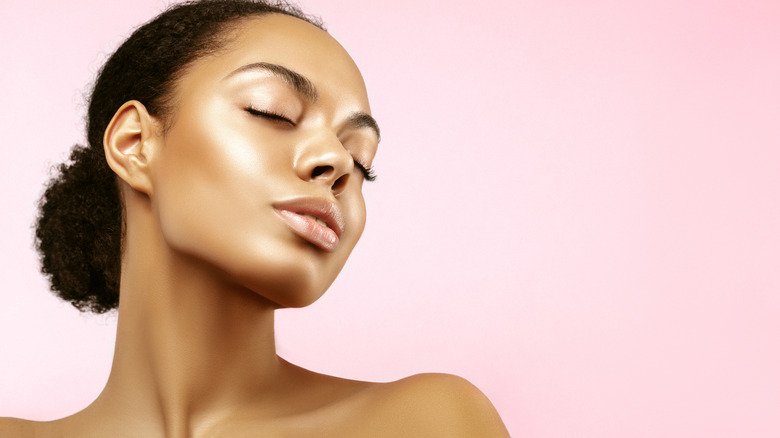 Beauty Agent Studio/Getty Images
It's best to keep things simple if you aren't sure whether a product is going to weigh you down when combined with others. If that means forgoing your eye cream or other non-essential products, that might be the best solution.
You may also want to apply less of each product in general. Not only will this save you money and trips to Sephora, but you may find that wearing less of your chosen serum, primer, moisturizer, and foundation creates an overall fresher look than when you really layer on the product.
The thin to thick rule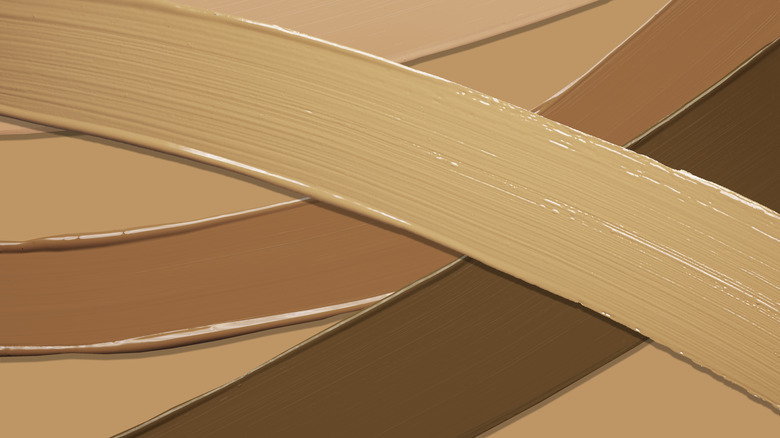 Tanyarow/Getty Images
Across the internet, there is relative consensus for the perfect order for your skincare routine, and that is the thin to thick rule. Just like it sounds, this rule says to apply the thinnest, lightest products first, progressing toward the thickest or heaviest. According to Cosmopolitan, the most basic version of this method uses three essential products which just might be the only ones you need: cleanser, moisturizer, then sunscreen.
The rule is especially important if you are using both water-based and oil or cream-based products. Water-based formulas will likely soak into the skin, creating the right surface for later products that sit on the skin and provide a protective barrier, like oils and creams. A solid strategy is using serums and/or primers first, then moisturizer, foundation, and sunscreen, leaving skin oil, like Superfood face oil from Elemis, until the end of your routine. 
Take your time applying everything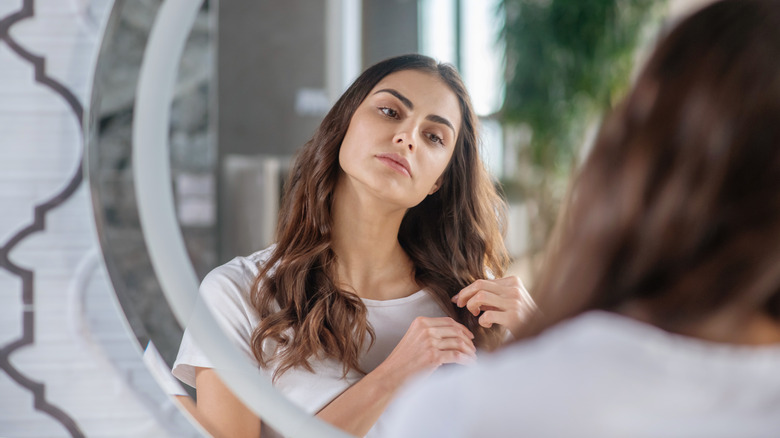 Dmytro Zinkevych/Shutterstock
Taking your time is probably the simplest way to prevent your skincare or makeup from pilling. Putting on too many products in close succession can not only cause pilling, but it can reduce the efficacy of each individual product.
If a formula has no time to absorb into the skin, it may mix with a product meant to protect the skin barrier, causing you to miss out on the moisture that your follow-up product was meant to protect, according to the skincare brand Curology. And it's especially important to let your moisturizer do its work before going for foundation, setting spray, or other products that sit on top of the skin.
Solve your dry skin problem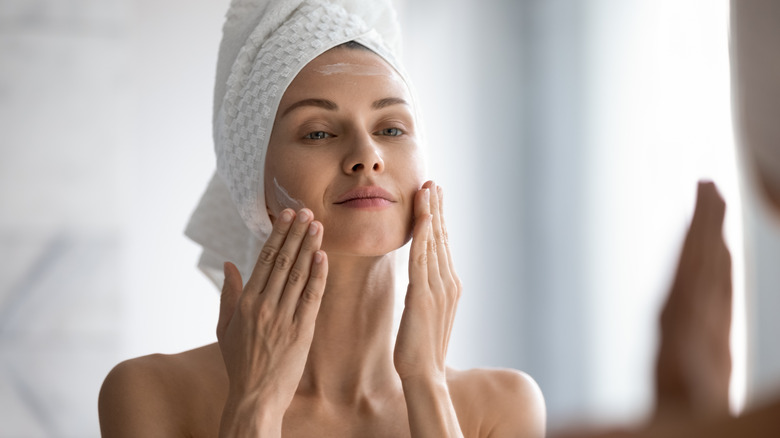 fizkes/Shutterstock
Especially in the winter, dry skin is one of the greatest threats to our skin health, and although sunscreen will protect us from additional UV damage and offer a bit of moisture, the cold, wind, and dry air can still take a toll. One way to sort out what your moisturizers can do for you is to break down their ingredients' three basic functions — per Harvard Health, most moisturizers include a combo of emollients, which smooth out skin and fill in uneven patches, occlusives, which protect moisture that is already in the skin, and humectants, which draw moisture in from the skin and the air. 
Finding the best combination for your skin can require trial and error, but you should typically go for non-comedogenic moisturizers that won't clog pores, per Curology. Clinique's Overnight Revitalizing Moisturizer and Neutrogena Hydro Boost Gel Cream are both effective choices that won't lead to clogged pores or acne.
Don't forget to exfoliate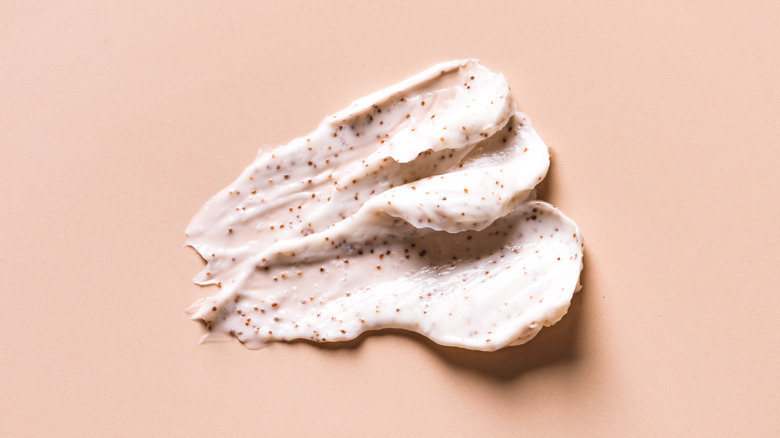 Mizina/Getty Images
A mild exfoliator is super useful for clearing away dead skin that might contribute to an uneven or pilling makeup look. Exfoliating approximately twice a week is ideal, according to Who What Wear, since it will encourage the skin to create new cells that will absorb moisture better.
It is especially vital to moisturize after exfoliating, in case the product strips the skin of too much of its natural oils. Take extra care with super dry skin, since many exfoliators also have a drying effect and exfoliating may damage skin that is already struggling to repair itself. 
Ingredients you want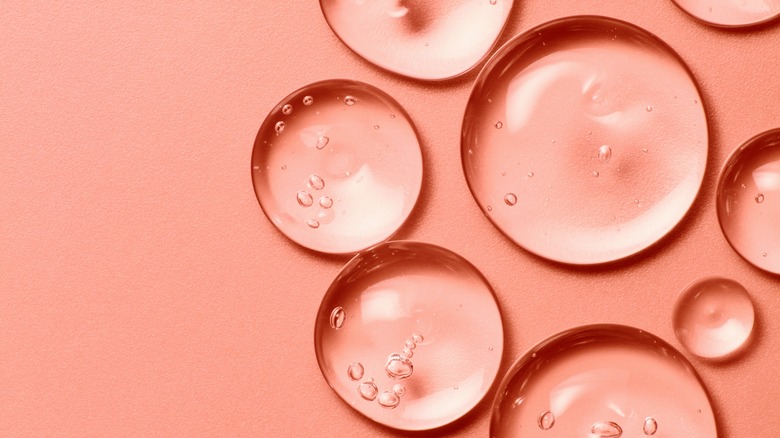 Kat Ka/Shutterstock
Per Who What Wear, you should look for products that contain hard-hitting ingredients in a simple, lightweight formula: hyaluronic acid, ceramides, squalane, and glycerin are some of the best, and they can have super-moisturizing benefits even if you're using very little serum or moisturizer.
In their good ingredient list, Curology shouts out dimethicone, an occlusive ingredient to contain moisture, shea butter, which has soothing properties, lanolin, a healing emollient, and petrolatum, a seriously strong occlusive. 
Ingredients you don't want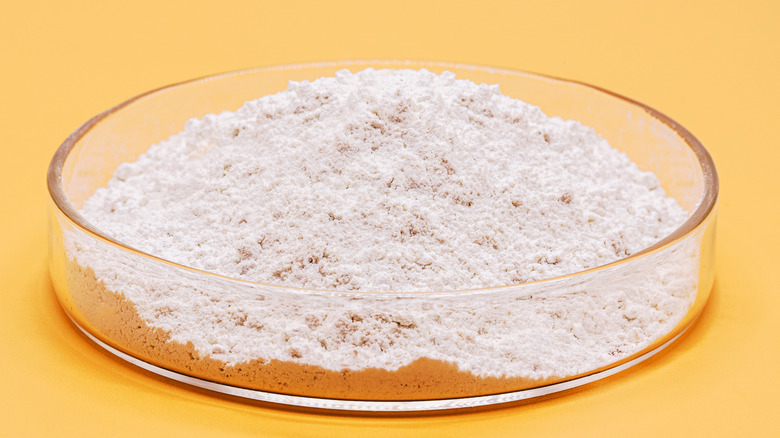 Rhj/Getty Images
There are a number of other ingredients besides silicone that you should look out for in your battle against pilling. Get the Gloss warns against iron oxide, which is commonly found in sunscreen and tinted formulas and that can create excessive grease on the skin, not meshing well with the rest of your routine. Talc, zinc oxide, and titanium dioxide found in mineral sunscreens may also cause pilling in the final stages of your skincare regime.
It's also best to abstain from fluorphlogopite, a formula thickener. Per the thin-to-thick rule, you should leave products with this ingredient toward the end of your routine, or cut it out altogether to reduce heaviness. 
Pat, don't rub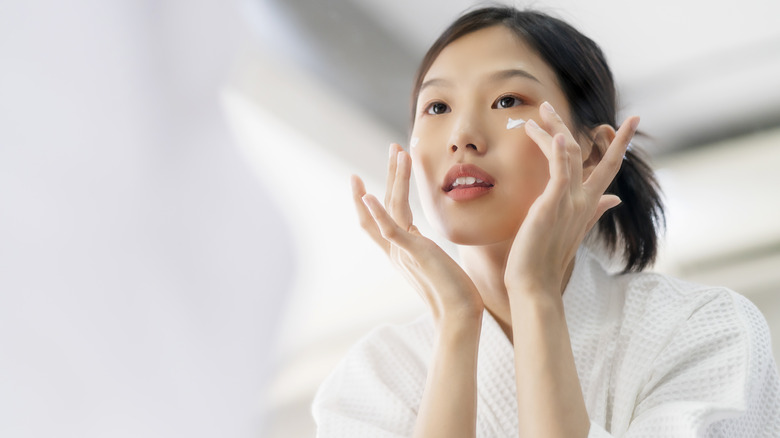 Whyframestudio/Getty Images
Of course, you can always make adjustments to these recommendations according to the types of products you are combining, as well as how you apply your skincare products. The Huffington Post's cited expert, makeup artist, Mai Quynh, stands by patting as a more effective method for avoiding pilling than rubbing in your creams and serums. 
Patting in your makeup with either a brush or a sponge will not only make your look less streaky, but it will leave the other layers of your skincare undisturbed as well.