How To Recreate Hailey Bieber's Festive Holiday Manicure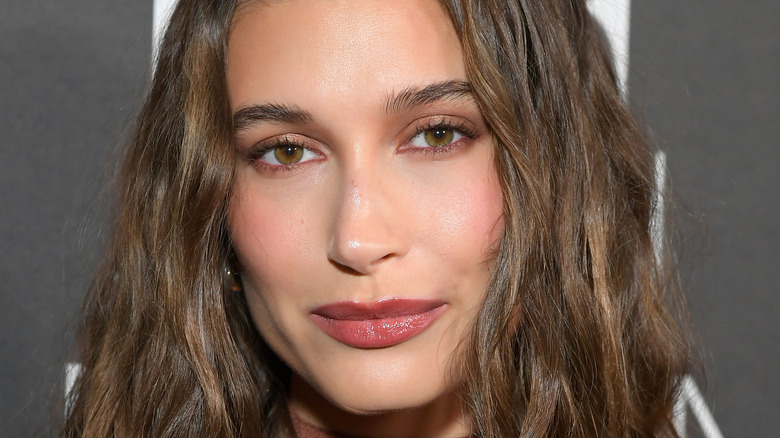 Charley Gallay/Getty Images
We may receive a commission on purchases made from links.
At this point, Hailey Bieber is basically our #1 manicure guru. We all remember Hailey's signature mani that was all-the-rage this past summer. Per Page Six, this nail design, dubbed the "glazed doughnut nails" was a shiny, sleek twist on a classic, neutral nail look. Well, her majesty of manicures has a new nail look for us, and it's a far cry from the neutral, goes-with-everything "glazed doughnut nails" of the summertime. Things are about to get very festive in here.
Hailey Bieber debuted the latest nail polish trend on Instagram recently, and while her newest nail look is much more of a statement than what she may have been known for rocking in the past, she's given us yet another funky twist on a classic look. This time, Hailey Bieber's nails are sort of like the classic French manicure but with a major update, and it's just in time for the holidays. We have a feeling we'll be seeing quite a few manicures that match Mrs. Bieber's when everyone's holiday pics start hitting Instagram. 
Why we love Hailey Bieber's holiday manicure
This holiday nail is festive yet subtle, simple yet elevated. Per Byrdie, funky french tips are all the rage in manicure fashion right now. The almond-shaped nail is also most trend-watchers' shape of choice. Thus, the newest manicure trend that Hailey Bieber, herself, has coined "candy cane glazed nails" was born (via Allure). This almond shaped mani includes a thick french tip in a bold, bright red. Then, the entire nail is covered in an extra shiny top coat. 
The candy cane glazed nails are on-trend from the shape to the style, and they follow in their predecessor, the glazed doughnut nails' footsteps with their highly shiny yet neutral finish. Anyone could tell that these are festive holiday nails, but they add far more interest than just a plain Christmas red or gold. At the same time, they're not as detailed or complicated as other nail art that some may choose to get for the holidays, like painting a snowman or Rudolph on your nail, so it maintains a sophisticated vibe while still being neutral enough to pair with your holiday 'fit of choice.
How to get the look
Luckily, this nail look isn't just elegant and festive: it's also pretty easy to execute. While Hailey Bieber may be the queen of nail trends, she's not the only one coming up with these magnificent manicure ideas. According to Teen Vogue, Bieber has been working with manicure artist, Zola Ganzorigt for years. Not only was Ganzorigt the woman behind the glazed doughnut nails and now the candy cane glazed nails, but she's also currently one of our favorite people because she didn't try to gatekeep the deets behind this manicure trend. She shared all the products she used on her Instagram, so we can replicate the perfect holiday nails at home.
According to Ganzorigt, after prepping Bieber's nails, she used OPI GelColor Stay Strong Base Coat followed by one coat of OPI GelColor in the shade Funny Bunny for that perfectly nude look. She then used OPI GelColor in the shade Big Apple Red to create the perfectly festive french tip. To get that shiny, "glazed" finish, the top coat routine here is of the utmost importance. Ganzorigt finished off the look with one light coat of OPI Chrome Effects No-Cleanse Top Coat followed by OPI Chrome Effects in Tin Man Can. Finally, she used OPI GelColor Stay Shiny Top Coat as the final layer, and voila: the candy cane glazed nails of our dreams. We're hoping this look is as easy to create as it sounds, because we'll definitely be trying it out.