The Treatment Meghan Markle's Facialist Swears By For A Natural Glow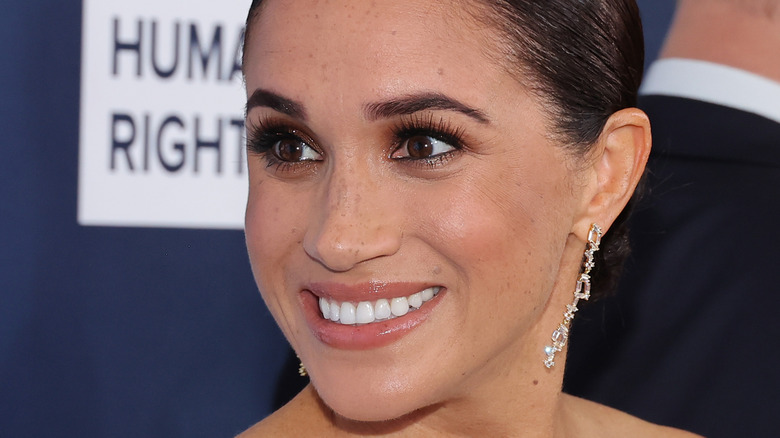 Mike Coppola/Getty Images
To say that Meghan Markle is influential would be a massive understatement. The fact that the Duchess of Sussex landed on Time Magazine's "100 Most Influential People" list is a testament to her staying power. But aside from encouraging people to care about various humanitarian causes close to her heart, Markle is also quite influential in the fashion space, so much so that a phenomenon called the "Meghan Effect" has become a thing.
Whatever the former "Suits" star touches turns to gold, with much of the clothing and accessories Meghan wears in public selling out soon after. When she carried a bag from Scotland-based brand Strathberry to an official royal engagement, its co-founder and owner, Leanne Hundelby, was surprised by the sudden boost in demand for their products. "I was in a meeting in the office and received a message from one of my colleagues," she recalled to Elle UK of the first time it happened. "Soon afterward, the phones started ringing constantly and they've never stopped."
The Meghan Effect is very much real, and it looks like the same thing frequently occurs in the beauty space, too. While Markle is more known for her sartorial choices, people seem to be similarly invested in how she manages to maintain a clear and glowing complexion despite having a grueling work schedule. As it turns out, the duchess enjoys a very specific type of facial. 
This is Meghan Markle's facialist's technique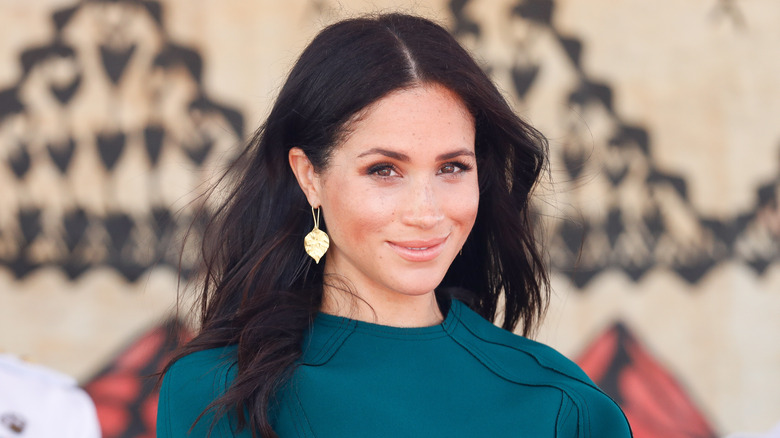 Chris Jackson/Getty Images
So what does it take to look as regal as Meghan Markle? Her facialist Sarah Chapman divulged that, first and foremost, a facial massage is key. Chapman informed Town & Country magazine that Markle's preferred facial — which uses her signature "gymnastics facial massage technique," and is also favored by Victoria Beckham — doesn't involve any of the lasers or state-of-the-art equipment that celebrities typically use. In fact, the only tools she needs are her hands. "If you do a facial just with massage, you can make a massive difference in the skin. ... There's nothing like a hands-on massage," Chapman argued. 
The duchess's go-to facialist described the process as being very intricate and powerful. There's plenty of "pinching and rolling and really deep manipulation" involved, as well as "very fast tapping and rotations." Considering how much Markle has on her plate, Chapman told People that she makes sure her skin doesn't succumb to dehydration by using a myriad of products on it including hyaluronic acid and vitamin C, to keep it plump and glowy.  
How to do a facial massage yourself at home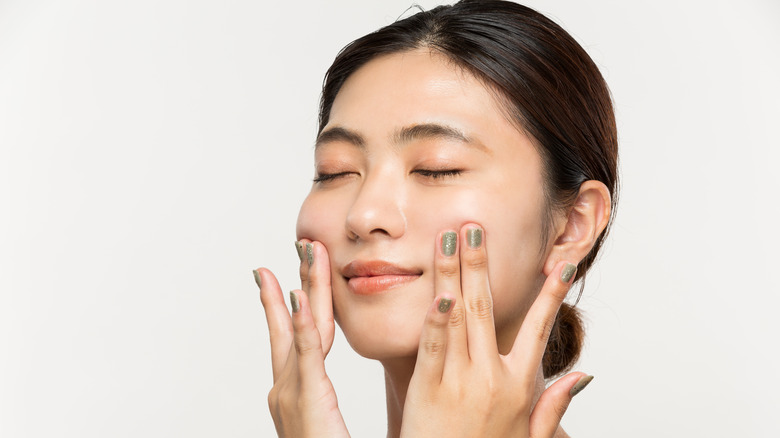 kei907/Shutterstock
According to Real Simple, going to beauty spas for a facial massage like Meghan Markle's could cost you $250 a pop. You have to do it relatively often to achieve noticeable results, too, with skincare expert Danna Omari explaining, "Results are cumulative so it's important to continue regular weekly sessions until you achieve your desired goal and then continue with maintenance treatments." But the good news is you can take matters into your own hands — quite literally.
Aesthetician Nichola Joss, another of the Duchess of Sussex's favorite facialists, advised Elle UK that you can easily do a facial massage at home and achieve a more sculpted look — as long as you do it right. For starters, it's best to massage your face before bed because it "helps prep you for sleep which is essential for anyone that doesn't sleep well." Further, "It gets you into that relaxed mode and stops you [from] looking at your phone!"  
Joss also confirmed that there's no rule book for massaging your face, but she recommended staying "organic with your movements" and focusing on the parts of your face that have the most tension. It's also important to start in the middle and move in upward, circular motions. Likewise, similar to a regular massage, be strong with your movements and really get in there for the best results. Joss even posted a how-to guide with photos to Instagram, for the uninitiated.