Your Favorite Pair Of Uggs May Be Doing You More Harm Than Good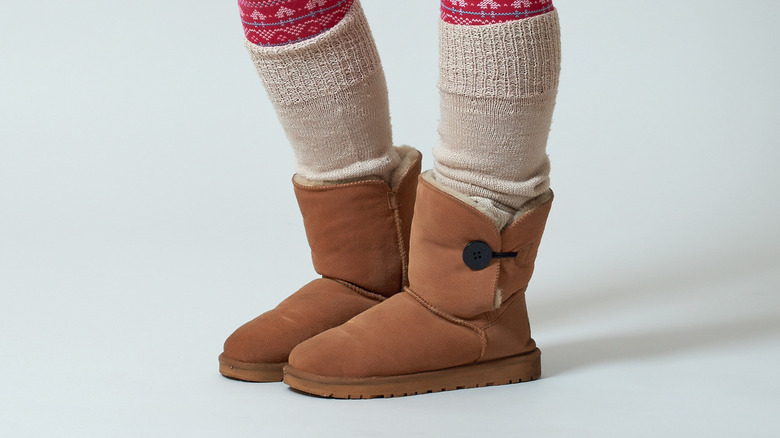 autau/Shutterstock
Feeling pretty cozy in those timeless Uggs? Well, some experts think that Uggs are more "ugh" than "ahhhh," which might compel you to rethink your go-to shoe. But, of course, there's no denying the versatility of the sheepskin darling of the footwear world; it's equally adorable with everything from joggers to minis. But considering how much time Ugg fans spend in their boots, it's worth seeing if they pair up with expert advice, like that of Cleveland Clinic, which recommends prioritizing arch support and stability.
At first mention, you might be inclined to skip this advice in exchange for fashion in comfort. But if you ignore this advice today, you might pay for it down the road, as podiatrist Nicole Nicolosi, DPM, warns in an interview with Cleveland Clinic. If you think bunions and hammertoes are just icky CGI effects in movies, think again.
"If things are off, it adds extra stress to every step. Over time, that can eventually lead to various deformities and chronic pain," explains Dr. Nicolosi. So, it's time to carefully examine the good, bad, and ugly traits of your favorite pair of Uggs.
The first clue is in Ugg's origin story
Whether Uggs are good for your feet lies in the company's origin story. Why were Ugg boots created in the first place?
In a YouTube interview with Inc., Ugg founder Brian Smith explains that the inspiration behind Uggs was that his feet were chilly after surfing in Malibu one day in the late '70s. He was visiting from Australia while brainstorming potential businesses, and it came to him, "One day, I was surfing in Malibu. And afterwards, the water was cold, and the wind was chilly. I was pulling on my sheepskin boots, and I thought, 'Oh my God. There are no sheepskin boots in America.'"
So, he thought it was the perfect footwear for surfers, who often need cozy clothes after getting out of the water. But in a nutshell, Uggs were designed for the sandy beaches, relatively even terrain, and mild climates of Southern California's beachy areas — not for the slippery surfaces of wintery landscapes. Because the design was intended for short-term wear on soft surfaces, the podiatrists at Fords Foot & Ankle Care in New Jersey contend that, over time, the boots' structural issues lead to issues in all joints — from the toes through the knee and hips.
But what does an English muffin have to do with it?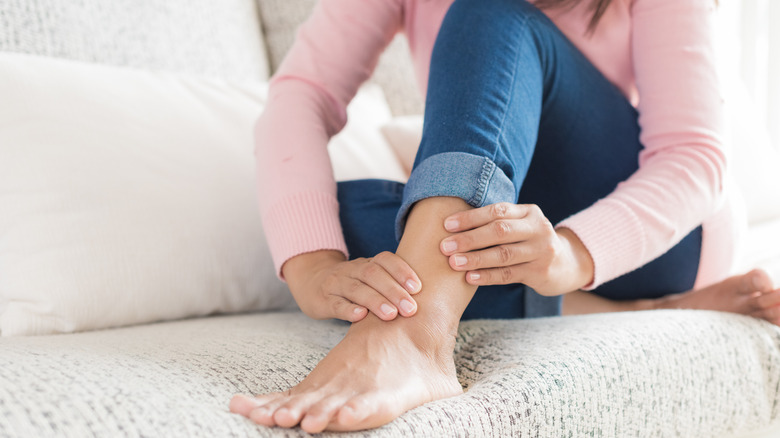 siam.pukkato/Shutterstock
Although Uggs arrived on California's beaches in the late '70s, the boots became a celeb favorite in the 2000s, when celebrities such as Paris Hilton made them famous (via The Cut). Because they're as comfortable as a slipper, it's not uncommon for people to rely on them fall through spring.
But due to Uggs' lack of foot and ankle support, this type of long-term wear creates a structural burden, according to New York Podiatrist Yolanda Ragland, who told Yahoo! that "...although aesthetically pleasing to the eye, [Uggs] may result in injury and dysfunction of the foot and ankle." On the other hand, she recommends Uggs for patients recovering from foot surgery due to the warm, stretchy fabric, which is gentle and accommodating to those with swollen feet.
If long-term issues don't sway you, the President of the Australian Podiatry Association, Katrina Richards, is one of the many podiatrists to warn folks that Uggs can lead to a bacterial infection. In fact, she told ABC News that, due to the hot, sweaty nature of the inside of Uggs, "You can get that much bacteria on your foot it looks like a crumpet." In terms of the unexpected drawbacks of wearing Uggs, call it what you will — a crumpet or an English muffin; you probably don't want one attached to your foot.