Why Kevin From This Is Us Looks So Familiar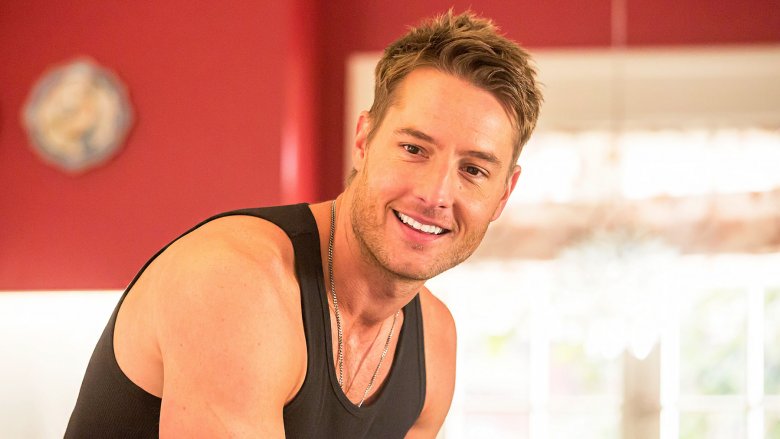 NBC
You just know you've seen Kevin from This Is Us before. It's enough to drive you wild, isn't it? That irritating, déjà vu feeling you get when you're watching a TV show or movie and a face pops onto the screen that you're certain you've seen before — but where?! Immediately you must pause whatever show you're bingeing and run straight to IMDb, otherwise you'll spend the foreseeable future weaving your brain through every show you've ever seen, and annoying everyone in the vicinity as you vocalize this internal turmoil. 
No doubt, this is a feeling you've had while watching Justin Hartley, the actor who portrays Kevin Pearson on This Is Us. You know you've seen him before — who could forget those abs — but from where?! To save you wasting any more precious time while This is Us follows Kevin's turbulent drug addiction, we're here to put you out of your misery. Here's where you've probably seen Hartley before. 
He's a sexuality fluid yet "uber-straight, jockish husband" type... in a bad movie
If you were expecting that Justin Hartley's first acting gig came in the shape of a bit-part in some terrible early 2000s TV show, you'd be wrong — although only in regards to the "TV show" part. His career kicked off in the mid 2000s, playing an "uber-straight, jockish husband" type in Russell Brown's feature film, Race You To The Bottom — appearing alongside Entourage's Cole Williams and Buffy's Amber Benson.
The movie centers around Nathan, a freelance writer who's exploring the world and his sexual orientation. During his journey, Nathan winds up getting jiggy with Hartley's jockish character. While he only appears on screen for a hot second, it did audiences a solid by introducing us to a face that — let's be honest — has barely changed in the past decade or so.
Race You To The Bottom gained a 50 percent splat on Rotten Tomatoes, with reviews that dubbed it "self-consciously edgy and romantically limp" (New York Times) and "a bad heterosexual date movie" with unlikable characters (Variety).
Fox by name, and foxy by nature in Passions
Like any good soap opera (okay, "good" might be stretching it, but let's pinch a little salt), Passions' cup did runneth over with sex, scandal, mystery, and family drama. Nobody brought the drama home quite like the Crane family — a super rich, trouble-making clan with a hilltop mansion and skeleton-packed closet. And no Crane family member brought the sex and scandal quite like Justin Hartley's character. He was Fox by name, and foxy by nature — his sexual antics were frequent, convoluted, and always topless. 
During an interview with Soap Talk, Hartley revealed that he had actually unsuccessfully auditioned for a totally different part one year prior to being cast as Fox. Yet, that turned out to be a good thing. In that 12-month gap, he began watching the show religiously, as did his family, which made eventually landing the gig even sweeter. 
"To get something they actually watch is really special," he said. His brother even recorded the episodes — how cute is that?! A far cry from his on-screen brother Randall on This Is Us, who never even watched The Manny. Rude.
Pulling off that green leather outfit in Smallville (and, oh yea, fighting crime)
It's likely that for the superhero fans among us, Justin Hartley will forever be associated with his character on CW's Smallville. That's not least because he knows how to rock a sleeveless, green leather outfit — hey, that ain't an easy look to pull off. 
Although Hartley was initially meant to play Aquaman in the CW's Smallville spinoff by the same name, it was a no-go, so Hartley came on board as Oliver Queen, aka Green Arrow OG. For the superhero novices here, Queen is a company CEO by day, and an arrow-shooting crime fighter by night. Importantly, he also brought that universe's Justice League together and became their leader.
Harley's Green Arrow started off as a guest character, appearing in the sixth and seventh seasons before being picked up as a series regular in the eighth season. Despite being a fan favorite, Hartley wasn't selected to play Arrow again when the character was selected for a titular show that premiered in 2012 — that role went to Stephen Amell. If you're having flashbacks to Kevin being replaced as the Manny on This Is Us, have no fear. Clearly there are no hard feelings between Hartley and Amell.
Classic horror movie idiocy in Red Canyon
While Hartley was busy shooting arrows at villains in The CW's Smallville, he found time to wade into the badlands of Utah in the horror flick Red Canyon. As the plot goes, Hartley plays Tom, the poor sod who travels with two friends, Regina and Devon, back to their hometown to help them clear out their family home. Oh yea, and Regina once fell victim to a crime so violent she repressed the entire thing. 
As you may expect, things do not go smoothly — especially after they pull classic idiot moves like tossing out first aid kits, maps, and phone chargers. This is especially true after a local hick (played by The Walking Dead's Norman Reedus, no less) goes totally butt wild and starts maiming everyone. 
To put it bluntly, this is not a good film. But according to UK-based horror site Love Horror, Hartley's performance performance may have been the best part. "Special mention go to Smallville's Justin Hartley who is somehow extremely entertaining as Tom, the dirt bike riding, disemboweled jock," they wrote. Not exactly a compliment, but that's probably the best we're going to get here. 
He flat-out refused to not be hired for Emily Owens M.D.
After Smallville wrapped, Justin Hartley went on the hunt for a new role — ideally one that would be a little more challenging, and different from his previous work. He was searching for a comedic part, and his agent found one in the form of Dr. Will Collins on Emily Owens M.D. Landing the job, however, was not so easy. 
During an interview with TV reporter Tiffany Vogt, Hartley explained that, although he left the first audition feeling positive, he was not successful. So, he did what any stubborn human would do. He dug his claws in and auditioned for another role. Evidently his determination paid off. He snagged a role on the show, and was super "proud" to be part of it! 
Unfortunately for Hartley and the rest of the cast, the show was axed after only one season — so chances are you may have caught him in a couple of episodes, but then forgot all about it (unless, of course, you're one of the 19,000 fans who petitioned against the cancellation). To pour salt in the wound, CW's Arrow spinoff premiered at the same time and became the network's "breakout hit." Ouch! 
A "creepy and excellent" incestuous dynamic on Revenge
When Justin Hartley shimmied onto screen wearing nothing but a towel in the Season 3 premiere of Revenge, the question of "who is Emily Thorne?" was promptly replaced with "new guy, who dis?" Because seriously — hello. And as the series progressed, we realized that this was a dude who did not care for shirts, and we were totally fine with that (it may also be the reason why we cannot place his face).
Hartley starred as Patrick, the son of one of the show's major characters (Victoria Grayson, played by Madeleine Stowe). She gave him up for adoption as a child, and he reappeared in his birth mother's life years later. Talking to TV Line, Hartley addressed the semi-sexual relationship his character shared with his mother, which may have prompted you to whip out a red flag or two.
"She hadn't been with him his entire childhood," he explained. "She only knows him as a man, so that's kind of a weird dynamic." Hartley speculated that the writers didn't intend for their relationship to come off so controversially, considering that the sexual tension disappeared from the script later in the season. He admitted to TV Line that he kind of missed that "Oedipal factor" — he felt that playing into that dynamic was "creepy and excellent. I loved it."
A boxing story with serious heart in The Challenger
In 2015, Hartley stepped into the ring in Kent Moran's boxing drama The Challenger, which told the story of a struggling Bronx-based auto mechanic (Moran) who was forced to put his boxing gloves back on after he and his mother were evicted from their home. Hartley played Moran's opponent, and claimed that it was the strength of the narrative that pulled him towards the film.
"I was a little bit inspired," he said. "Here's a guy who put together a script that obviously came from his heart and that's sort of what drove me to the film — the story." He continued, "Usually it's the story or the character — or the money — and in this case, it was the story for sure." The story clearly resonated with others, too, as The Challenger went onto scoop up four awards from film festivals, such as Palm Beach International and Gasparilla International. Okay, so it didn't quite reach Rocky fame (with three Academy Award wins for the first movie alone), but if This Is Us has taught us anything, a story with heart gets us every time.
A plastic surgeon with a "teeny tiny fetish" in Mistresses
If you like your TV shows laced with salacious scandal, then no doubt at some point you tuned into ABC's Mistresses — a romantic thriller with more sexual dramatics than you can shake a stick at. And, of course, who better to star in such a show than our ab-a-licious pal, Justin Hartley? 
Hartley joined the show in Season 2 as a love interest for one of the main characters, Joss. At the time, executive producer Rina Mimoun teased his character to TV Line, saying, "He's the nicest plastic surgeon in Los Angeles with a teeny tiny fetish... just enough to keep someone like Joss interested. He gets Joss to do the one thing she never thought she'd ever do."
That "teeny tiny fetish" got you curious? Here's a (very spoilerific) hint: The guy's shoe closet could give Carrie Bradshaw a run for her money. Honestly, we don't know whether we're jealous, turned on, or amused — perhaps all of the above, but regardless, Hartley's fetish certainly makes for entertaining viewing. 
The "new" Adam Newman on The Young and the Restless
Hartley had some big boots to fill when joining the cast of The Young and the Restless back in 2014 — rather than landing his usual gig of the mysterious new dude who hails from ab town (see Mistresses, Passions, and Revenge for reference), he was tasked with taking over an existing character. That character was Adam Newman, who had until then been portrayed by actor Michael Muhney, who was axed from the show after being accused of groping a co-star.
While Hartley acknowledged to The Wrap that taking over a pre-established role wouldn't be the easiest thing in the world, he was prepared for the challenge. "People are going to have their opinions, which I think is great — I welcome it, and I love it," he said. "I am having a blast doing this." 
Of course he nailed it, and went on to gain quite a fan following, while getting fully stuck in the show that pitted two extremely wealthy families against one another. That is, until This Is Us premiered in 2016.
Ad-libbing and getting naked with the A-listers in A Bad Moms Christmas
Another day, another topless scene courtesy of Justin Hartley. What a magical time to be alive, right? Moving from the small screen to the silver screen for A Bad Moms Christmas, the 2017 feature film saw Hartley getting his kit off alongside Hollywood stars such as Mila Kunis, Kristen Bell, and Kathryn Hahn. We're not in Smallville anymore, Toto! 
For pretty obvious, naked reasons (he stars as a stripper), Hartley's role in this movie was well-received by audiences. During an interview with The Movie Times, Hartley noted that, as an actor, some days you're the comic relief, and some days you make people cry. But he also acknowledges that sometimes your role is to, um, get naked: "There are days where you have to show up and sort of take your clothes off to get a specific shot." 
He added that co-star Kathryn Hahn, his on-screen love interest, was a pro about the whole thing, and that the pair's ad-libbing made everything more fun. "I think at one point they had to cool off the cameras 'cause we were running too long," he said. "She's brilliant, and so it was a treat for me."