Whatever Happened To Lauren Chamblin From Love Is Blind?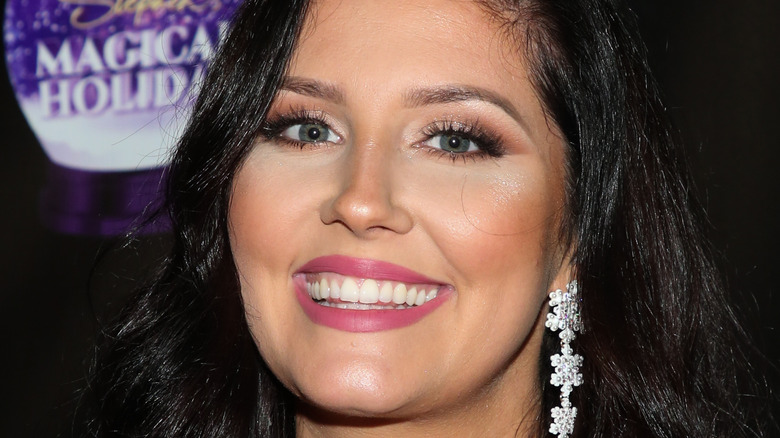 Paul Archuleta/Getty Images
The first season of "Love is Blind" took Netflix by storm in February 2020, and it continued to keep streamers entertained throughout the early stages of the COVID-19 Pandemic. Given the nature of quarantine in early 2020, the show's concept felt all too familiar: 30 singles – 15 women and 15 men – date one another in the hopes of finding "the one." But there's a catch – they can't meet face-to-face. Instead, they're challenged to form connections through conversation, separated into what the show calls "pods" on either side of an opaque wall. After ten days of blind dates – yes, literally blind – couples in committed relationships get engaged, see each other for the first time, and share an apartment for a month before deciding whether to officially tie the knot in a high-stakes, televised ceremony (via Refinery29).
In the words of hosts Nick and Vanessa Lachey, this COVID-era dating show hopes to answer one key question: Is love truly blind? As the last three seasons have shown, it's usually more complicated. Most "Love is Blind" couples have called it quits. The first season, which was actually filmed in 2018 according to Refinery29, had a memorable love triangle – or should we say, love square – involving key player Matthew "Barnett" Barnett, his now-wife Amber Pike, Jessica Batten, and Lauren "LC" Chamblin, per Us Weekly. Though LC didn't get engaged on the show, she proved to be a favorite in the pods and was even the center of a drama in 2021's "After the Altar."
LC briefly dated co-star Mark Cuevas after filming wrapped
As LC explained in Netflix's "Love is Blind: After the Altar" special, "Honestly, from day one in the pods, I was like 'Okay, I'm interested in Barnett. That's it.'" However, in May 2020, she began dating her former co-star, Mark Cuevas, who was engaged to Jessica Batten on the show before saying "I don't" at the altar (via Refinery29). Unfortunately, this pairing also called it quits — in fact, Mark and LC's eventual split was less than amicable, as evidenced on "After the Altar." As LC explained to castmates Diamond Jack, Giannina Gibelli, and Jessica Batten, "Yeah, basically, he was going to Chicago, I thought, for his dad's birthday. The next day, I saw it on Reddit, some girl posted a picture of him and this girl all over each other." 
According to LC, Cuevas got defensive when she confronted him. "The main thing I learned from the show and past relationships is that I deserve to be treated like a priority and not an option," the reality star told Entertainment Tonight. Mark Cuevas followed up with the site, adding, "I enjoyed spending time with LC for a few weeks, but at no point were we in an exclusive relationship, as LC confirmed herself." Though she didn't find a partner on the show, LC did leave with genuine friendships. "I'm probably the closest with Diamond," she told The Sarah Scoop Show in 2020 (via The Things).
LC is a self-proclaimed cat mom
In the years since Season 1 of "Love is Blind" aired on Netflix, LC has been active on both Tik Tok and Instagram. She has over 70,000 followers on the latter, regularly posting pictures with her cat, Blue, and identifying herself as a proud "cat mom" in her bio. As LC said in a 2020 interview with AfterBuzz TV's "Love is Blind Lately" podcast, "I don't know if I'm really doing the influencer route." According to LC's LinkedIn, she's currently working as a Talent Acquisition Specialist in Atlanta, Georgia. 
In September 2020, LC and her friend, Tiffany Danielle, launched "Permission to Enter," a podcast covering relationships, beauty, mental health, spirituality, online dating etiquette, and much more, per Apple Podcasts. Though they haven't released a new episode since October 2021, the series did host an impressive set of guests, including fellow "Love is Blind" cast member Diamond Jack. Listen to find out all the untold truths of "Love is Blind."