Amazon Editors' No. 1 Book Pick Of 2022 Tells A Poignant Story Of Friendship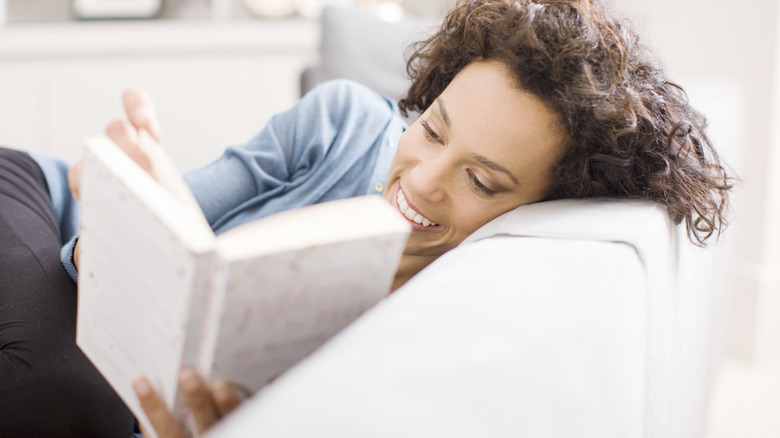 Paul Bradbury/Getty Images
If you're anything like us, you likely fell in love with the hashtag BookTok on TikTok this year. Users on the app have recommended a plethora of amazing titles this year across several genres, from literary and historical fiction to horror, sci-fi, and romance (via Barnes and Noble). 
When it came to fiction, many readers couldn't get enough of the author Colleen Hoover. Even though many of her popular reads on the app like "Variety" and "It Ends With Us" weren't released in 2022, they got a resurgence thanks to online book clubs, and her romance novels took #BookTok by storm.
The young adult genre also became more popular for readers across all ages this year (via PopSugar). Fans couldn't get enough of books like "A Court of Thorns and Roses" by Sarah J. Maas and "Shadow and Bone" by Leigh Bardugo, among others. 
However, while you can't go wrong with any of these titles, there is one book that Amazon editors have crowned the best book of 2022, and you're going to want to add it to your reading list stat!
Tomorrow, and Tomorrow, and Tomorrow is Amazon's favorite book of 2022
If you're looking for the best read 2022 had to offer, Amazon editors have made their pick. "Tomorrow, and Tomorrow, and Tomorrow" by Gabrielle Zevin has topped their list. While  Sarah Gelman, Amazon Books' editorial director, noted that staff had no shortage of great books to choose from, something strange happened this year: Everyone agreed on the best one, something Gelman described as "almost a miracle."
Why did they love "Tomorrow, and Tomorrow, and Tomorrow" so much? Gelman explained, "A simply perfect book about the complexities of human relationships, the importance of human connection, the innocence and optimism of youth, our journey with technology and the many shades of love."
The book tells the story of two close friends, Sam and Sadie, who deal with the ups and downs of life together, all centered around their passion for gaming. But don't worry, you don't have to be a gamer to fall in love with the book, fans on GoodReads write. There's something in the story that everyone will relate to and connect with regardless of your interest in and experience with gaming (or lack thereof). Zevin's book is sure to leave you glued to the pages, and that's why Amazon has ranked it as number one!