'Sittervising' Is The Guilt-Free Way For Parents To Take A Break At Playtime
Chayantorn Tongmorn/Shutterstock
Not long ago, school-age children spent their afternoons and weekends walking to the playground, organizing games in their backyards, and biking around the neighborhood — all on their own. Today, those pleasures have largely been replaced by activities organized and supervised by moms. Parents are more involved in their children's playtime than their own parents were, whether out of a "helicopter" instinct to make sure nothing goes wrong, or out of fear of being mom-shamed. 
Enter "sittervising," a new approach to playtime that PureWow is predicting will be embraced by parents in 2023. It was coined by Susie Allison, a former early childhood teacher who now runs the Busy Toddler Instagram page, in July 2022. The word is simply a new term for what yesterday's moms used to do: let kids play independently while you do your own thing from a reasonable distance. "You do not need to hover over kids while they play [or] feel like you absolutely must be playing with them at all times. You can supervise kids from a seated position," she wrote. "Kids need play without adults. Adults need time to recharge from kids." Allison expanded on her reasoning in an interview with NBC's "Today." When parents are constantly interacting with children's play, she said, "kids lose the benefits of play, such as spatial awareness or risk management and conflict settlement." Every parent makes mistakes, but they learn from them. Sittervising might help you avoid a big mistake — helicopter parenting.
Independent play is healthier for kids — and parents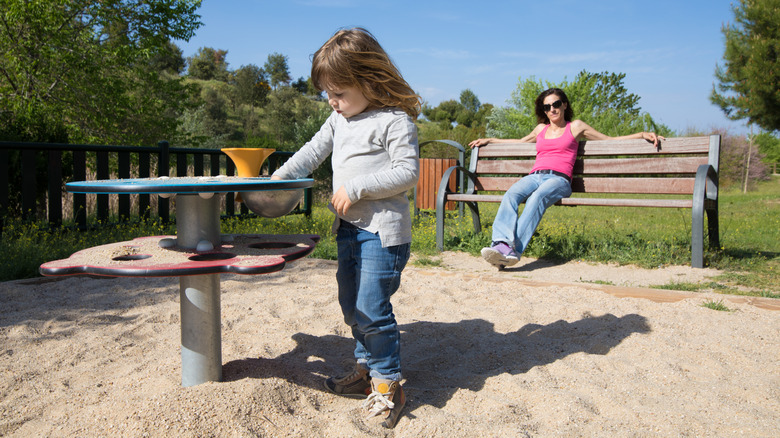 Quintanilla/Getty Images
Sometimes moms take the phrase "being involved" to the extreme, thinking that they have to focus every moment on their children's activities. In fact, this kind of hovering can actually interfere with a child's development. The Cleveland Clinic cites a recent study finding that toddlers whose parents excessively controlled their lives were more likely to have emotional and social difficulties later on. Jumping in to help children solve a (non-emergency) issue prevents them from developing their own problem-solving abilities.
This applies to playtime. According to child development experts, via Parents, independent play helps foster creativity and self-regulation. Adults tend to dictate how they think toys should be used, rather than letting the child come up with their own ideas. In the hands of a preschooler, a toy plate could become a steering wheel; a paper towel tube might be a telescope. But for that imaginative play to flourish, kids need some space from their parents or caregivers — and there are certain things you should say to your child every day to encourage that creativity. That's where sittervising comes in.
It's also beneficial for parents. Social worker Marit Appeldoorn told The Washington Post that me time for parents shouldn't be treated as a special ocassion. "We really have to give ourselves permission to do our thing, even if it's just 10 minutes with a cup of coffee," said Appeldoorn. "It's good for physical health, mental health and really, really good for our parenting."
How to make sittervising work for you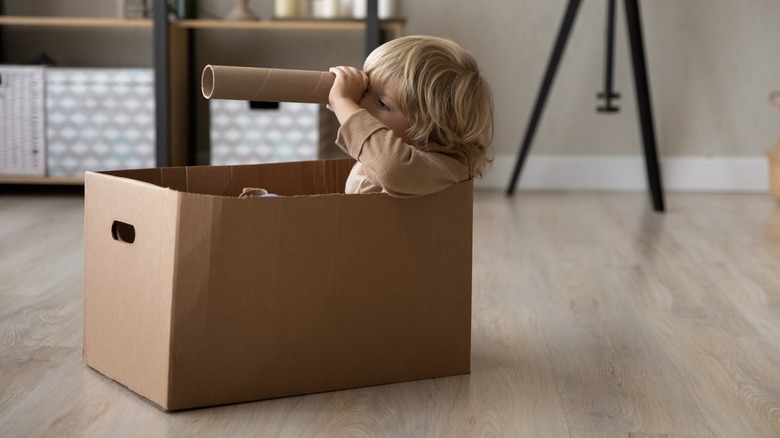 fizkes/Shutterstock
Sittervising has its limits, of course. For instance, children should never be left alone — not even for a minute — near a pool, bathtub, or any other body of water warns Johns Hopkins All Children's Hospital. And younger kids need more supervision than older ones do. But there's no reason why you can't have a cup of coffee in the kitchen while your first-grader plays in the den, or let your toddler try out a new toy as you work on your laptop in the same room. As Rachel Busman, Psy.D., ABPP at the Child Mind Institute once told PopSugar, "Think of alone time as time for practicing being independent." Busman also noted that it's good for kids to understand that their mom isn't always available for them immediately. Having to wait until you're finished with your chore teaches the essential skills of patience and self-regulation.
Susie Allison, the coiner of "sittervising," suggests setting a time each day to let your child know that you'll be nearby, but this is their time to play independently. A preschool child can reasonably play alone for up to 10 minutes. PBS has additional suggestions: Give them open-ended playthings they can explore, such as stacking blocks, art supplies, and cardboard boxes. Let them work without interrupting to talk about what they're doing. And if they complain of boredom, assure them they can figure out something to do until free play is over. You might even have time for a refill of that coffee!