Are Gold Magnet Facials Really Worth It?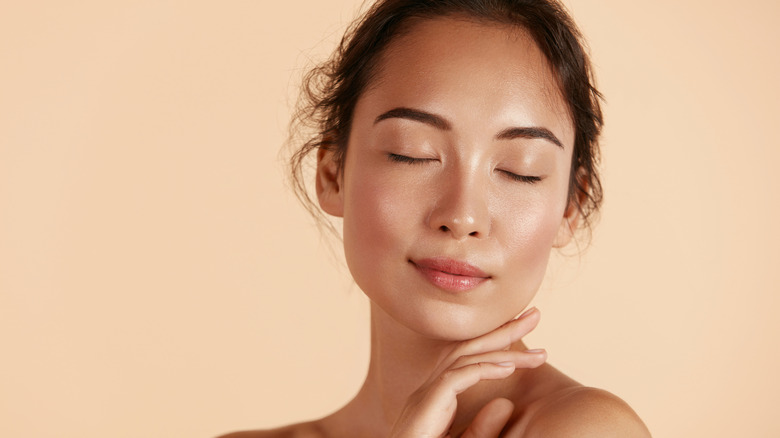 Puhhha/Getty Images
In these modern times, technology meets skincare, enhancing the way we care for ourselves like never before. However, innovation has always been a part of self-care. From vampire facials to older habits like Cleopatra's milk and honey baths, the skincare industry has always found new and exciting ways to make use of everyday items and essentials.
Fortune Business Insights reports that the skincare market is a $100 billion industry and counting. With vast amounts of money poured into the production and purchases of items, treatments, and devices, skincare companies and experts are finding ways to up their game.
This strive to integrate skincare and technology comes in the form of new and exciting facials that change the game. Estheticians and dermatologists are always on the pulse of finding ways to include age-old practices with new breakthroughs. More recently, this has come in the form of using precious metals like gold for better skin.
An ingredient used for Ayurvedic purposes in ancient times, gold increases collagen production and decreases inflammation, redness, and signs of aging while protecting the skin from free radicals (via Healthline). Some skincare mavens are finding new ways to innovate the metal.
What are gold magnet facials?
Created by Australian skincare brand Qi Beauty, the Synergistic Signature Qi Facial is a treatment that uses small, 24k gold-plated magnets to promote collagen production, improve the skin barrier, and rid the skin of metabolic waste, states Sarasota Magazine.
While the introduction of gold in skincare is by no means a new venture, this facial utilizes quantum technology and acupuncture to renew skin below the surface. In a marriage of age-old practices and world-changing technology, no one facial is the same (via Coveteur).
The certified Qi Beauty practitioner creates a map on the client's face based on their needs, addressing fine lines, redness, and dullness on the face. The magnets stimulate the skin, using non-invasive methods to control the face's volume, lifting, sculpting, and reducing according to the skin's needs.
The result? Refreshed and hydrated skin with significantly fewer fine lines and less redness and puffiness. Qi Beauty is a standout in their field, which is why the treatment is so hard to come by. According to Sarasota Magazine, there are only four estheticians in the country that offer the facial, which will run you about $250 for 60 minutes.
Is the Qi Facial worth it?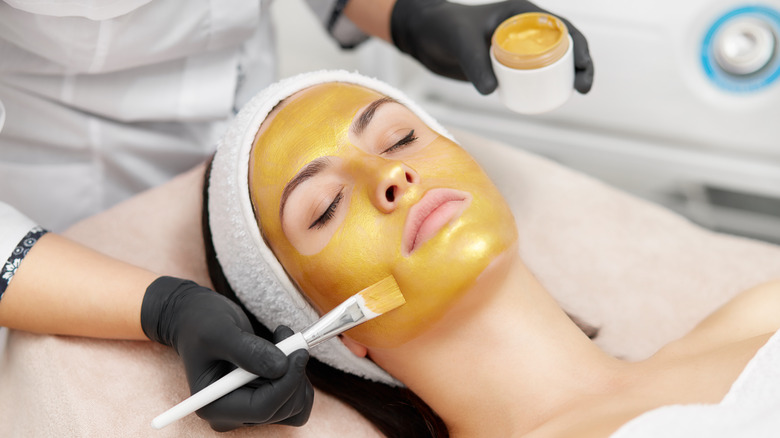 Lyashenko Egor/Shutterstock
Assuming that getting facials every now and then is your thing, the Qi Facial is probably within your price range. According to Robert Aycock, MD, a facial can cost, on average, anywhere from $150 to $250 for a session. On its website, Qi Beauty shares some impressive results that occur only after one session, so constant upkeep is not required. If you're close to one of the locations listed on its website, it's worth checking out.
If you don't happen to have the cash or be close to one of their four locations, Qi Beauty sells a Beauty Home Kit. The kit includes face map customization, anti-age, lip lift, and eye lift matrix technology, and corresponding treatments for $149 — which is significantly lower than an in-house facial.
For an at-home facial that's much more affordable, adding gua sha to your skincare routine will make a world of difference. The ancient Chinese method is known to help with lymphatic drainage, puffiness, and tension. Allure recommends the Sacheu Beauty Stainless Steel Gua Sha, thanks to its benefits for redness and irritation.
The Peter Thomas Roth 24K Gold Mask Pure Luxury Lift & Firm is also a great option if you still want to get in on the gold action for a fraction of the price. Formulated with colloidal gold and caffeine, this luxury mask targets fine lines, wrinkles, dullness, and elasticity to deliver visibly brighter and fuller skin.