The List's Exclusive Survey Uncovers Fans' Favorite Store For Purses On A Budget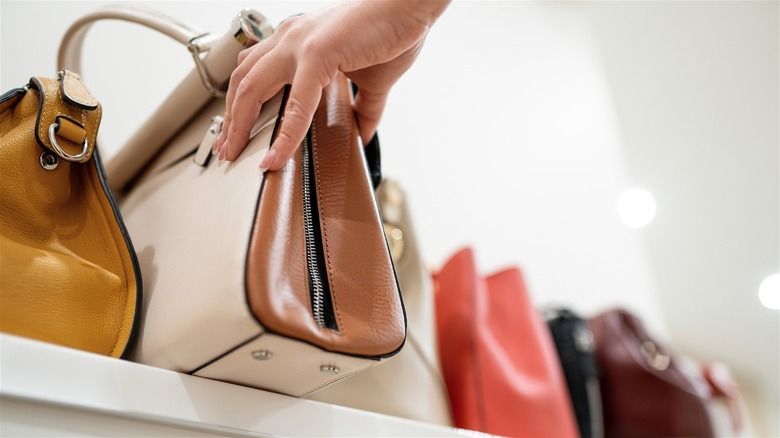 stavklem/Shutterstock
Regardless of the season, handbags are a perennial accessory. We carry them with us every day: to work, to the grocery store, to dinner dates. Our handbags can say a lot about us, from our personalities to our day-to-day needs. Therefore, shopping for one can be a real ordeal, and finding the perfect one, at that, can be even trickier. 
Truth be told, we just would buy them all if we had no budget. Some of the most expensive designer handbags can reach a six-figure price tag, and even then, a select few can cost even more. But you definitely do not need to spend a fortune to have the handbag of your dreams. Whether it's a sleek black shoulder bag, a beaded clutch, a big bucket tote, or a mid-sized messenger bag, if you can imagine your dream handbag, it is definitely out there.
But should you have your doubts about where to search for it, no need to worry: The List conducted an exclusive survey to find out where our readers love to go shopping for handbags on a budget. This is what we found from our pool of respondents. 
More than half of respondents shop at Target for bugdet bags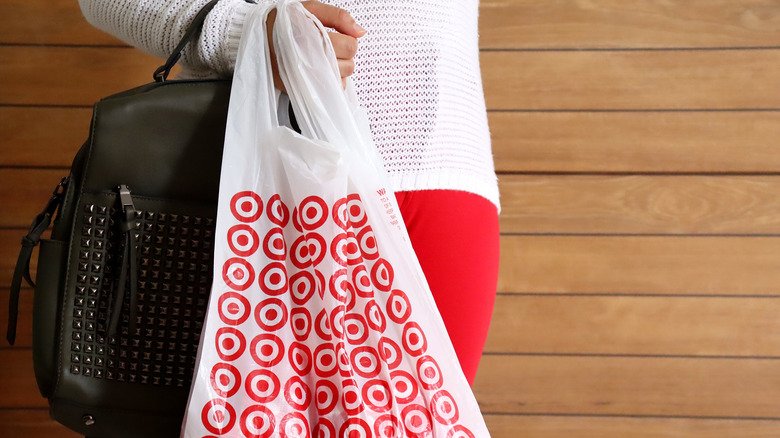 Brenda Rocha - Blossom/Shutterstock
Our results found that Target is a special place to our readers, where more than half — 52.99%, to be exact — of respondents shop at Target for affordable handbags. With a range of styles to select from, Target is a great place to start. There are several untold truths about Target, but it's definitely no secret that its handbag selection is top-tier. One bucket bag from Target retails for $35 and comes in multiple colors.
Following Target is H&M, where 19.10% of respondents chose the major retailer as their go-to shopping spot for bags on a budget. H&M has a variety of on-trend styles, including this shoulder bag for $25. And in third place, 16.11% of respondents selected Forever 21 as their favorite affordable bag bazaar. This light blue, faux leather crossbody bag features a cool, silver chain strap for $24.99. 
We have to include two honorable mentions, however. Winning 9.30% of the vote was Zara, and with 2.49% of the vote, Asos. The more options you have as you search for your new bag, the better.
Some of the best options from fans' top picks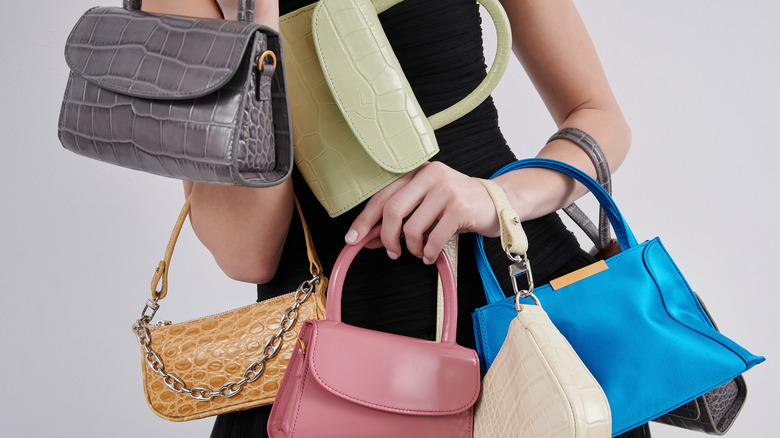 apazuhanich/Shutterstock
One of the big reasons large retailers such as H&M are so cheap is because they are considered fast-fashion, which, per The Good Trade, "is a design, manufacturing, and marketing method focused on rapidly producing high volumes of clothing." Because the quality of fast-fashion items can be hit or miss, we did some reconnaissance to see if the bags from the top three recommended retailers hold up: Quick tip, check out the reviews of affordable handbags before purchasing!
Of course, every bag will be different, but shoppers had many good things to say about this alligator print satchel bag from Target. "This material is good quality — I honestly wasn't expecting it to look as nice as it does for the price point," one buyer wrote. 
This weave-blend handbag from H&M also received good reviews. "Absolutely love this little bag. It's cute and the strap that comes with it is sturdy. It fits all of my essentials when I don't want to carry my large purse," a shopper noted. 
And last but not least, Forever 21 offers a quilted bag that many buyers were impressed with. "I love the look and feel of this bag," according to one fan. "So beautiful . . . Quality is also really nice," another shared. Having great taste in handbags is priceless.