Why Randall From This Is Us Looks So Familiar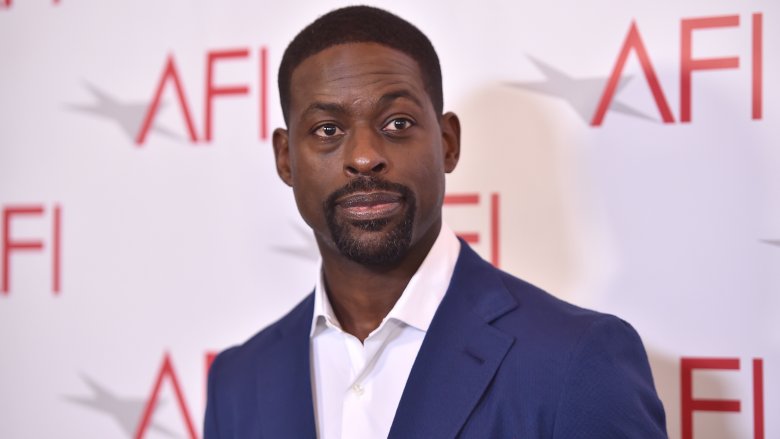 Getty Images
Let's be honest, unless you're one of the roughly five people who inexplicably hasn't been tuning into NBC's This Is Us, you undoubtedly know who Randall Pearson is. The adopted son of Jack and Rebecca, and sibling to twins Kate and Kevin, this Type A persona rounds out the "Big Three." His relationship with wife Beth makes fans weak in the knees, while his perpetual dad jokes to daughters Tess and Annie elicit endless (affectionate) eye-rolls. In short, Randall is arguably the best character on the total tearjerker of a series. The fact that actor Sterling K. Brown has already nabbed an Emmy award for the role offers compelling proof.
While falling more in love with Randall each week, you probably can't help but experience a nagging sensation of familiarity. Such talent couldn't have sprung out of thin air, right? Before he began playing a beloved part in the Pearson clan, who was Brown? As it turns out, this gem of a human being has been movin' and shakin' in Hollywood since 2002 — and, whether you realized it or not, you've likely seen his now-familiar face on the small screen, big screen, or both. Here's where.
Barely there in Brown Sugar
Now one of the most in-demand actors in Hollywood thanks in part to This Is Us, Brown doesn't have to worry if his next role will come along — it's just a matter of when, and whether or not his busy schedule will allow it. But such wasn't always the case. In fact, Brown jokes that he was essentially cut out of his first credited role as a "co-worker" in the 2002 rom-com Brown Sugar. (In reality, it was reduced to a background part.)
"The first movie I did was Brown Sugar, and I got cut out of that too," Brown told Jimmy Fallon. And it gets worse from there. Brown added, "But I went to the movie with my family. And I went opening night. I was like, 'Mom, I'm about to be in my first movie.' We watched the movie, and it was evident to me that I got cut out. My mother was like, 'Were you the brother playing basketball in the background? You were good!'" Brutal? Yes. Funny? Definitely. 
Living his best blood-tinged life on Supernatural
Years before starring alongside one Gilmore Girls heart throb (Milo Ventimiglia, who played Jess on the teen drama and plays Jack on This Is Us), Brown starred aside Rory Gilmore's first boyfriend, Dean — also known as Jared Padalecki. 
From 2006 to 2007, Brown starred in the hit CW series Supernatural as Gordon Walker, a vampire hunter who (oopsie!) gets turned into a vampire. This naturally puts him at odds with Sam and Dean Winchester (played by Jared Padalecki and Jensen Ackles, respectively) — brothers in the business of tracking down and slaying evil supernatural entities. Considering Sam ultimately decapitates Brown's character, you wouldn't exactly think the bros would give him a ringing endorsement.
But, per a fan who attended the Supernatural convention in Washington, D.C. in November 2017 and tweeted juicy intel, Padalecki would love to see Brown in the role of Sam Winchester, should re-casting or a reboot ever transpire. Gracious as always, Brown responded with his own tweet, saying, "I would be honored to step into the Winchester shoes. But let's be honest. No one can, or should ever replace @jarpad & @JensenAckles." C'mon, how could you not love this man?
Making everyone thirsty in Person of Interest
Brown must have been a cop in another life, because he's been cast more than once or twice in roles of authority. In 2012, he snagged such a role as no-nonsense narcotics detective Cal Beecher on the CBS thriller Person of Interest. His purpose? To date Detective Carter, played by fellow 2018 NAACP Image Award winner Taraji P. Henson. Unsurprisingly, he had no trouble making Henson's character (and everyone else) swoon.
That arc was short-lived, but so was Henson's time on the show in the grand scheme of the series. Still, when asked by Entertainment Weekly whether or not she would have liked her character to have another love interest — like our boy Brown — Henson insisted she was content with what her character had. "Carter lived out her dream," Henson said. "There's one episode where she's sniping from the roof. She did badass stuff! Would you want to do more badass stuff? Absolutely, who wouldn't?"
Being a strong female character of conviction, and being wooed by Sterling K. Brown, really is living the dream. 
Being #friendgoals on Army Wives
If you watched Lifetime's Army Wives, you'll likely always fondly think of Brown as Dr. Roland Burton, no matter how many times you watch This Is Us. For good reason, too — the only "Army husband" in the friend circle of wives the show focused on, Brown's Burton was everyone's BFF and impossible not to adore (yes, even after that major marital transgression). Since the role stretched from 2007 to 2013, there was plenty of time to appreciate Burton for the beautifully imperfect character he was.
As much as you loved Burton, though, you can bet Brown loved the role even more. In an interview with the Minnesota Spokesman-Recorder, the actor gushed, "Army Wives was a gift from God." Brown noted that his seven years and over 100 episodes was a lot of time in front of the camera. He continued, "So many people are looking for these opportunities — I was one of the fortunate few to be able to make a living from it." 
Securing his most iconic role to date, by way of Whiskey Tango Foxtrot
To be clear, Brown's portrayal of Sgt. Hurd in Whiskey Tango Foxtrot was not his most iconic role to date — it's not for nothing, though. Brown's role in the movie may have been minor, but in the big picture of his career, it was huge. How? It indirectly led to his casting in NBC's ratings giant, This Is Us.
Tiffany Little Canfield, the casting director for This Is Us, and for Whiskey Tango Foxtrot, admits that securing Brown for the latter was a hard sell. She and others "had to really argue to say we really want to bring this actor from New York to play it," she told Deadline. 
However, it was this small, fortuitous byline that reeled in the big fish. The directors recognized Brown's talent ("There are no small parts to a good director," said Canfield) and knew exactly where to look when it came time to cast the perfect Randall Pearson.
Prosecuting O.J. Simpson on American Crime Story
If you haven't yet watched American Crime Story's The People v. O.J. Simpson, suffice to say that you should. Based on the infamous trial of O.J. Simpson for the murders of Nicole Brown Simpson and Ron Goldman, the mini-series earned Brown his first Emmy for his spot-on performance as prosecutor Christopher Darden (despite having never met Darden in person).
In addition to an Emmy, the role also won Brown the praise of his (also Emmy-winning) co-star Sarah Paulson, who played Marcia Clark. "There are actors [who] are storytellers, interested in moving the story forward through their characterizations," Paulson told Backstage of Brown. "They're not so focused on the light shining on them, particularly in terms of being lauded or appreciated. His responsibility was to Christopher Darden, and to Ron and Nicole."
Brown and Paulson's mutual respect doesn't end there, either. Paulson also told Entertainment Tonight that Brown is "smoking hot" and has an "enormous heart." For his part, Brown posted Paulson the sweetest birthday message ever on Instagram in December 2017. 
Getting curved on Insecure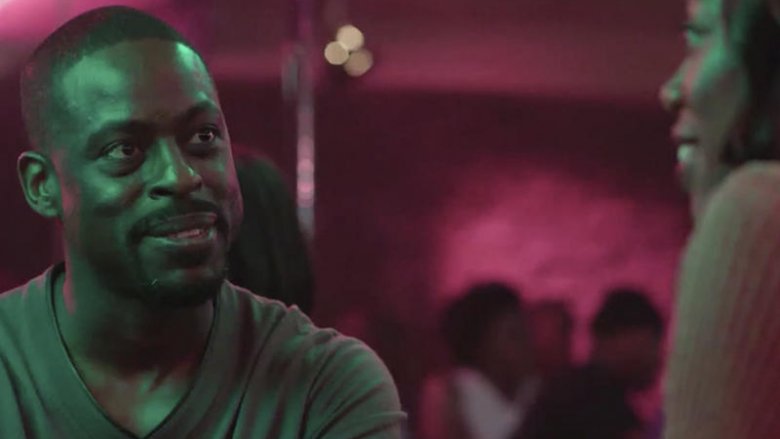 Everyone has their favorite TV shows to tune into, and Brown is no exception to the rule. Apparently, comedic genius Issa Rae's Insecure is somewhere right at the top for him — so much so he was willing to pull some old school hustle to land a part on the HBO series.
"He was a big fan of the show. I don't know if he called Issa or if they met somewhere, but he reached out to her and was like, 'Hey, I would love to do anything on the show,'" showrunner Prentice Penny told The Hollywood Reporter. Penny and Rae's response? "Uh, yeah." 
For Brown's arc, he played Lionel, a sexy bachelor who meets Molly (played by Yvonne Orji) in a bar and tries to win her over. Then, in a surprising turn of events, Brown gets curved, hard. Still, despite her character's romantic follies, Orji gushed to Entertainment Tonight about her short-lived love interest, exclaiming, "Let me tell you right now, he elevates everything that he's in." 
Suffering raccoon phobia on Running Wild with Bear Grylls
In full disclosure, Bear Grylls convincing Brown to dig up a dead raccoon could make you laugh until you cry. But hey, then you'd have something in common with Brown, because it appears crying is precisely what he wanted to do on his episode of Running Wild with Bear Grylls.
Being that Brown is such an adventurous and fit kind of guy, it would be easy to assume he would ace such a primitive excursion in the woods. To his credit, he fares well until Grylls identifies the frozen raccoon as dinner. A visibly stunned Brown says to his host, "Bear, I don't like raccoons." When Grylls pries further, Brown hilariously breaks down, explaining he "saw raccoons eat a cat" and that he lives in fear of these fearsome "pack-dwellers" that can "wriggle their little bodies to fit through little holes."
Are you dying of laughter yet? If not, rest assured that Brown's commentary and facial expressions whilst chiseling the stiff raccoon out of snow are priceless. And honestly, more than a little reminiscent Randall's quirks on This Is Us.
Fighting for his innocence in Marshall
While audiences are used to seeing Brown play the good guy (or the happy guy, or the fun guy), his role in Marshall introduced a new side of the faceted star. In the based-on-a-true-story film, he tackled the part of Joseph Spell — a black man accused of raping a white woman named Eleanor Strubing, played in the movie by Kate Hudson. Spoiler alert? In real life, Spell was not guilty. He and Strubing had consensual sex, but she panicked and tried to cover her tracks so her husband wouldn't find out.
But Brown light-heartedly explained to Vulture that, despite the controversial subject matter, filming wasn't all bad. In fact, the love scene he shared with Hudson was pretty damn steamy, by his own account. "It took me aback," he said of the intimacy. "Kate and I both collectively were like, 'Woah.' I clutched my pearls! But it's going to be good, even without the booty shot."
What booty shot?! Apparently, the original scene included a "full moon." Unfortunately for all of Brown's extra-thirsty fans, though, Brown's buttocks didn't make the final cut. We'll just have to settle for (hopefully) more shirtless Randall on This Is Us.
Slingin' vibranium in Black Panther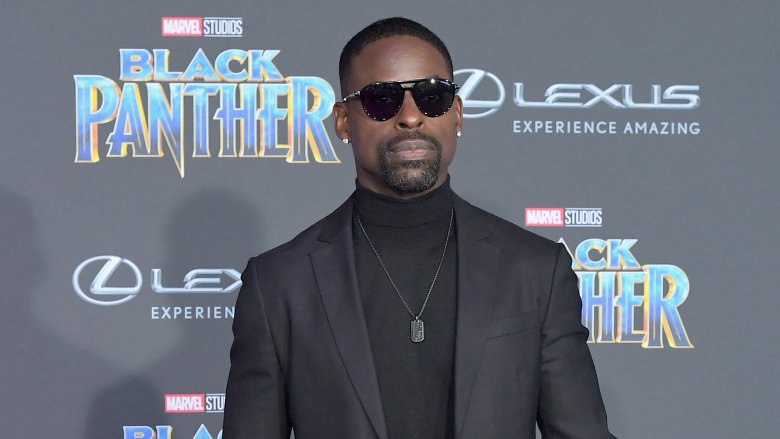 Getty Images
Few people can say that they simultaneously starred in the top drama on television and the top-grossing superhero film to date. However, as Brown is wont to do, the This Is Us star hustled his way into the part of Black Panther's N'Jobu.  
"I said, 'Listen, I've been practicing my Wakanda. I know you've already got the titular characters taken care of, but how can I be down? Because man, it's a black superhero.' It's huge," Brown told People of pleading his case to executive producer Nate Moore.
While Brown admits keeping the role under wraps was tough (calling it the "pinnacle of secrecy training"), all the artful dodging turned out to be well worth it when he got to see fans arrive to theaters wearing regal African garb. "I don't know if there's ever been a moment as an actor in which I've been more proud to be a part of a project," Brown said to PopSugar, adding, "to be black and to own my blackness."