Meghan Markle's Former Bodyguard Describes Her Difficult Entrance Into The Royal Family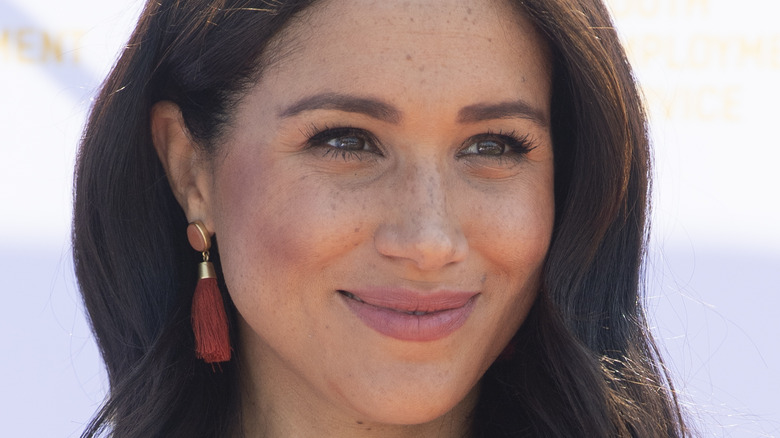 Wpa Pool/Getty Images
When Prince Harry and Meghan Markle, the Duke and Duchess of Sussex, first began dating, things were immediately difficult for them. The couple recently shared details of their complicated courtship in their Netflix documentary series, "Harry & Meghan." Most notably, the royal defectors experienced clashes with the British press and with Meghan's new royal family members, paired with the harsher judgment due to her race. 
Harry revealed how his family responded to the press coverage, noting that other royals felt the experience "was almost like a rite of passage. [They said] 'My wife had to go through that, so why should your girlfriend be treated any differently? Why should you get special treatment? Why should she be protected?'" Harry responded, "The difference here is the race element.'"
From there on, Meghan experienced several bumps in the road with her new royal in-laws as she struggled to find acceptance within the family (via Us Weekly). Now, a former bodyguard who worked closely with the duchess is speaking up about how difficult an adjustment she really had when trying to settle into her new life. 
Meghan's former bodyguard recalls the early days of her time with the royals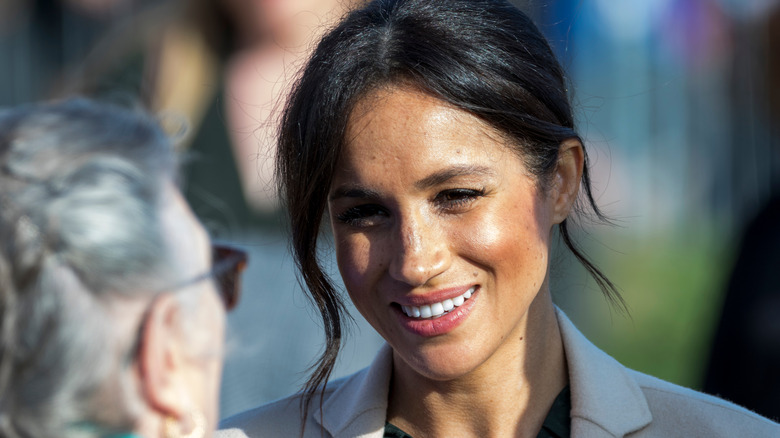 Alan Fraser Images/Shutterstock
Prince Harry and Meghan Markle, the Duke and Duchess of Sussex, announced that they were stepping away from their royal duties in January 2020. At the time, the celebrity couple stated that they struggled to feel safe with the vicious press coverage and the drama within the royal family (via Vogue). As a result of these concerns, Meghan had a large team of bodyguards at her disposal. Recently, one of them, Steve Davies, spoke with "Breakfast Television" and offered some new details about her difficulties with the royals.
"Once the announcement that Meghan and Harry were dating everything just took off ... NBC studios contacted me and asked if I was available to provide security protection for Meghan because things were just getting out of control. It was death threats coming in, [paparazzi] were trying to get into the studios," Davies shared. "It went from three paparazzi outside the house to 50 paparazzi and a satellite truck and everything else."
He added, "It was very, very difficult for her to go from being a celebrity on a show to being part of the number one family in the world." Remembering the chaos of the time, Davies also recalled, "She couldn't go shopping or anything else ... we were getting chased by vehicles of the paparazzi ... dangerously close." The duchess's former bodyguard also acknowledged that "physiologically for Meghan, it was stressful."
Davies added that the police had no obligation to protect Meghan, and she relied on her team of bodyguards to keep her safe during this difficult time. 
Press intrusion was a key reason for the Sussexes' eventual departure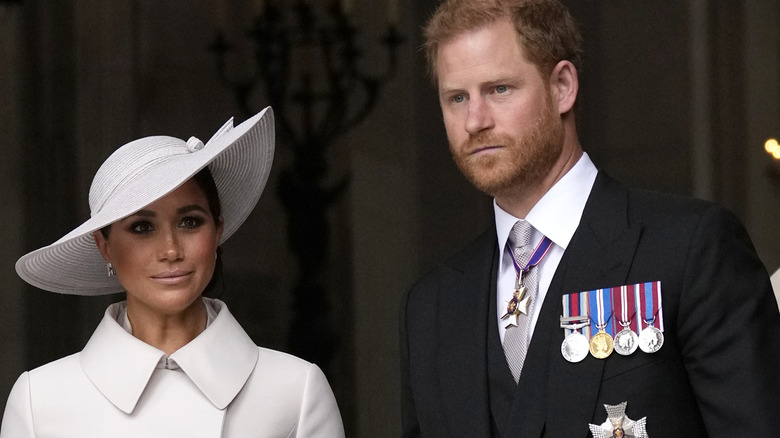 Wpa Pool/Getty Images
When Meghan Markle and Prince Harry first went public with their relationship, the response was so overwhelmingly negative that the Duke of Sussex released a public statement condemning the British tabloids. Per Stylist, there were reports about everything from Meghan's age to her past relationships and in particular her divorce, to most pertinently the actor's mixed-race heritage. 
Harry's statement railed that she had "been subject to a wave of abuse and harassment. Some of this has been very public — the smear on the front page of a national newspaper; the racial undertones of comment pieces; and the outright sexism and racism of social media trolls and web article comments." When the couple finally defected from the royal family, they admitted that press intrusion was a huge issue for them. 
During a chat with James Corden (via YouTube), the prince explained, "It was a really difficult environment, as I think a lot of people saw. We all know what the British press can be like and it was destroying my mental health. I was like, 'this is toxic.'" As a result, Harry felt he had to "get [his] family out of there" before it was too late. 
Even more egregiously, in his new "60 Minutes" interview, the duke revealed that The Firm frequently plants stories in the press, meaning they had the opportunity to stop it and did nothing as far as Harry is concerned (via Insider).