If You Love Glowy Skin, You'll Want To Copy Hailey Bieber's Foundation Hack ASAP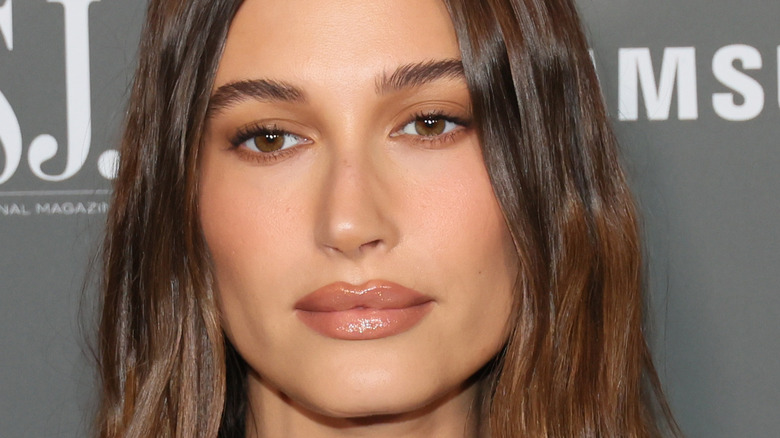 Dia Dipasupil/Getty Images
Hailey Bieber knows something about makeup and skincare. Her skincare tutorials regularly go viral on TikTok, and the products from her skincare line, Rhode, constantly sell out fast, to the frustration of fans everywhere, per the New York Post.
Part of why Bieber's beauty secrets are so popular is her focus on a minimalist, glowing look. She told Harper's Bazaar that she likes for her makeup to look "chill" and "natural, just glowy, dewy." She emphasizes that her skincare line was designed to focus on healthy skin, which amplifies any make-up product on top of it.
In a video with Vogue showing off her everyday routine, Bieber chases a moisturizing toner with her own brand's fan fave product, Rhode's Peptide Glazing Fluid. "The most important step to me always is the skincare prep," Bieber shared. "I think it really helps with the way your makeup turns out and the way your makeup sits on the skin."
Bieber often plays around with how she uses Rhode products, and her most recent tip is a foundation game changer.
Hailey Bieber's skincare tutorial gives foundation a dewy twist
In a recent TikTok video, fans can watch Bieber go from bare-faced to total babe as she gets ready to party on New Year's Eve. Make-up mogul Kylie Jenner even made a quick cameo, applying Bieber's eyeshadow with a light brush. Though the video caption shouted out Jenner's make-up skills, fans were paying more attention to how Bieber combined two surprising ingredients.
The model pumped out her Chanel foundation before mixing it with some of her own product, Rhode's Peptide Glazing Fluid, and applying the mixture with a beauty blender. The result was glazed, glowy skin that cut any cakey look from the foundation, as Bustle noted.
The Peptide Glazing Fluid is designed to act as a serum to keep skin hydrated after cleansing, but the product page also suggests mixing it with foundation. Commenters added their own tips for when to work in the serum, with one swearing by it for post-shower use and another swearing by its use as a mid-day refresher over your existing make-up. If you were lucky enough to snatch some Peptide Glazing Fluid before it sold out, try adding a pump into your foundation, Bieber style.