Shiloh Jolie-Pitt's New Look Is A Striking Throwback To Her Mom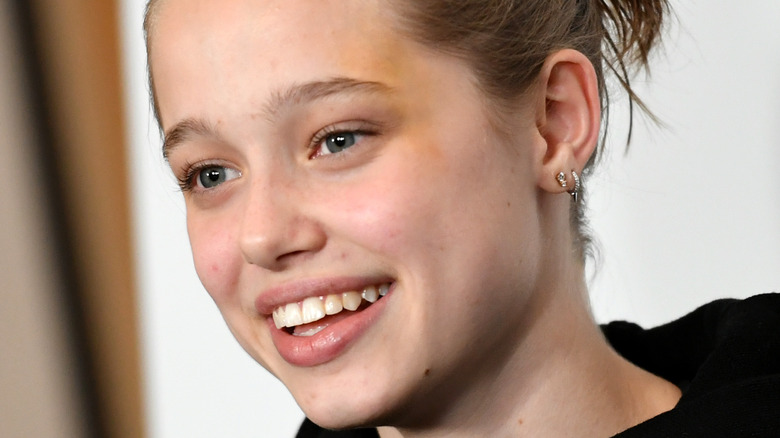 Jc Olivera/Getty Images
Shiloh Jolie-Pitt has lived her entire life in the spotlight, which can't have been easy — especially as the daughter of two bonafide A-listers; Angelina Jolie and Brad Pitt. Given the advent of social media, fans have watched Shiloh grow up in front of their very eyes from a proud tomboy to a budding fashionista, with Life & Style magazine reporting in 2021 that she was even fielding offers from a couple of modeling agencies. 
It was a far cry from a decade prior when Jolie memorably told Vanity Fair that Shiloh, then four years old, "likes to dress like a boy." The "Girl, Interrupted" star elaborated, "She wants to be a boy. So we had to cut her hair. She likes to wear boys' everything." The beloved actor and activist fully supported her daughter, telling Reuters, "I would never be the kind of parent to force somebody to be something they are not. I think that is just bad parenting." Jolie added, "Children should be allowed to express themselves in whatever way they wish without anybody judging them because it is an important part of their growth." 
These days, Shiloh is the spitting image of her mother, with the teenager even borrowing one of Jolie's gowns for the "Eternals" premiere in 2021, per USA Today.  When the mother-daughter duo stepped out together in March 2022, the resemblance was again uncanny, per Hollywood Life. But Shiloh's latest look pays homage to her mother in a way she possibly didn't even intend. 
Shiloh looks even more like her famous mom now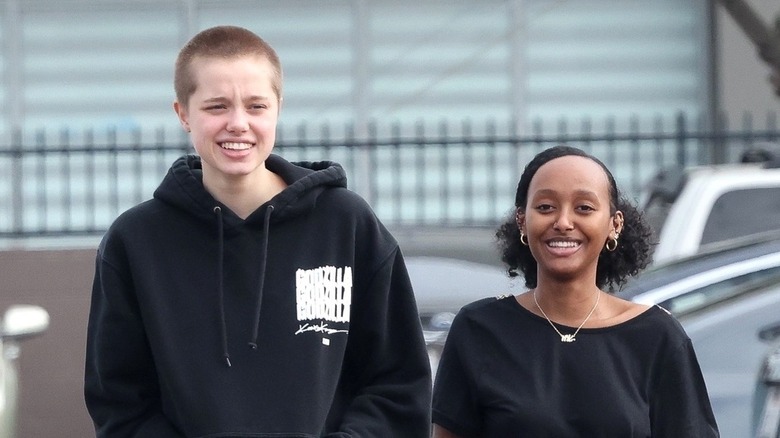 BACKGRID
Suffice it to say, Shiloh Jolie-Pitt doesn't look like this anymore. The stunning youngster is quickly finding her own unique style, whether she's updating her mom's dress for a premiere by shortening it and adding sneakers (via USA Today), or going makeup-free and letting her good genes shine through. Shiloh's latest look, meanwhile, is a throwback to her famous mom. The teenager was photographed out and about while running errands alongside her older sister Zahara Jolie-Pitt, with the two in visibly good form, per Hollywood Life. 
As the outlet pointed out, Shiloh is well known for her blonde hair so this is quite a departure for her. Fans have consistently noted her striking resemblance to Angelina Jolie before but the buzz cut really drives the point home. One user wrote on Instagram, "I swear she looks literally like Angelina even more now," while another noted, "Shiloh with long, short or very short hair, it doesn't matter, she will always be as beautiful as her mother Angelina Jolie!"
Plenty of people also argued that Shiloh is returning to her tomboy roots since she was well-known for rocking short hair and masculine tailoring in her younger years. As HuffPost reported at the time, Shiloh attended the premiere of "Unbroken" in a chic suit-and-tie combo alongside her siblings and parents. Although her style has evolved in the intervening years, this daring new haircut suggests underneath it all Shiloh is still a tomboy at heart. 
Angelina Jolie felt powerful with a shaved head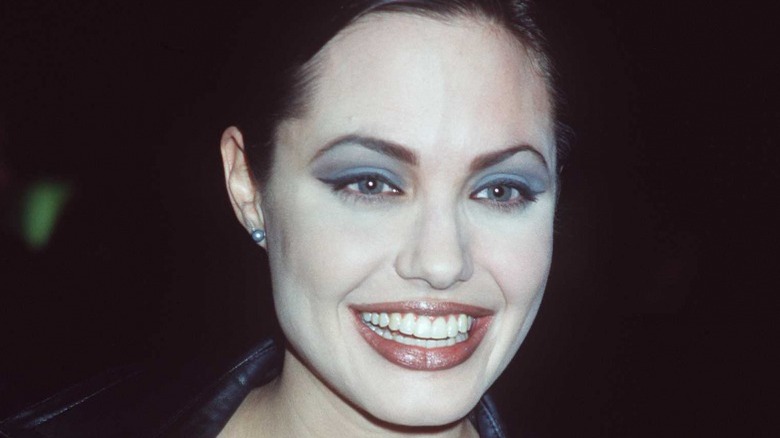 Brenda Chase/Getty Images
Angelina Jolie famously cut her hair super short to play doomed supermodel Gia Carangi in the hit 1998 TV movie "Gia," per People. Jolie played Garangi throughout her relatively short life, necessitating several different eye-catching looks. Naturally, as with every other haircut the Oscar-winner has rocked over the years, she looked great with her head completely shaved. In a 1997 interview with Girlfriends magazine (via Angelanna3), the actor admitted she was hesitant to take the role on — but it had nothing to do with buzzing her head. 
"When I first got the script I avoided it," Jolie explained. "There was a lot of the story that I really identified with, so I didn't want to touch it. I just didn't want to deal with it. She had a lot of pain. Gia was emotionally [and] literally raped, but she had such a fire for life and in her love for women. She had these incredible crazy moments, and she was always attacking everything she wanted, just going for it." 
Per a 1998 Esquire profile (via Angelanna3), the shaved head was required for the scenes revolving around Carangi's death from AIDS, but Jolie kept it short for a while afterward because she adored being bald. According to the publication, it made the star feel tougher, sexier, and closer to other women. Jolie is openly bisexual, per Out, so getting even more female attention than normal was an added bonus to her buzz cut.