How To Pair Scents Like A Pro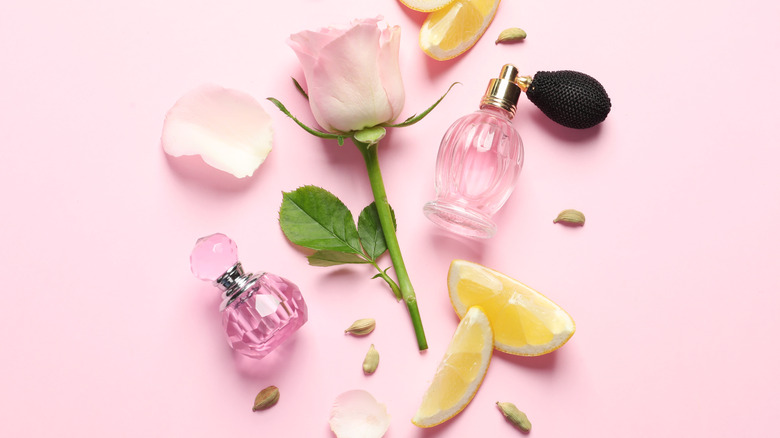 New Africa/Shutterstock
If you're a scent aficionado, it's probably fairly likely you're easily wooed by the allure of having a signature scent like Old Hollywood icons. Marilyn Monroe, for example, said she wore Chanel No. 5 to bed. When turning to today's celebrities for fragrance inspiration, Hailey Bieber opts for Bond No. 9 New York Nights, while Meghan Markle wears Jo Malone's Wood Sage and Sea Salt, according to Bustle. 
Finding a signature scent can be tricky. Not only do you want to find the perfect fragrance, but you also want to do everything you can to ensure the perfume lasts a long time: because once you find that flawless scent, you won't want to let it go. If you're someone who is drawn to a variety of aromas, you might have some questions about the best fragrance for you, especially if you've just learned about scent pairing. What smells go well together? What is it that makes us gravitate to one scent over another? And, more importantly, how can we select perfumes to pair and layer with one another to create something unique that captures our personality or mood?
Well, it turns out there's a science to the process of fragrance pairing and how different categories of aroma complement one another. But you can skip the lab coat (unless that's your aesthetic, of course) and learn some basic principles of pairing scents.
Scent pairing begins with fragrance families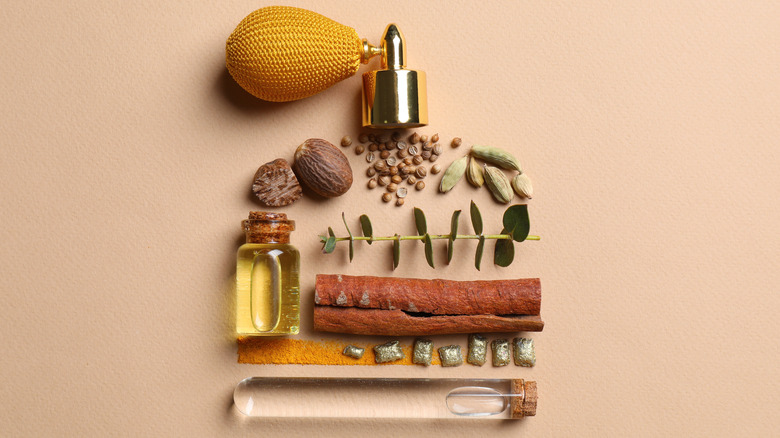 Liudmila Chernetska/Getty Images
There's a science behind fragrance formulation, and it's been summarized in a handy-dandy chart, often referred to as a fragrance or scent wheel. Yes, there are plenty of such diagrams, but most — such as the one used by Perfume Direct — include the four essential fragrance families. These wheels illustrate those distinct categories — fresh, floral, resinous, and woody.
From there, individual scents fall into one of those four families. Water and citrus, as an illustration, fall within the fresh category, whereas mossy aromas would be aligned with the woody family. Perfume professionals, like those at FragranceX, generally agree that most people have a favorite scent category. But the visual representation of the relationship between the fragrance families makes the first step of scent pairing easy.
When you examine the scent wheel, you'll notice that the circle around the primary diagram has colors that blend into one another as your eyes flow from the woody to fresh categories and so forth. Alltogether, this makes it easy to understand that an aromatic lavender scent would pair nicely with something a bit citrusy — one of the scents that make women more attractive to men. 
Learn the fragrance rules and then ignore them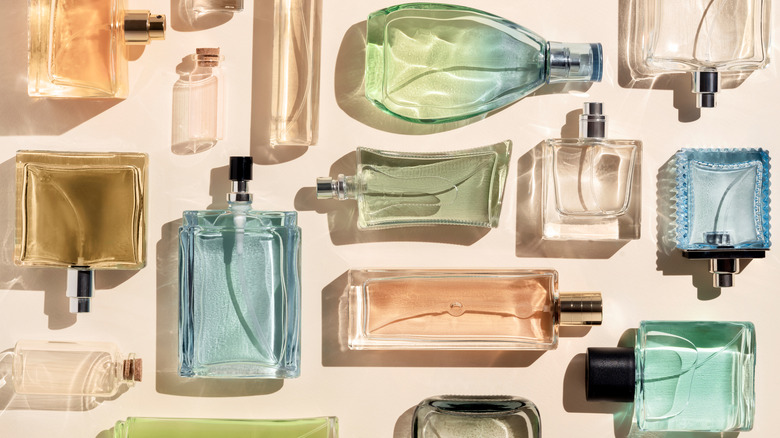 GVLR/Shutterstock
Once you understand the fundamental relationships within the fragrance wheel, it's helpful to know how the professionals approach scent pairing.
"There are no rules when it comes to pairing your scents — it's a personal choice! Be brave, experiment, try something you wouldn't usually think of. The possibilities are endless."
This comes from Celine Roux, the global head of fragrance at Jo Malone London. It's a good reminder that the scent diagram is like an artist's color wheel, and with that comes artistic freedom to explore. Case in point, renowned fragrance critic Chandler Burr reiterates to Racked that perfume is art, and he's quick to eschew the old-school thinking of gendered scent — "Would you say Brahms is for men, and Beethoven is for women? No! It's total crap."
So, start your fragrance journey with traditional pairings such as the ones suggested by L'Oreal. For instance, you can easily pair woody and floral scents, perhaps sandalwood, with your favorite flower. Then, taking cues from the aroma experts at LAFCO candles, you can experiment a bit. Try pairing a hint of woody rosemary with soothing lavender and citrus.
Theoretically, you could rub your wrist with lemons and random leaves foraged from the park. But that aside, many perfume lines create explorer kits. The Harmonist offers a Discover Set of ten minis in easily recognizable categories like wood, floral, and water. This helps you play, explore, and pair scents like a professional.