How Pattern's New Blow Dryer Was Designed To Save Textured Hair From Heat Damage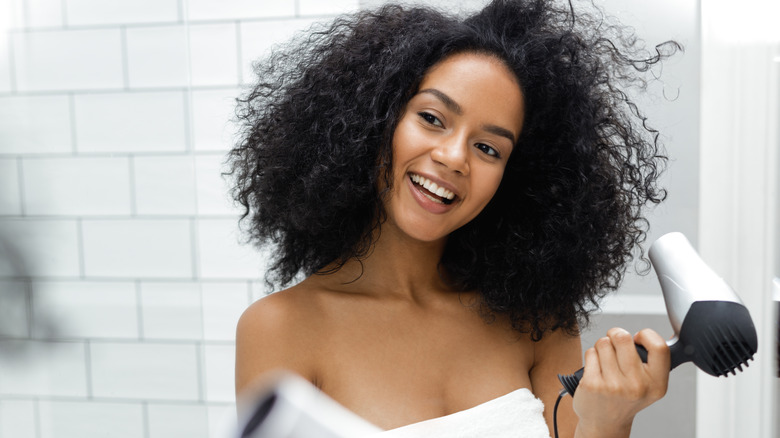 Youngoldman/Getty Images
If you're looking for the ever-elusive blowdryer that's good for textured hair, your moment has come. According to Pattern Beauty, actor Tracee Ellis Ross founded this haircare brand that focuses on helping folks make their hair texture and curl patterns look their best. After a few years of offering highly-rated hair products from shampoos to serums to combs, they've officially dropped their first original hot tool, and this is a game-changer for those of us who want to embrace our curls (via InStyle). 
According to Ross herself, she's thrilled to be entering the complicated hair hot tool market. She explains, "This evolution of Pattern has been a part of the original dream from the beginning. For me, heat has always been a genuine tool for possibility and a way to imagine all of the many things that my hair can do. I have discovered because of my job letting my hair air dry is not an option when you have a 5:00 a.m. call." Many of us can relate to the dilemma of wanting to avoid heat damage but being unable to air-dry. Ross is swooping in like the hair care superhero that she is to save us and our curls from imminent breakage, frizz, and pesky split ends.
How Pattern's blowdryer stacks up
Tracee Ellis Ross clearly believes in her product, and in many ways, a rave review from a favorite down-to-earth celeb is all we need to click that "add to cart" button. Still, it's clear that she's not the only one loving this tool. According to a review by Erin Stovall, senior beauty editor at Bustle, this blowdryer "does not disappoint." Stovall explains that it has a diffuser designed for leaving your curls free and a concentrator for drying hair with a round brush. It also includes brush attachments, two speed settings, and three heat settings.
These settings help to make this blowdryer special. Ross explained to InStyle, "It's heat, so you have to be mindful of heat — it just is what it is. But it doesn't have to get so hot. I have used particular dryers where when I first used them, I was like, 'Holy moly' ... all of a sudden it's like putting your face next to a space heater." The blowdryer's ceramic-coated grill helps to distribute heat more evenly than other dryers.
Ross adds, "...Like with everything at Pattern, if I can do it in a way that it feels like it really matches the needs of our community, and is actually going to function in a way that is filling a void, then absolutely [we'll create more]. The mission of the brand is to exceed the needs of the curly, coily, and tight-textured community." We love the sound of that.